Easter is a Spring holiday. It is also one of the first opportunities families have to enjoy the outdoors together earlier in the year.
Some may prefer to spend Easter away or at least get out of the house for the day, while others opt for hosting their own events.
If you're going to have the whole family around for Easter Sunday, then you better do it outdoors, which likely allows you to have more people and for kids as well as pets to roam around freely. This means, however, that you will need to decorate your backyard for the occasion.
If you're a busy person who doesn't like to get their hands dirty, then you might just buy everything from the store. However, if you are the thrifty and crafty type, this article is just right for you.
We have come up with some DIY Easter Outdoor Decorations that you can certainly replicate for your own Easter events.
DIY Burlap Bunny

This burlap bunny is really adorable and it can look gorgeous not only among the plants, but also on top of tables, for instance. You can probably find something similar in stores, but it is simple enough to make – you just need to cut your two burlap pieces from a template, then stuff and join them before decorating with buttons, yarn and other craft materials. via sowanddipity
Recycled Plastic Easter Egg Flower Pot

This flower pot was decorated in a very unique fashion. To recreate it you will need to find some used plastic eggs in different colors, which you will cut up and glue all around the pot to create the colorful egg mosaic effect. via adayinmotherhood
DIY Easter Topiary Tree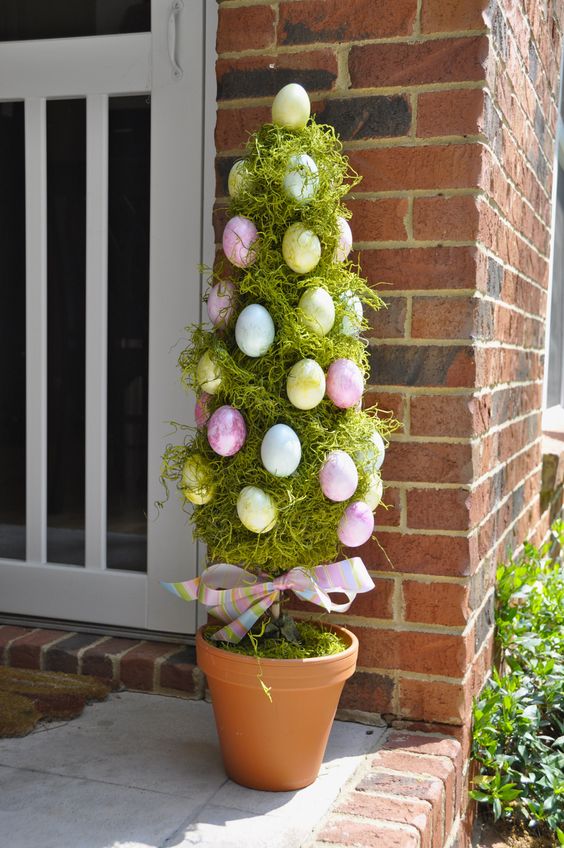 There are Christmas trees, and now there are Easter trees too. This one has several pastel painted eggs nested among its branches and leaves, giving it that recognizable look. A patterned bow tied around the stalk adds the finishing touch to this piece. via creativeleecrafted.wordpress.com
Moss Bunny Canvas Art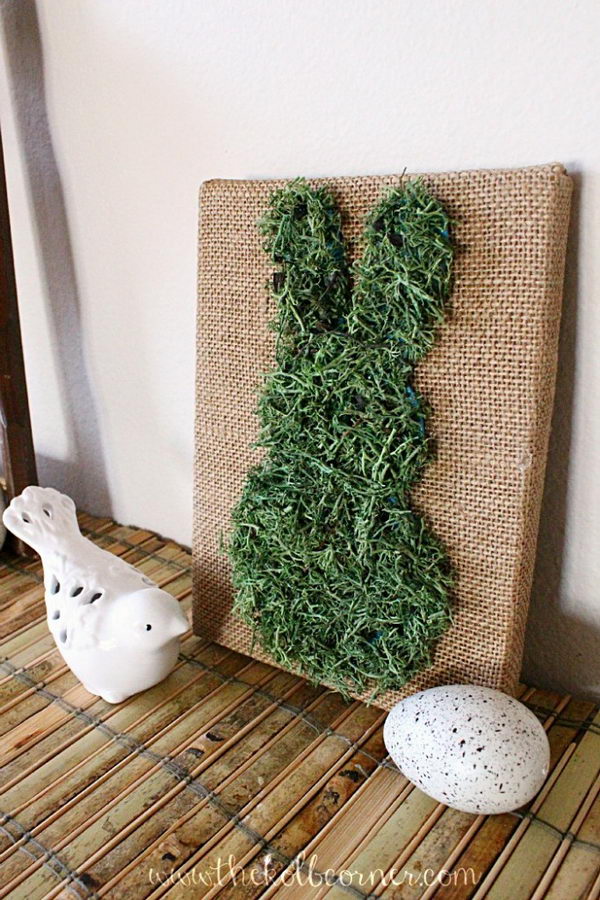 This is definitely a very different and unique take on Easter decoration, as a canvas was covered with burlap and then a bunny was created on top using moss. The decorations placed at the foot of the canvas complete the classy look. via domesticallycreative
DIY Easter Bunny Planter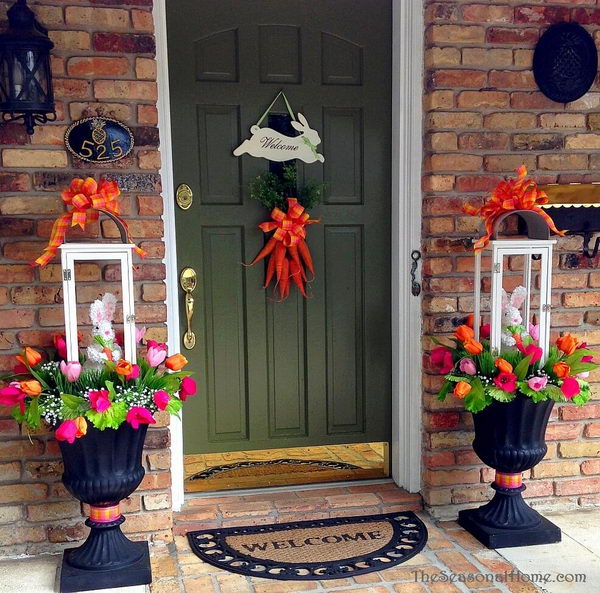 This porch has bunnies everywhere, and it looks really good. There is one inside a navy basket hanging on the door like a wreath, which is flanked by two matching large navy planters. A lantern-style decoration with a white bunny inside tops each planter. via theseasonalhome
Upcycled Framed Chalkboard Spring Sign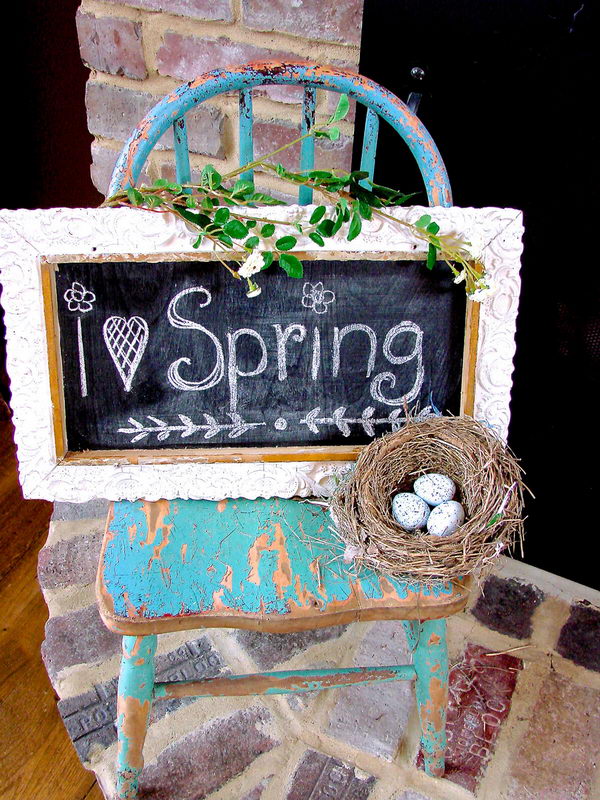 This chalkboard is pretty much typical, except for the plant accent, the little egg nest at the corner and the pops of blue around it, like the handle, which clearly identify it as a Spring and Easter decoration. via sugarpiefarmhouse
Hope Easter Wreath Board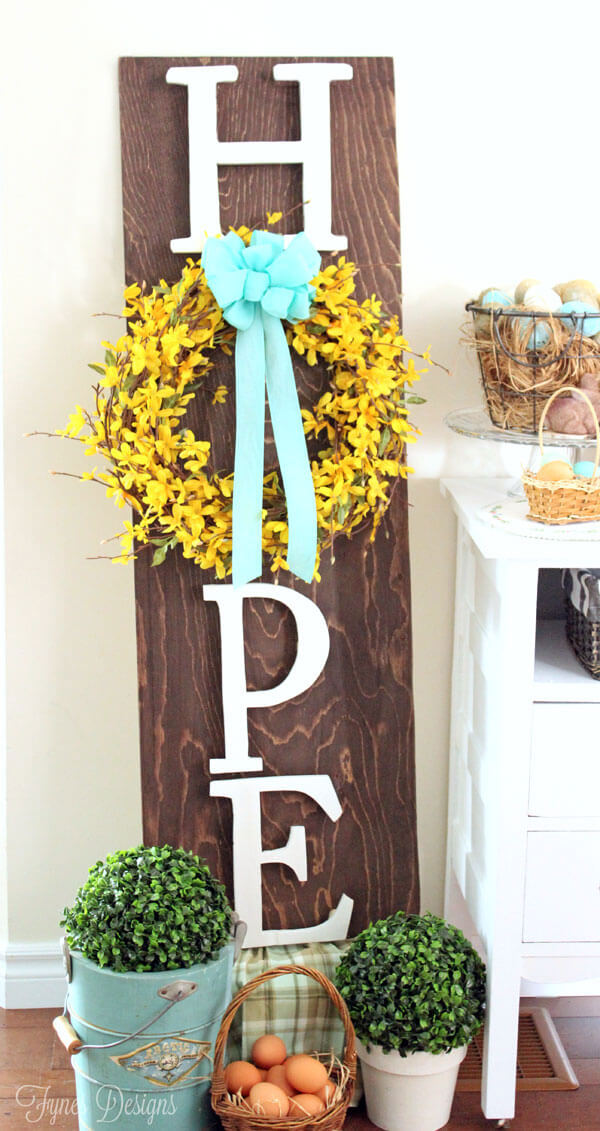 This "Hope" board is both classy and beautiful as well as colorful and fun. The back is solid and rich wood, and the letters are all crisp and white except for the "O", which was made from a wreath of yellow flowers topped with a blue bow. Matching flower pots and an egg basket finish the scene. via fynesdesigns
Pastel Egg Wreath with Bow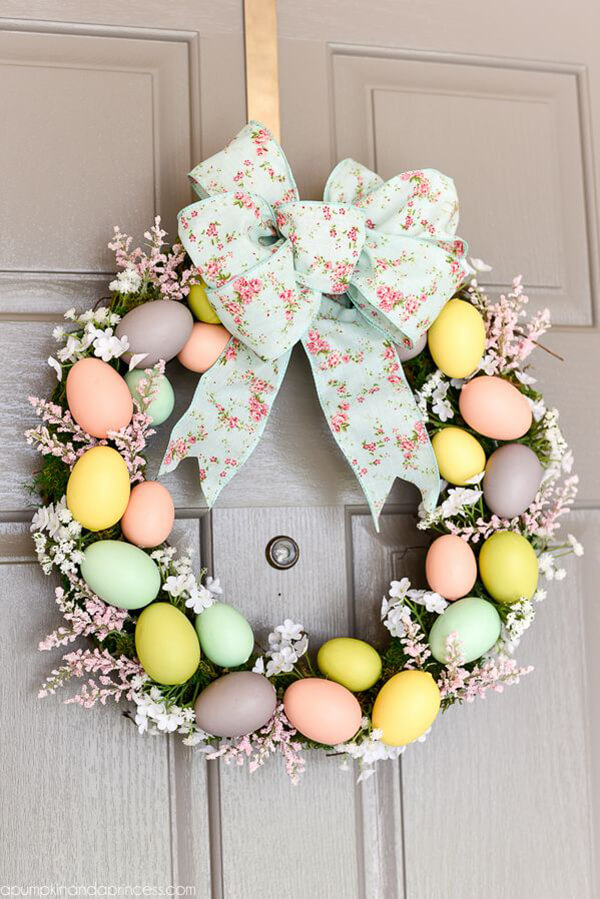 This wreath is a great example of how to make something traditional look cute. The base is your typical round shape topped with greens, but then it is almost fully covered in colorful eggs and finished off with a large patterned bow at the top, which makes it look absolutely adorable. The little blooms peeking out at the edge like a lace trim only enhance the effect. via apumpkinandaprincess
Wood Easter Bunny and Chicken Planters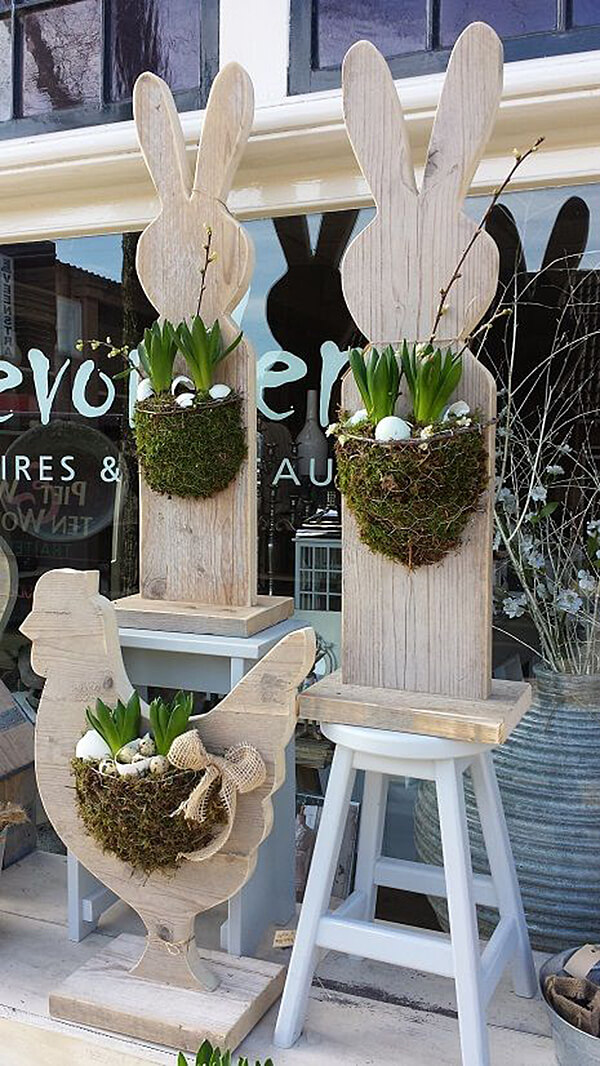 These wooden bunny and chicken planters are really something else. They are basically big bunny or chicken silhouettes carved from wood, to which a base and a plant holder were added, so they make a fantastic outdoor decoration. The arrangements themselves are also fantastic, as they are shaped to match the planter's features and include little details like the burlap bow on the chicken, which really enhances the effect. via stylowi
Watering Can and Lantern Floral Displaying
Here are two very special ways of displaying plants. The watering can was only slightly altered so it maintained its shape, but has now got bunches of beautiful blooms coming out of its top as well as the lip. The lantern, for its part, seems to encase a mixture of egg ornaments and plants. A little egg nest can also be seen inside a transparent box, which props the watering can up. via southernseazons.blogspot.com
Chalk Bunny Paw Prints
Here's another really cute decorative detail, especially for kids' parties. These colorful bunny paw prints can be used to welcome your guests or guide them through a specific path. Since they are made with chalk, they are quite easy to wash out, but they might look a little messy once people start stepping on them.
Easter Peeps Yard Decoration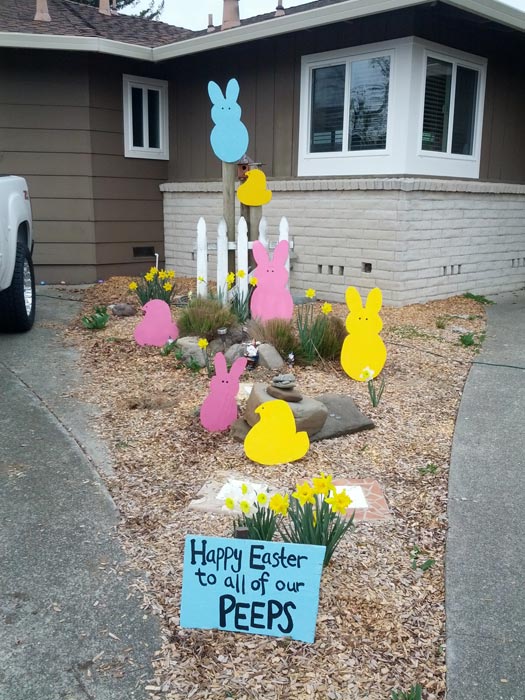 Easter peeps are a quintessential American tradition, so you have to incorporate them in your decorations, and this is a great way to do it. They are scattered about this station and some also seem to be floating on air, while a little handmade sign topped with flowers wishes everyone a Happy Easter.
DIY Giant Peeps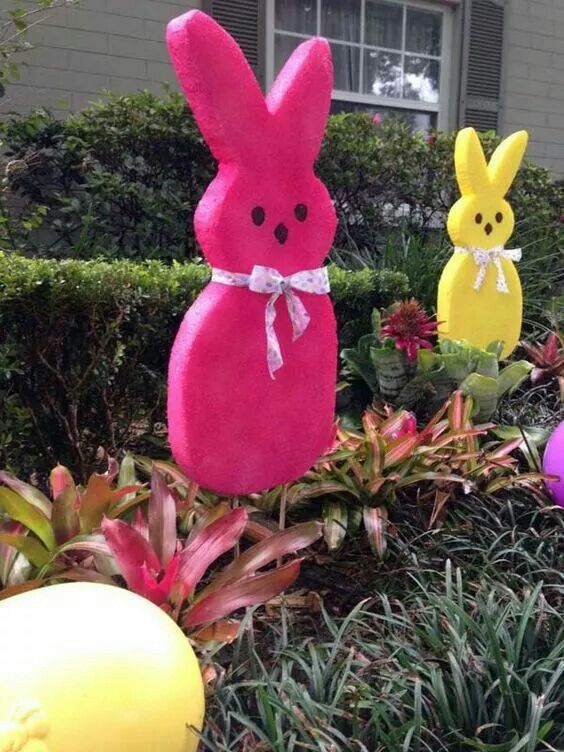 These aren't edible peeps, as you can imagine, but they are just as delectable. They look quite adorable sitting atop the plants with their foamy texture, bright colors and slim bows around their necks.
DIY Rustic Wooden Bunny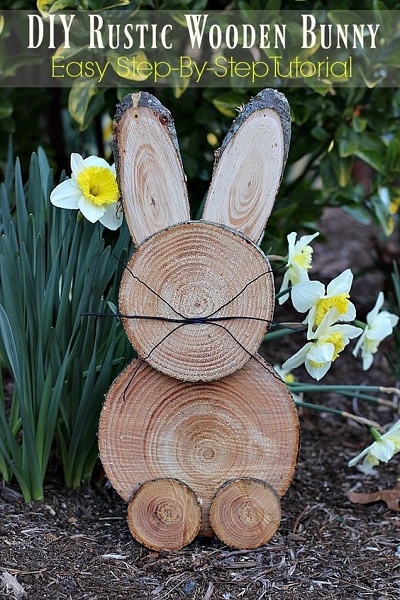 This rustic wooden bunny is quite a cute garden piece and it's easy to make, since most of his body parts are just natural wood slices of different sizes. You will need to carve the ears and add your own whiskers, but other than that, all you need to do is get the wood and put it together. via momunleashed
Yarn Egg Garland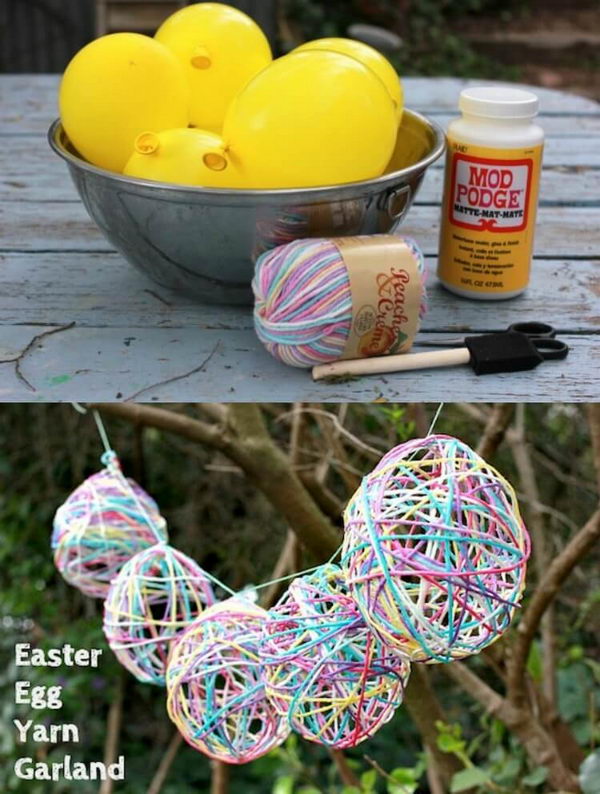 This garland is insanely adorable and quite easy to make. All you need is several colors of yarn, which you will soak in a glue mixture to harden and wrap around an egg shaped object. Once it does harden, you can free your impressive colorful yarn eggs and string them together to make the garland. via modpodgerocksblog
DIY Wire Basket Planters and Ladder Plant Stand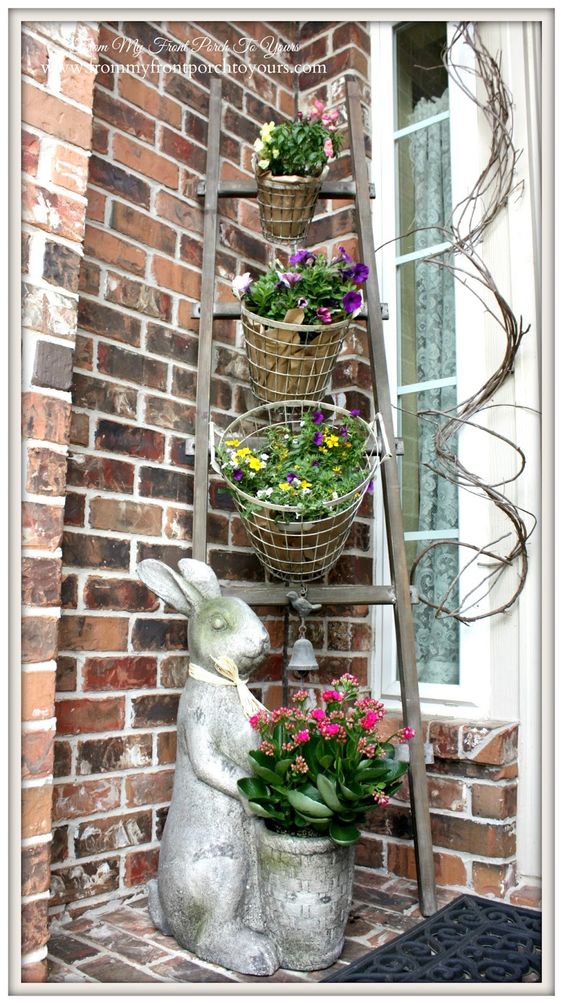 Ladder plant stands are quite cool for different reasons, and this one is no exception, with all the plants being held by wire baskets, which create a spiral look. A giant silver lady bunny complements this area nicely and brings in the Easter spirit. via frommyfrontporchtoyours
Grape Vine Egg Topiary
This topiary might not look Easter-themed right away, but it's all in the details like the little beads in the colorful grapevine, the light blue color of the embellished pot and the eggs that fill it in. via aglimpseinsideblog
Easter Urn Planter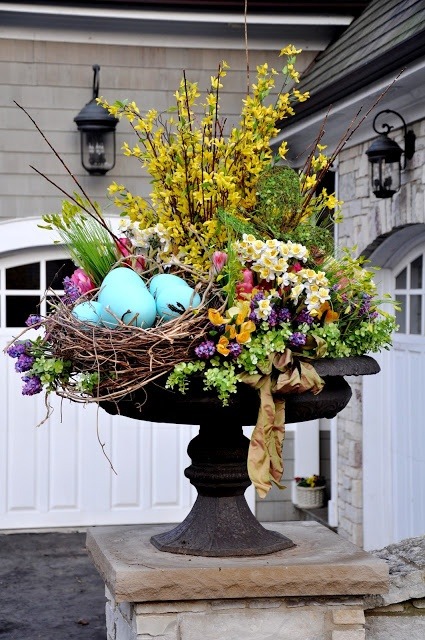 This dark urn planter could have been quite harsh and austere, but the yellow flowers and the little egg nest add that Spring flair that it needs. via serendipityrefined
Bunny Egg Cart Decoration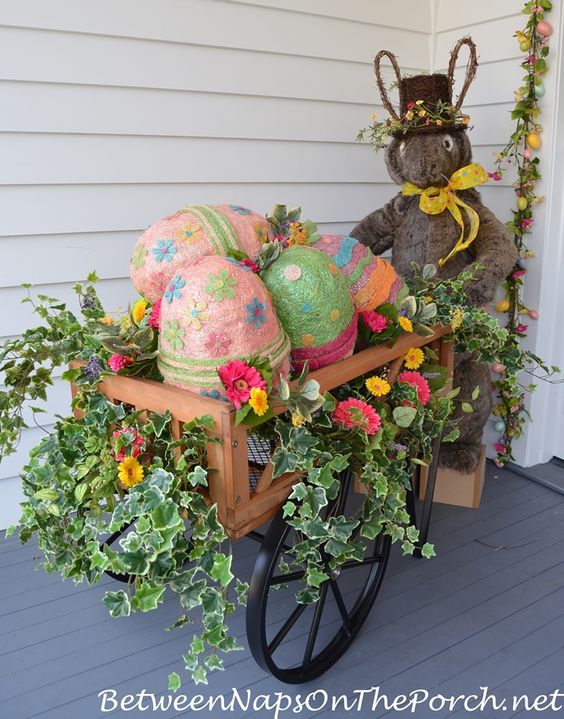 Well, this cart is not only red, but also covered in flowers and occupied by a little friend that is comfortably wrapped in a colorful cocoon. The life sized bunny at the back finishes this Easter scene off in style, as he appears ready to push the cart along. via betweennapsontheporch
DIY Wooden Yard Carrots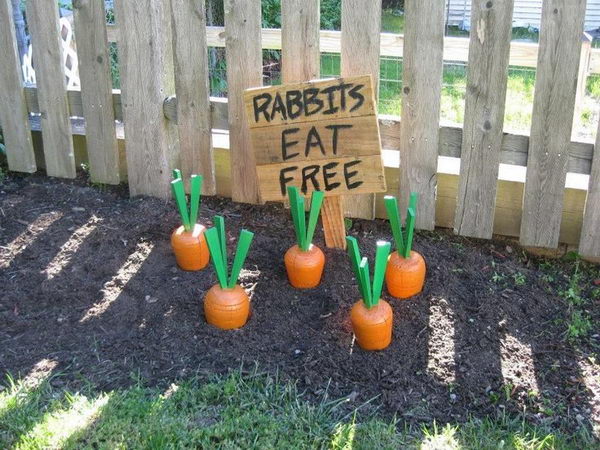 The sign may be calling the rabbits to come for the carrots peeking out from the soil, but while they look appetizing the rabbits may lose their teeth, as these are made from wood and expertly painted to look like the real deal.
Giant Easter Eggs Topiary
Now this is an eye-catching Easter topiary! To make your own, you will have to find some large colorful decorative eggs, choose your plant and then place a stick in the middle. Glue your eggs along the stick and add a few floral details to tie it all together and finish your piece. via celebrateanddecorate
Easter Cross for the Yard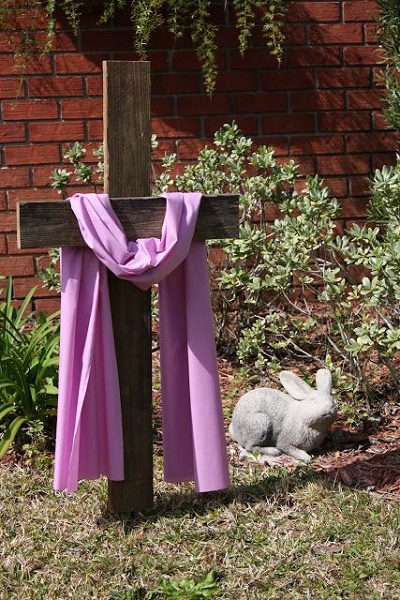 This project lies more on the religious side of Easter, as a cross was installed in the garden and draped with purple fabric like it would have been in church. A little decorative bunny placed nearby lifts the serious tone just a little. via linda-coastalcharm.blogspot.com
Spring Flowers And Easter Egg Arrangements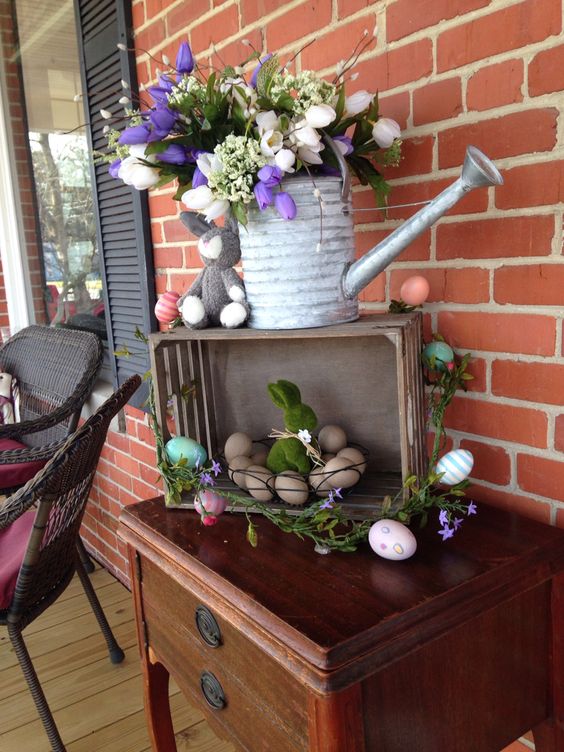 These watering can arrangements are quite reminiscent of another decoration we've looked at. They have flowers coming out from the top, but then they are propped on open boxes with an arrangement of eggs and greens inside. An egg grapevine chain surrounds the box, which sits on top of some antique-style furniture.
Colorful Easter Eggs Decorated Tree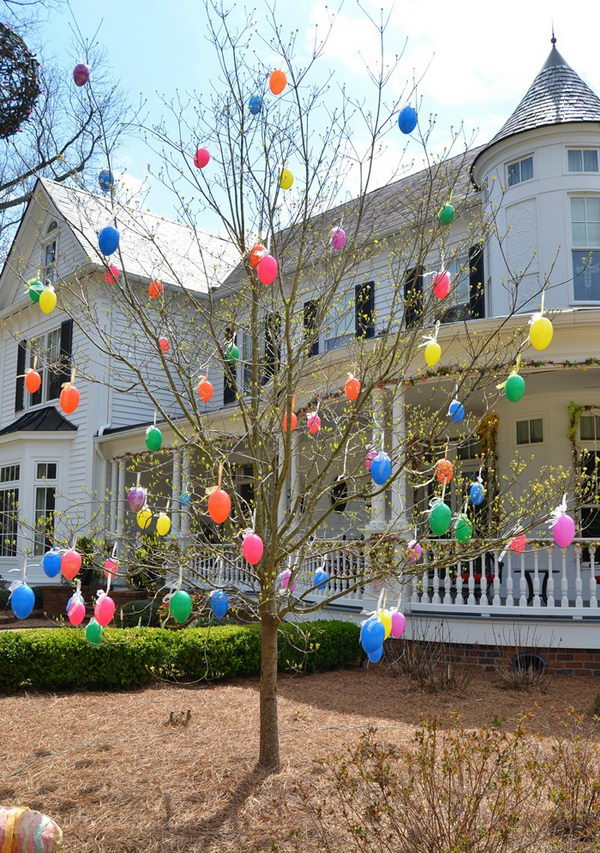 Some trees may not come into bloom until later in the Spring, so you can take advantage and decorate the branches with eggs and chicks, adding life to the plant until it blossoms again. via betweennapsontheporch
Garden Easter Floral Easter Arrangement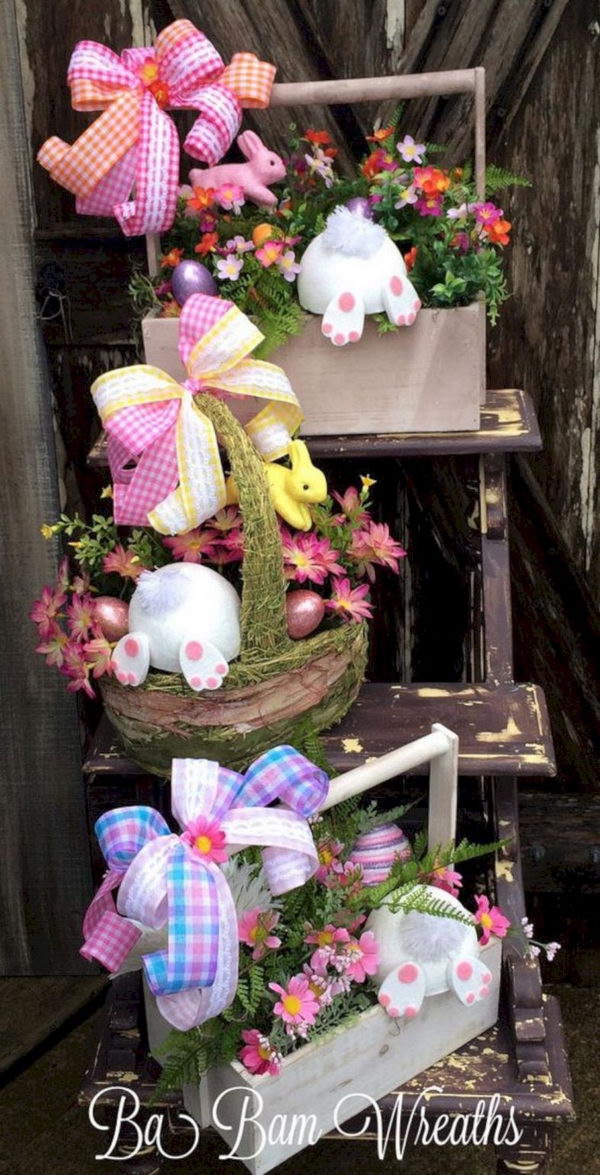 These flower baskets are all about Easter with the bunny heads sticking out in front of the plants, large patterned bows tied around the handles and even some shiny eggs half hidden at the sides. via etsy
DIY Burlap Easter Flag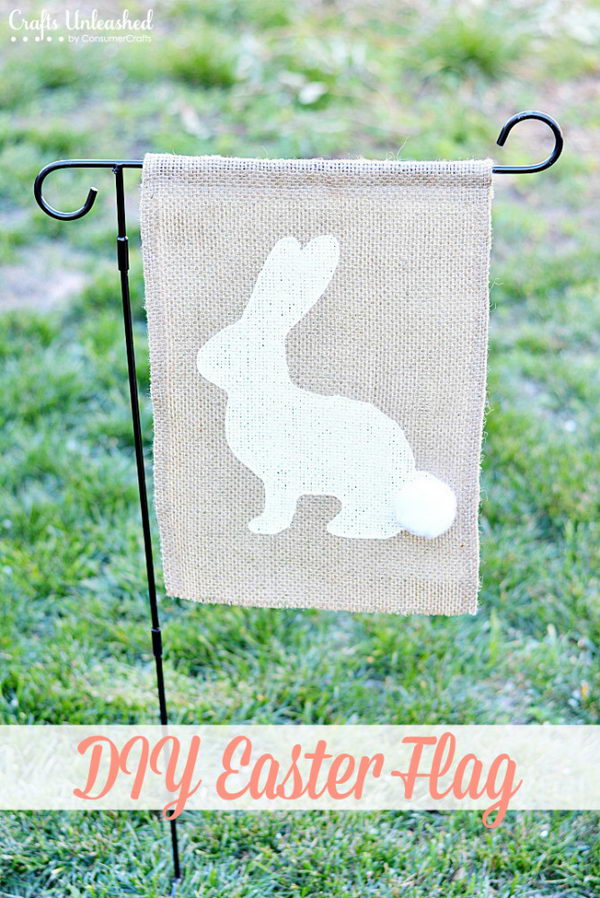 This Easter flag is a great way to celebrate in a more subdued style. The burlap creates a sturdy and embroidered yet neutral base for the bunny silhouette which you can create with fabric or a decal. Once that's done, all you need to do is display it on a flag pole. via consumercrafts
DIY Easter Egg Tree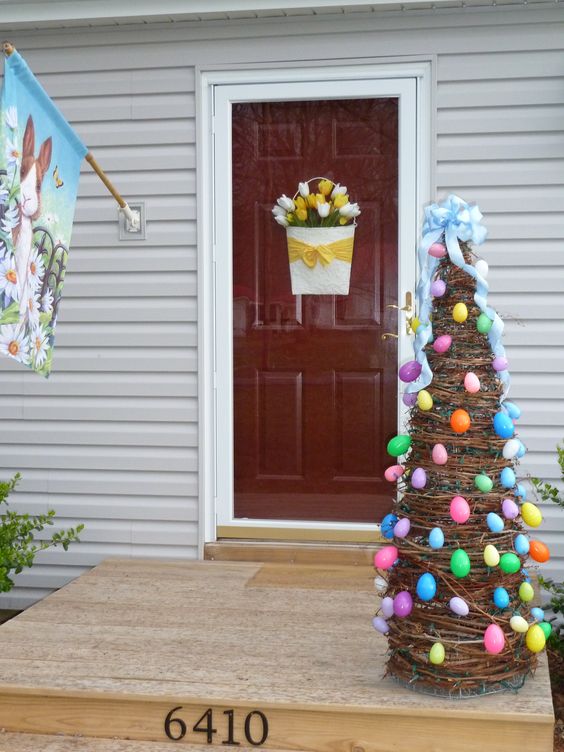 Now this could really pass as a Christmas tree, but for Easter. You have a large bow as a topper, something like grapevine wrapped all the way around it and of course beautifully colorful egg ornaments hanging from the tree, just like you would expect.
DIY Chunky Bunnies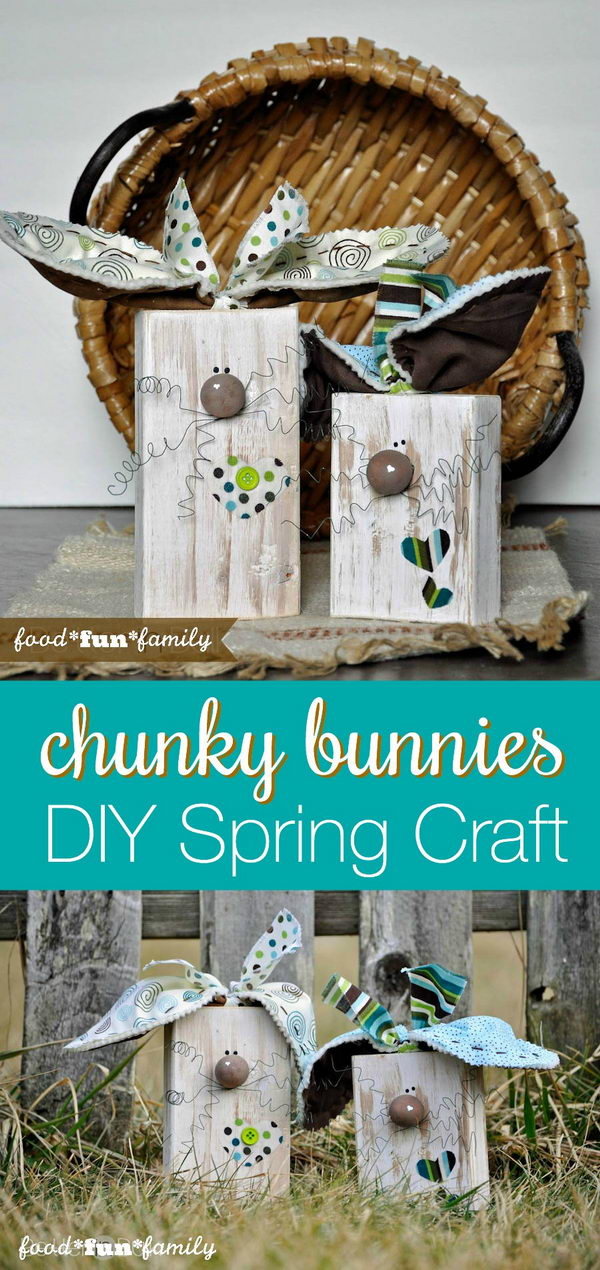 These chunky bunnies are oddly cute and exactly what they look like – blocks of wood painted and decorated to look like little bunnies, complete with a knob for a nose and bows in the place of ears. via foodfunfamily
Front Door With Easter Egg Garland
This garland is pretty easy to make. All you need to do is thread your pompoms or eggs through two pieces of red ribbon, leaving a little tassel at the end. Drape one on either side of your door and then tie the two in a bow at the middle to complete your decoration. via familyfocusblog