Windows are quite a special feature of any house or room. Traditionally, they serve practical purposes like bringing in light and warm, as well as helping renew the breathing air in the space.
Windows can't always be open, though. In fact, in some regions windows need to be closed and even sealed most of the time.
Closing your windows or at least filtering some of the light that comes through gives you a great excuse to use your decorative talents, but that's not all. In fact, you don't need to close your windows to decorate them – you can also frame them beautifully.
If you have yet to figure that out, this article is all about windows and the various treatments you can give them to completely change their look.
So if that's something you're interested in, please feel free to browse these Awesome DIY Window Treatment Ideas and Tutorials.
Fabric Covered Cornice Board With Pom Poms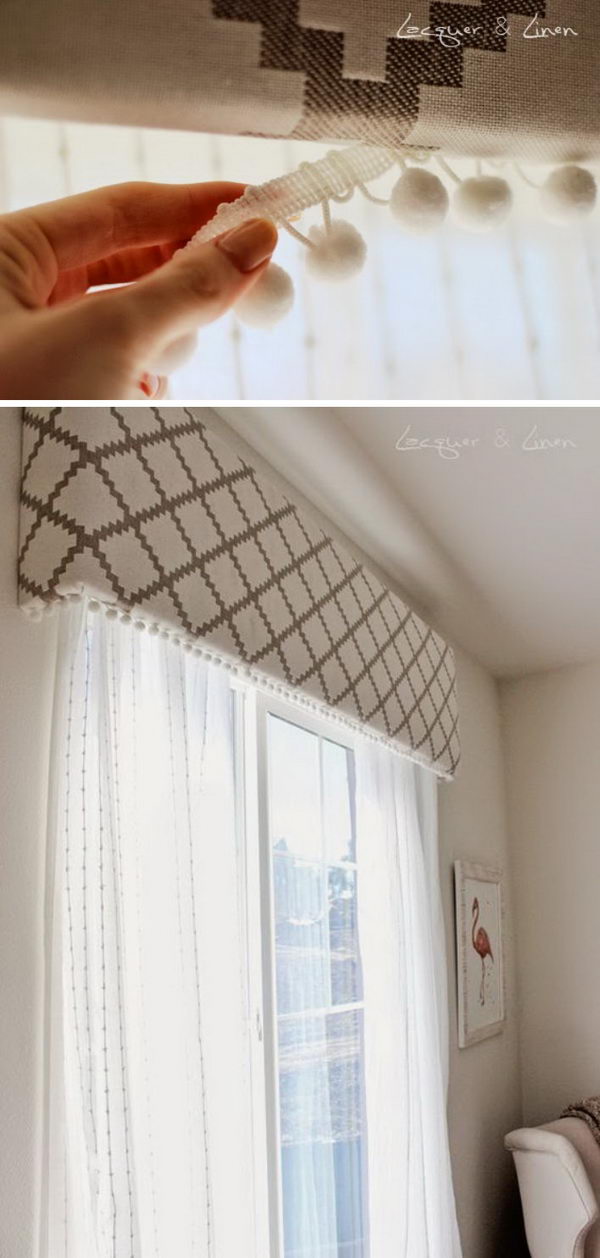 This window was already beautifully framed by the mosaic pattern on the wall above it, but installing the decorative cornice added some subtle extra detail. The cornice was completely covered with fabric and its full length was adorned with hanging pompoms so it looks like part of the curtains. via furnituresteals
DIY Lace Privacy Windows

This beautiful lace window works almost like a screen door, as it adds a second layer of privacy over the real window, partially blocking the view from the outside. Using lace instead of any other semi-sheer fabric was a great choice, as it looks more like a decorative piece than just a screen. via home-dzine.co
Wood Curtain Rods with a Restoration Hardware Look

This actually isn't a wood curtain, but rather a rustic curtain holder made from seemingly restored hardware. It has quite a unique look, as the thick wooden rod goes through the decorative ends at the side, but both cornices are completely hidden by fabric. It would look gorgeous in a farmhouse themed room. via maisondepax
Rustic Wood Window Valance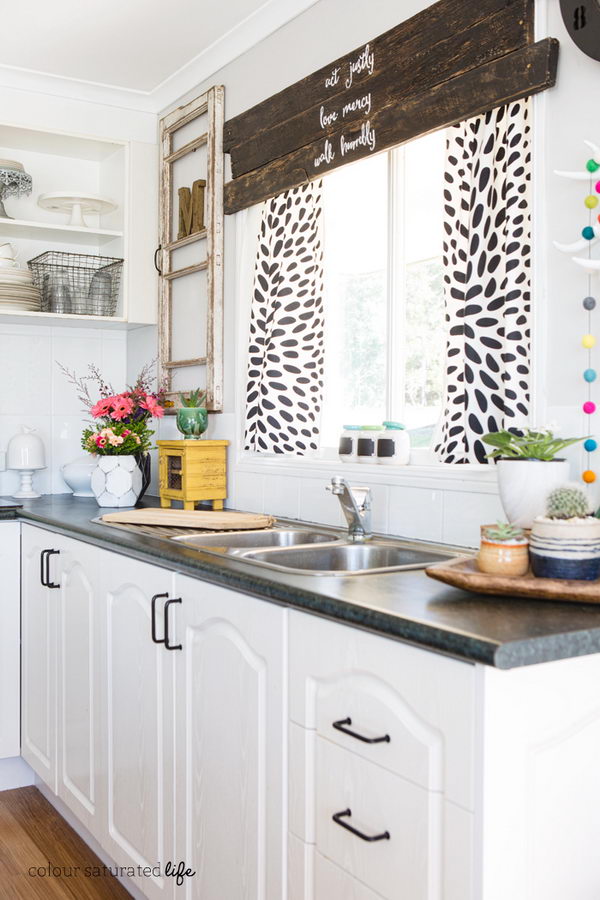 Here's another wooden treatment with a very distinct rustic look. This wooden box of sorts, which is made from three uneven pieces with chalkboard style writing in the center complements the patterned curtains that seem to come from the inside as well as the metallic ladder-style piece propped at the farther end. via coloursaturatedlife
DIY Rustic Window Valances with Lace Curtains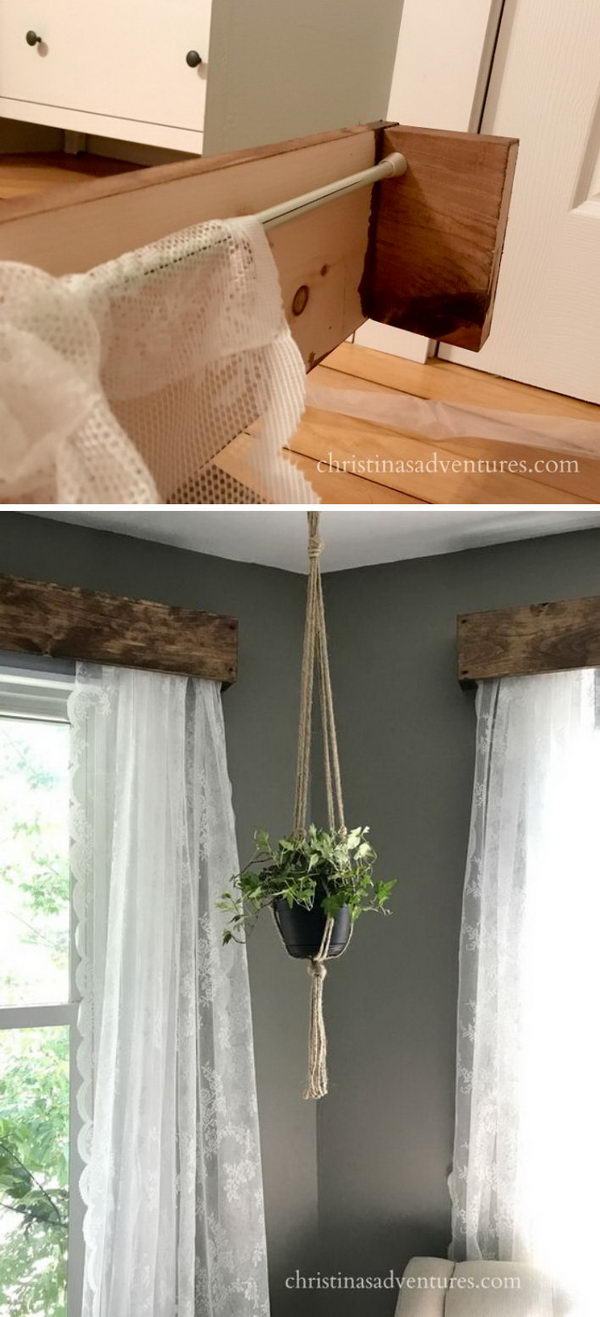 This room features twin solid stained wood valances that complement the romantic lace curtains below beautifully, adding a very distinct farmhouse charm to the space. via christinasadventures
3D Paper Flower Window Treatment

This wall décor is definitely a little busy, as not only is the wall patterned with small polka-dot style triangles, but the window cornice is patterned too. To add some color to this fun yet neutral area, the top of the window was completely decorated with colorful paper flowers and leaves, making this a perfect window treatment to welcome Spring. via thecraftpatchblog
Craftsy Color Block Privacy Curtains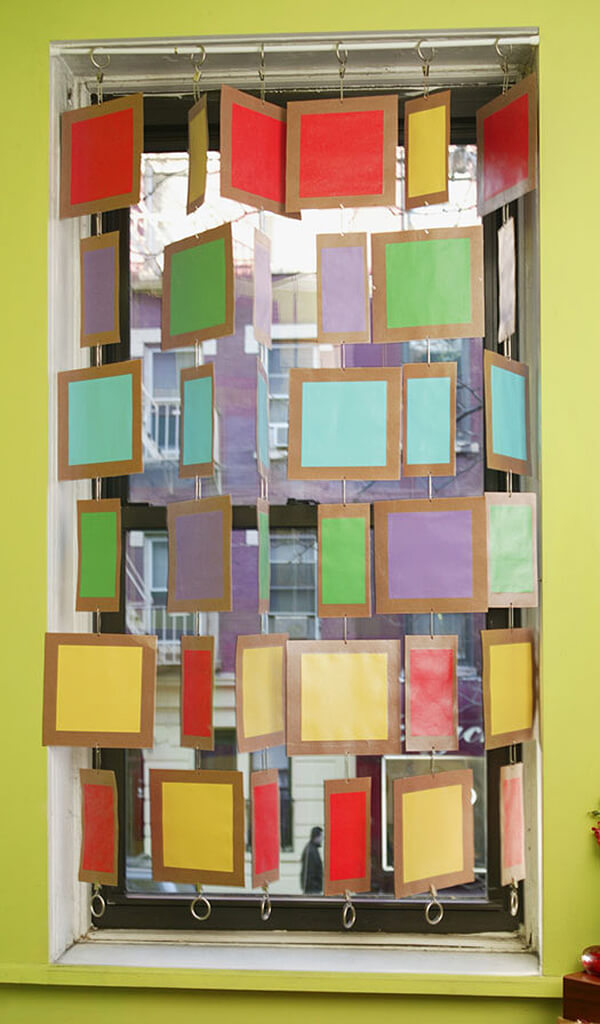 This is definitely a different kind of privacy curtain, as it is not made from fabric but rather cardboard, colorful paper and chains. When hung together, the various chains of colorful cardboard squares create a curtain for privacy that also adds life into the room. via dummies
Bring Vintage Shutters Indoors for a Window Update
Vintage, door-like wooden shutters are really beautiful, but somewhat outdated when used the traditional way. If you find or make some which you can treat to match your room and install them indoors though, you will have a quirky and updated window treatment that everyone will love – not to mention that it is quite a bit more practical than keeping them outside. via vintagenewsjunkie
Quick and Easy Privacy Solutions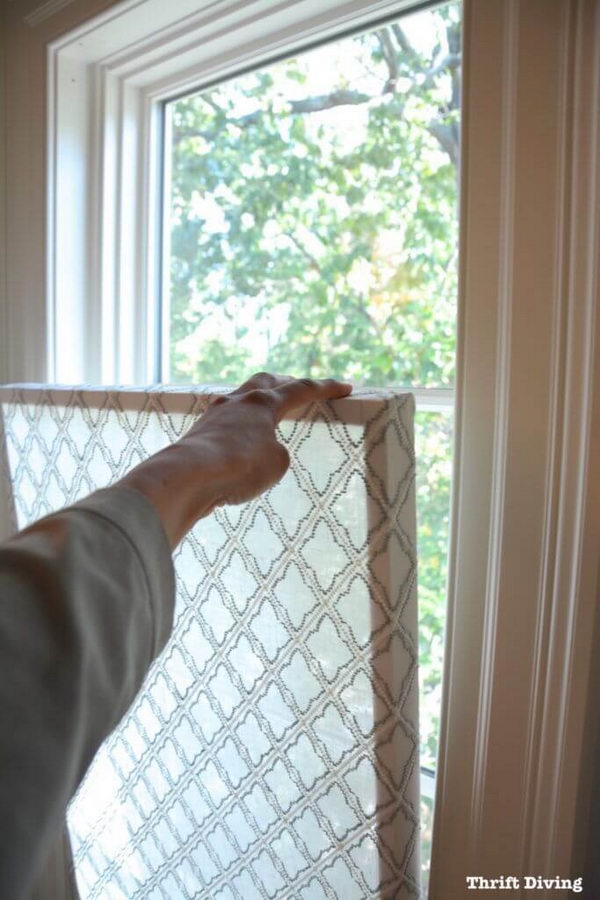 Here's another screen idea to keep Peeping Toms away from your window. This time you have a white mosaic pattern framed screen, which you will add to the lower part of your window, partially blocking the view from the outside while also adding decorative detail and still letting some light in. via thriftdiving
DIY No Sew Cafe Curtains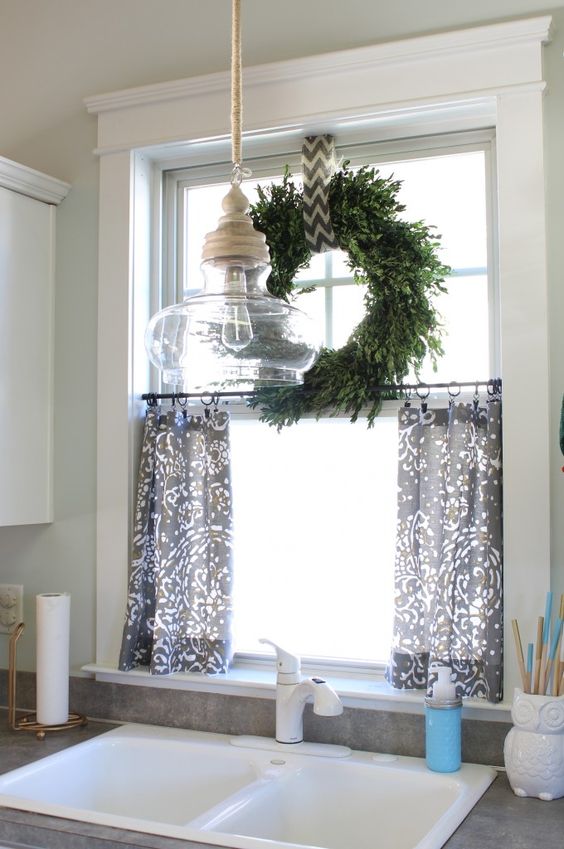 Cafe curtains are quite a cool idea if you'd like to always have a part of your window completely open or you simply prefer the look of half curtains. You may run into some trouble if you can't sew though. This industrial-style metal rod and matching hoops will take care of that as you don't need to sew at all – only to make the holes for the hoops to go through. via uglyducklinghouse
Curtains with Reclaimed Wood

This wooden curtain holder, which was crafted from a long piece of reclaimed wood, is really cool in many different ways: the textured wood itself is beautiful to start, but then it also features vertical handles at regular intervals which the curtains go through, giving them a draped effect that is quite unusual. via oliveandlove
DIY No Sew Window Treatment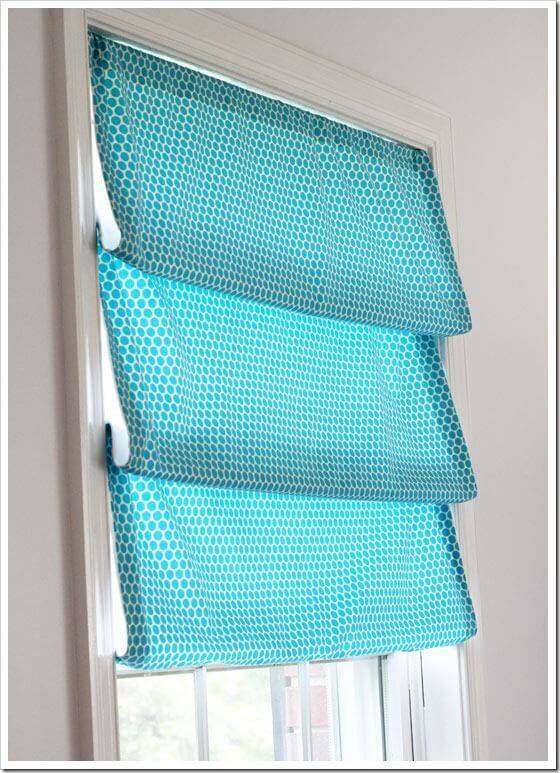 Making a draped, Roman shade inspired treatment like this is just as complex as it looks. But the end result is worth the trouble. You can definitely turn this into a no-sew project using fabric glue for your hems and stitch witchery for your joints, but it is still an advanced DIY project. via inmyownstyle
An Old Window And A Shelf Above Kitchen Sink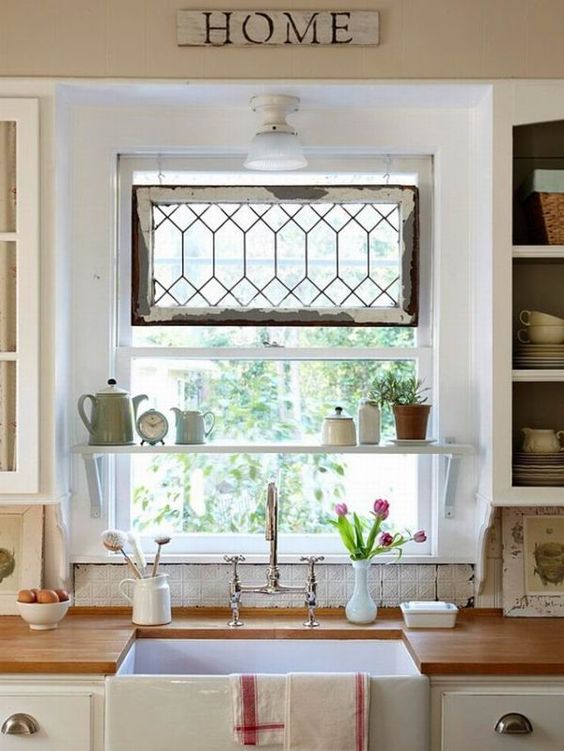 This is quite an interesting treatment because they have added a smaller barred window in front of the real one in this kitchen as a mix of screen and decoration, and then they have also embedded a sort of floating shelf in the main structure, giving the sink area a unique look and extra storage space. via homedit
DIY Stenciled Curtains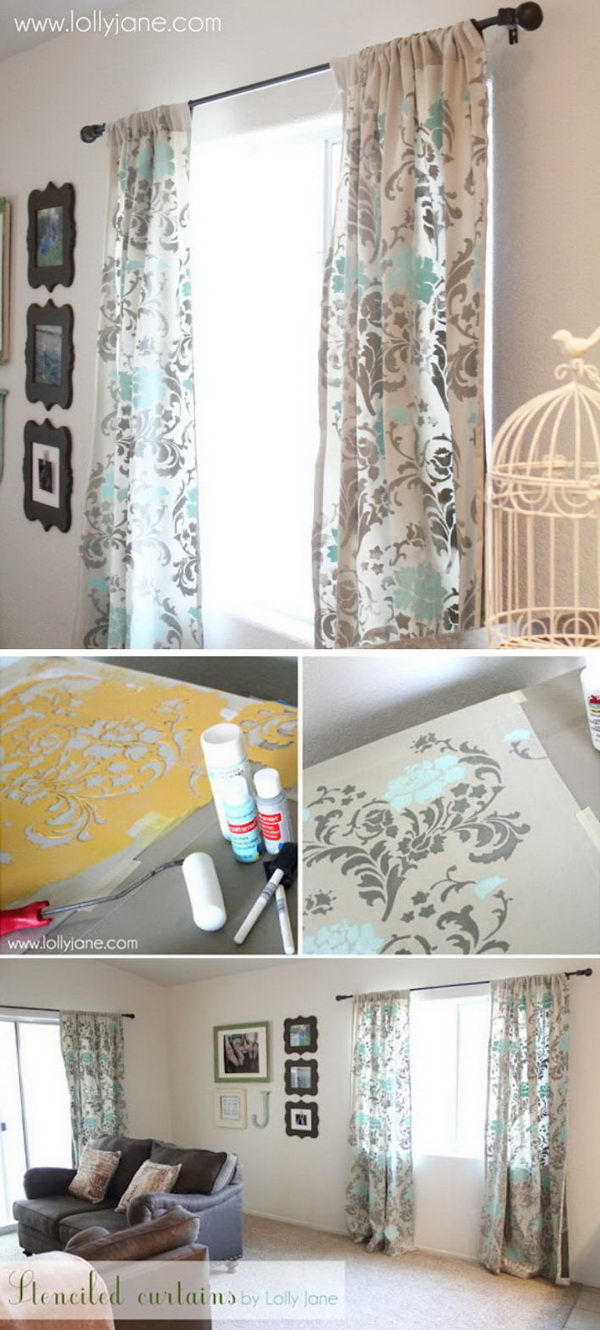 This project isn't about the windows but rather the curtains, which were personalized with stencils. The stenciled pattern works beautifully with the room and gives the curtains a classy, vintage look. via lollyjane
Simple Burlap Shades Window Treatment
Burlap may not seem like an obvious choice for shades, but you can see here that it works quite well because the material is just stiff and sheer enough. Its natural texture also allows it to look decorative, which takes away from the heaviness of the simple, solid shade. via remodelista
Colorful Vintage Handkerchief Valances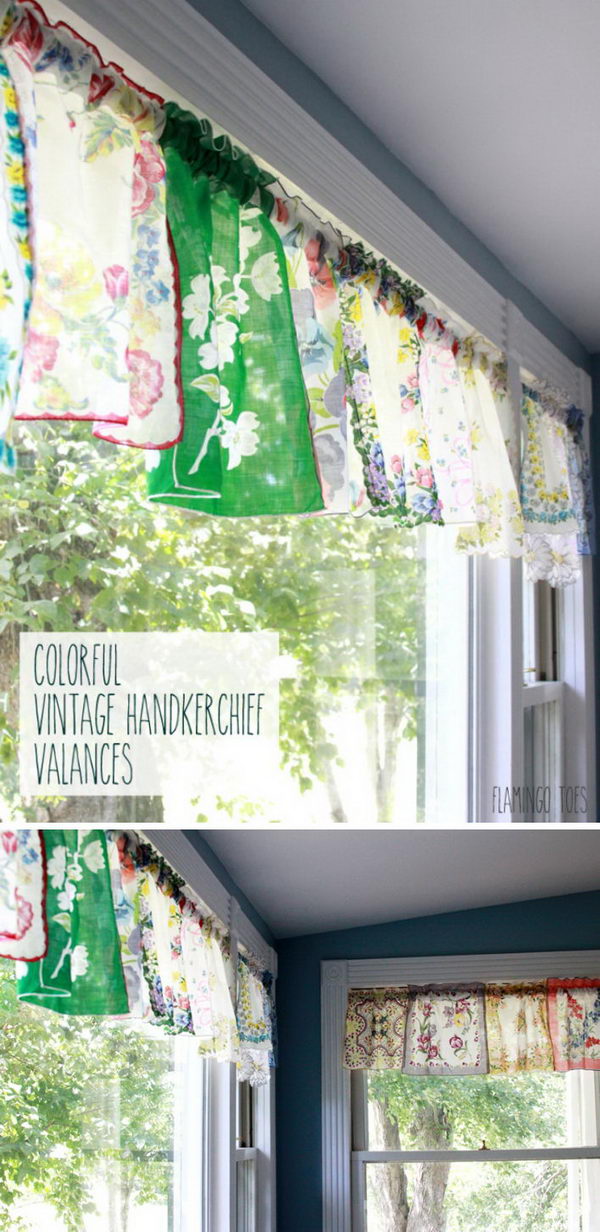 This is definitely a far cry from your typical valance, as there isn't any visible wood here. Instead, the mastermind behind this project took various handkerchiefs and wrapped them around the curtain rods, effectively hiding them. The fabric hangs down over the window and curtains, adding color and life to the space. via flamingotoes
Recycled Rusty Tin Panel Window Valance

Not many people would have thought of reusing a rusting metal panel, let alone for decorative purposes, but this project was a definite and resounding success. The texture of the tin panel adds a vintage charm to this area, and the color goes perfectly with the curtains below. via themagicbrushinc
Sliding Reclaimed Wood Shutters

This is a really cool rustic-style window treatment as a piece of reclaimed wood – possibly a door or a barn shutter – was installed indoors as a shutter that you can slide open and closed. via theletteredcottage
DIY Balloon Shade for Little Girl's Room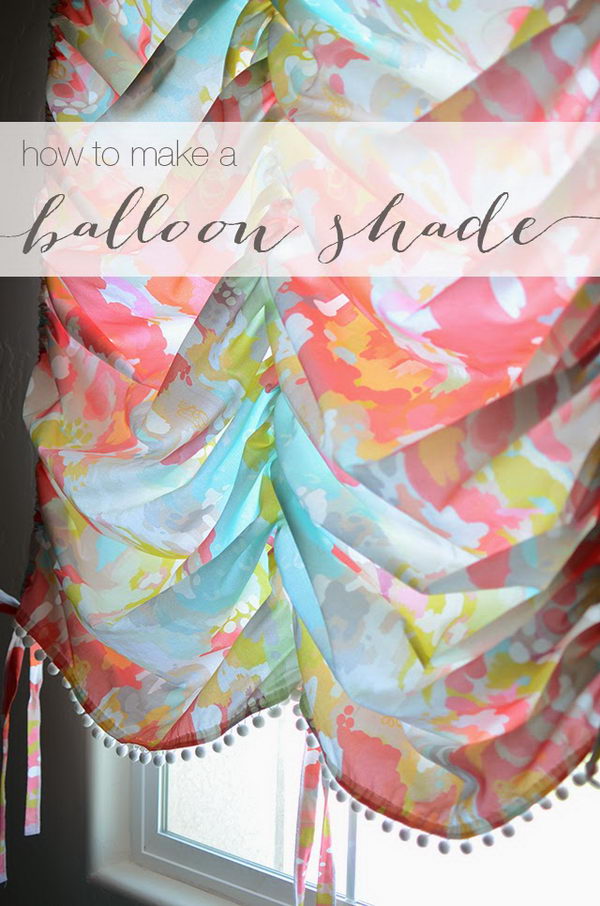 These shades are definitely unique – they're not only colorful and draped, but they are also raised and feature little balloons or pompoms along the edge, which makes them perfect for a young lady's room. via erinlovesearl
Decorative Corbels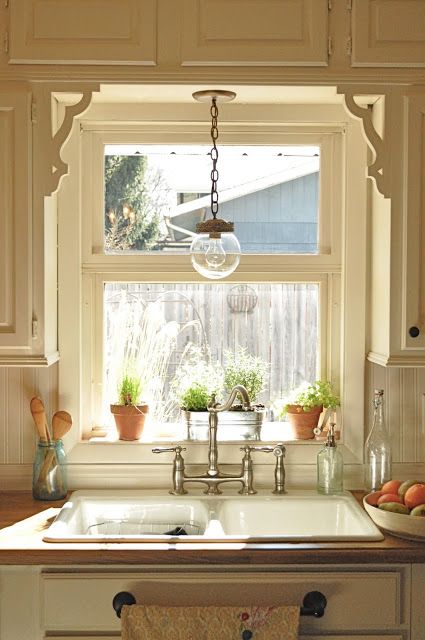 This simple beige-framed window was built in between two rich caramel colored columns, which feature decorative corbels at the top, thus decorating the window itself. The industrial hanging lamp in the center further enhances the effect. via jenniferrizzo
No-sew DIY Greek Key Curtain Panels

These curtains are pretty cool yet also elegant, as they feature a Greek Key border that adds detail and a modern geometric appeal. The design can be easily applied without sewing, as you could stencil it in using fabric paint or glue the fabric strips on, which works just as well and adds a subtle 3D effect. via viewalongtheway
DIY Bay Window Curtain Rods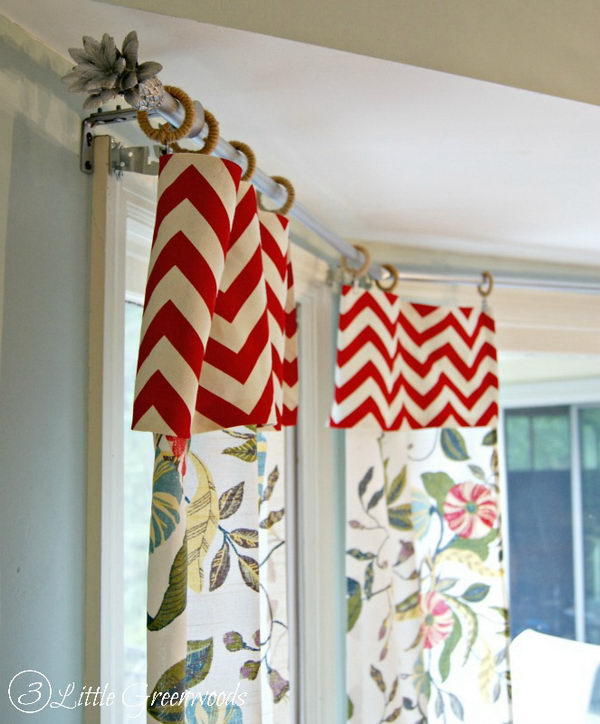 Bay windows are big, which means curtain rods have a price to match. You can easily make your own using tubing, which is much cheaper and some other supplies that will certainly not bust your budget. Once your rod is done and in place, you can add some beautiful and bright no-sew curtains like these to finish your crafty window treatment. via 3littlegreenwoods
Barn Door Style Window Shutters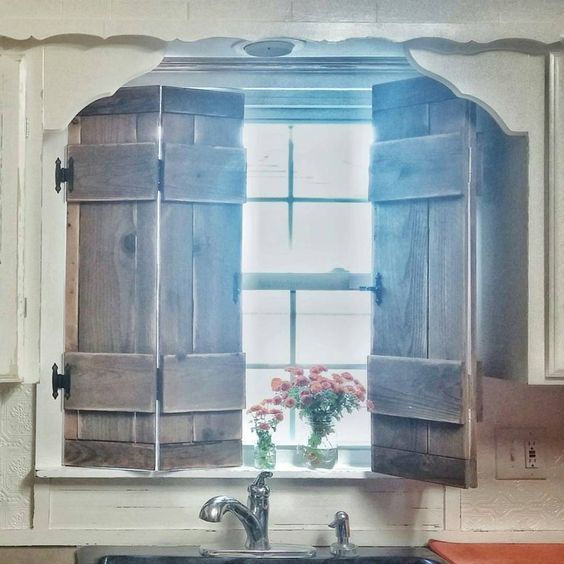 These shutters aren't actually barn doors, but they certainly look the part with their distressed aesthetic. This concept fits in really with the space and matches the traditional style window inside perfectly. via instagram
Mason Jar Window Treatment

This is one of those windows that are divided into many panels, so it makes all good sense to decorate some of the joints in the frame. Adding mason jars supported by metal rings with flowers inside brings extra beauty to this space. via itallstartedwithpaint
Rustic Rope DIY Valance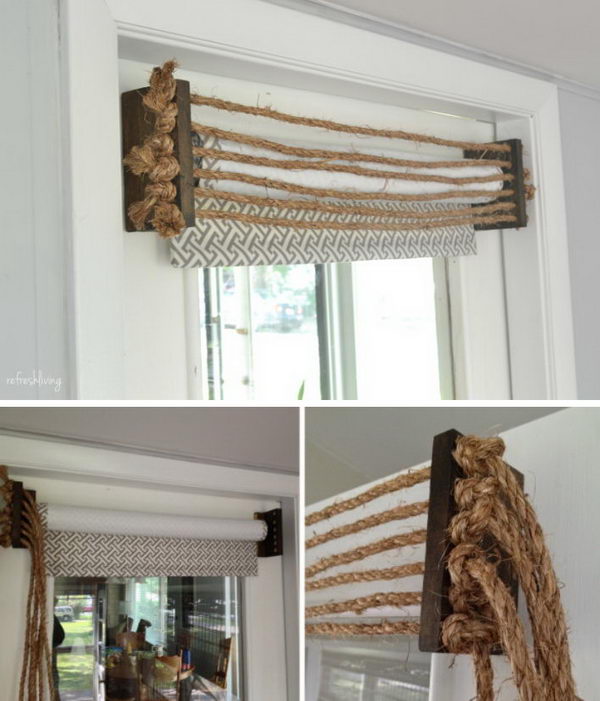 This valance is quite interesting, because it creates great contrast with the window frame and the surrounding room. It definitely adds a rustic touch to the space, as two solid, rich wood panels secure several golden brown ropes that stretch atop the window. via refreshliving
Easy Roman Shade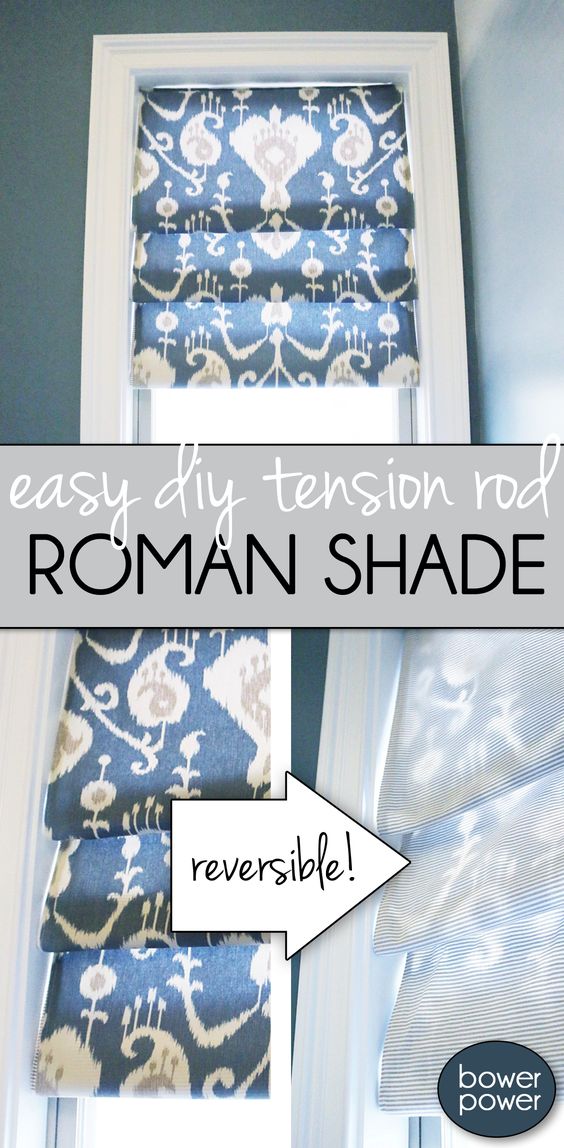 Calling any Roman shade easy to make is probably being optimistic, but the effect is really beautiful, and this patterned material is quite forgiving, so it's definitely worth trying. This was also made to be reversible, which means you should end up with two shade options, allowing you to change the look of the window as you please. via bowerpowerblog
DIY Pallet Wood Vertical Blinds

These blinds are, once again, quite a bit different. They are made from pieces of pallet wood hanging vertically from a metal rod using matching metal rings. The mix of wood colors and materials looks really good inside the thick light window frame, and they can be pushed aside so you can look outside. via instructables
Update Roman Shades with Fabric

This kitchen had some traditional Roman shades, which looked a little outdated, so they were made over using floral fabric which maintains the unique style of the blinds but gives them a fun and colorful update. via remodelandolacasa
DIY Industrial Farmhouse Window Valance Sign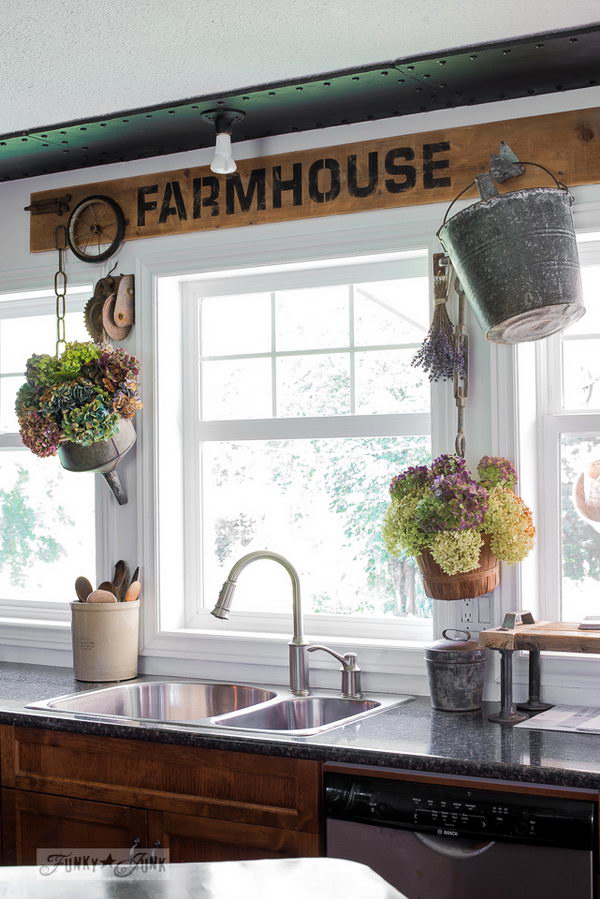 There's no confusing this with anything but a farmhouse kitchen. The valance is a large wooden "Farmhouse" sign placed under what looks like tubing and decorated with an industrial wheel as well as a hook for the metal bucket. Potted plants and decorations hang on either side of the window. via funkyjunkinteriors
DIY No-Sew Pink Pelmet Boxes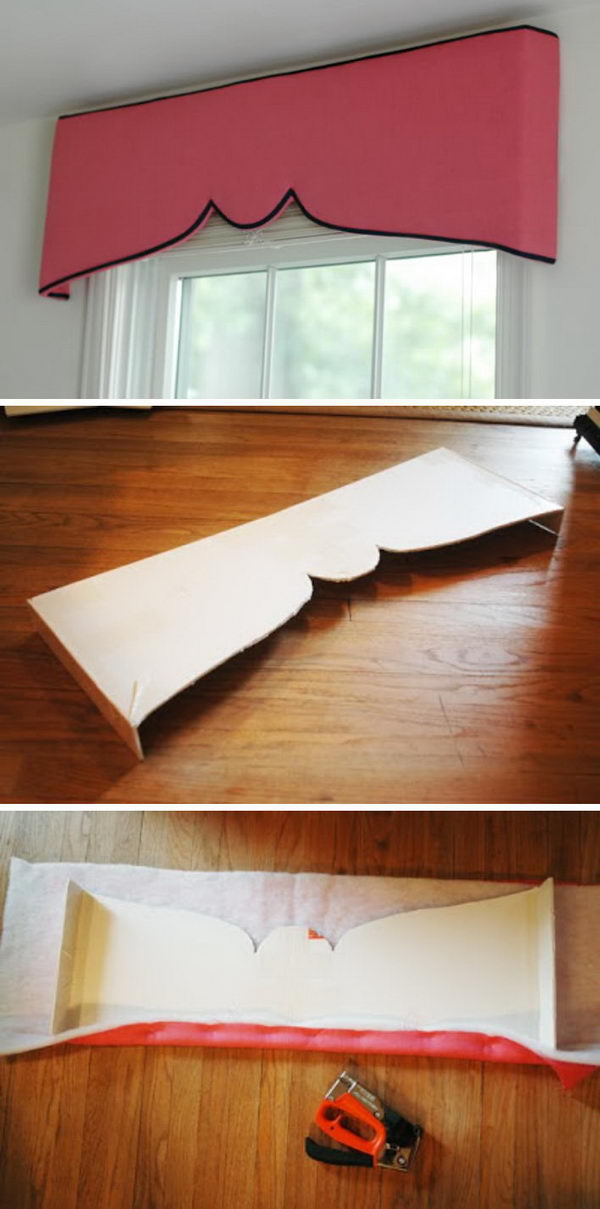 This pelmet box has a really beautiful drape shape and detailing. You can avoid sewing disasters by creating your wooden box and then gluing your pink fabric and black hem on top using the appropriate kind of glue. via littlegreennotebook
Wood and Dropcloth Curtains

Once again, we aren't really talking about curtains, but rather a very decorative valance here. The box is made of rich, dark solid wood, but then it features some light pink ruffles all along its length on the underside. Simple thin curtains hang to the sides. via huntandhost
DIY Drop Cloth Curtains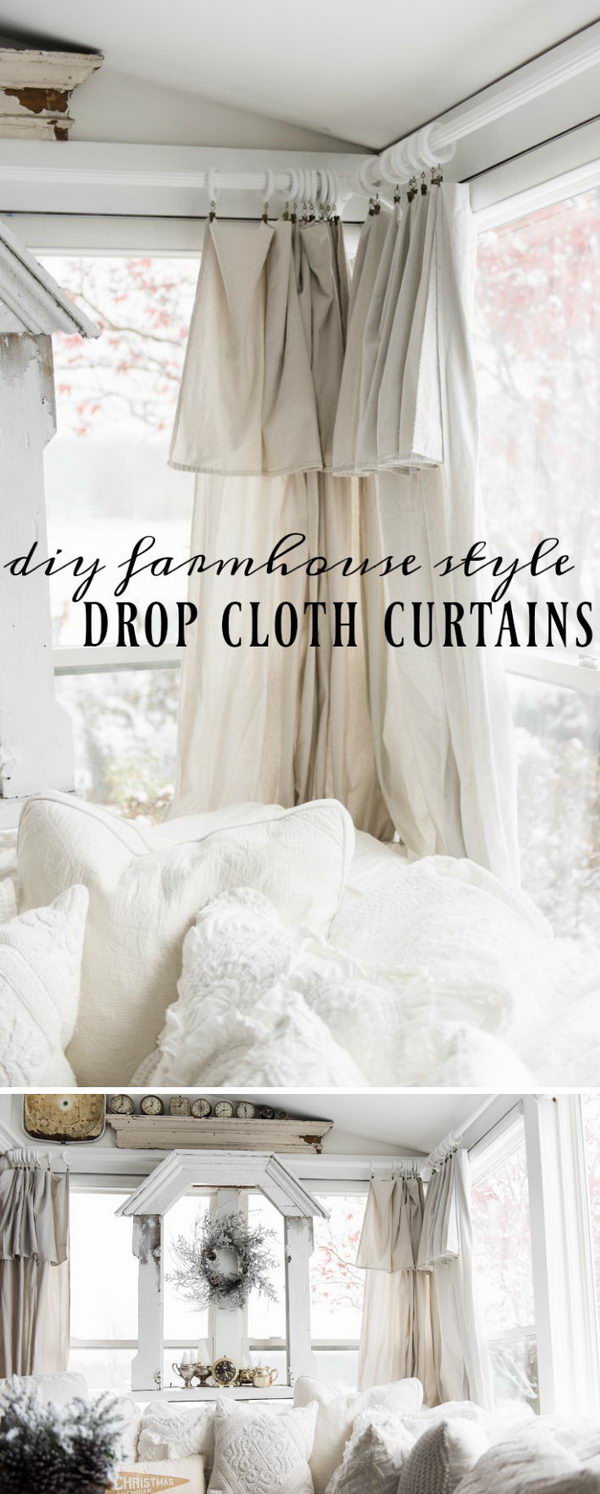 Now these are actual curtains made from that dropcloth material, but they hang from an exposed rod and hoops. They look a little heavy bunched together at the corner, but they definitely match the room at large. via lizmarieblog
DIY Ribbon-Tie Valance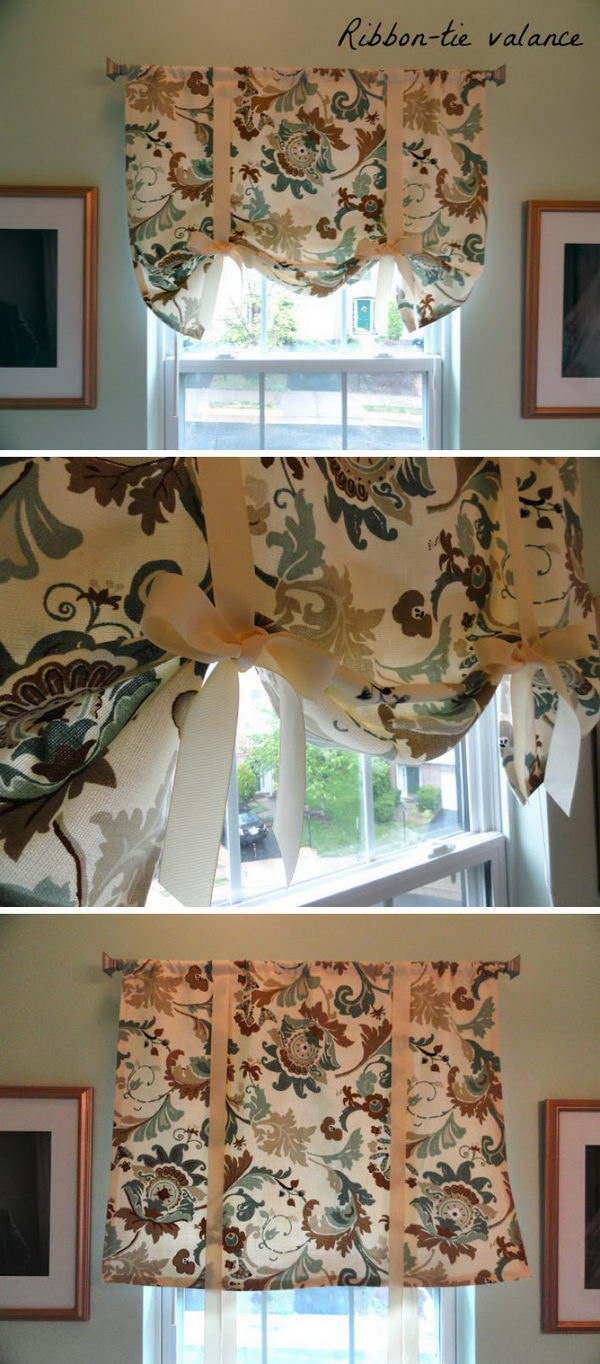 This valance is quite a bit different, as it looks more like a floral fabric shade. It has ribbon in a complementary color running through so it can be tied up to change the look or let more light in. via rachelsnest
DIY Drop Cloth Smocked Curtains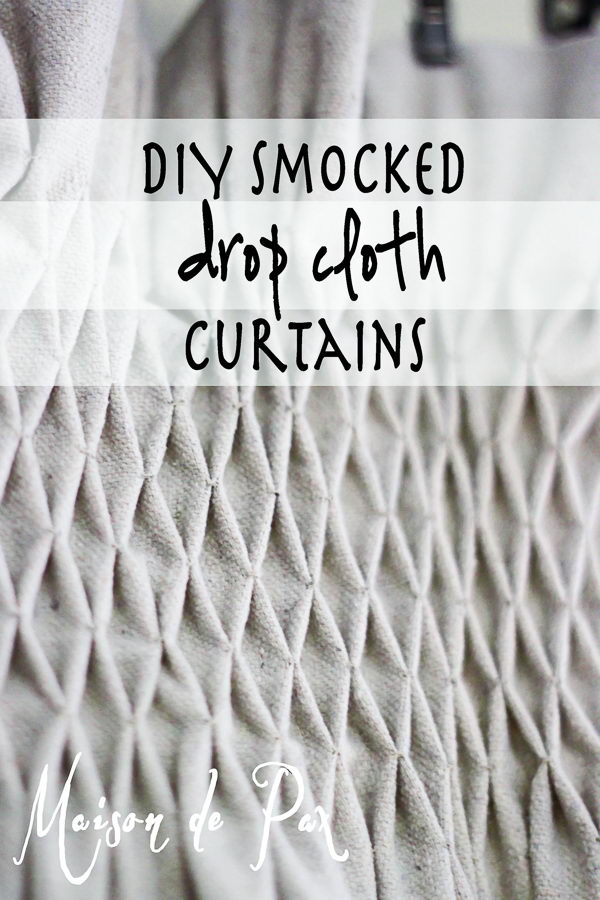 Dropcloth isn't the prettiest of materials, but these curtains are definitely impressive. The smocked pattern really adds detail and beauty to the otherwise bland material. via cedarhillfarmhouse
DIY Door Knob & Industrial Pipe Curtain Rods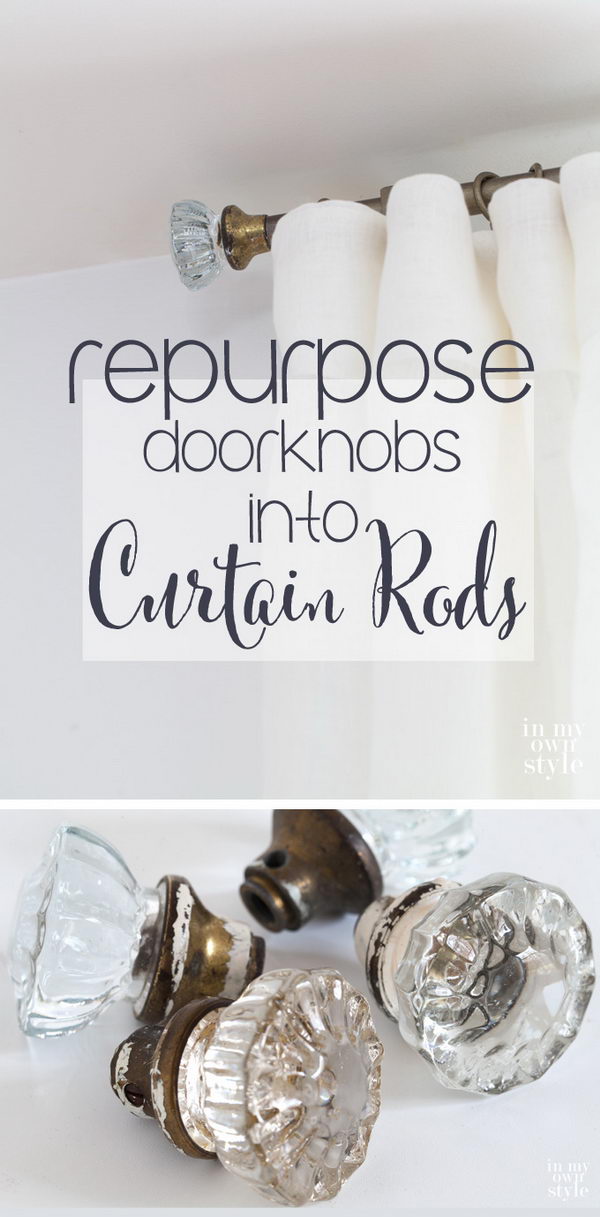 This is another project for those folks who want something quite impressive at a low price. The industrial copper pipes look quite beautiful and luxurious by themselves, but the glass knobs at the end add a delicate touch to this rod, which goes really nicely with the white curtains. via inmyownstyle
No Sew Grommet Curtains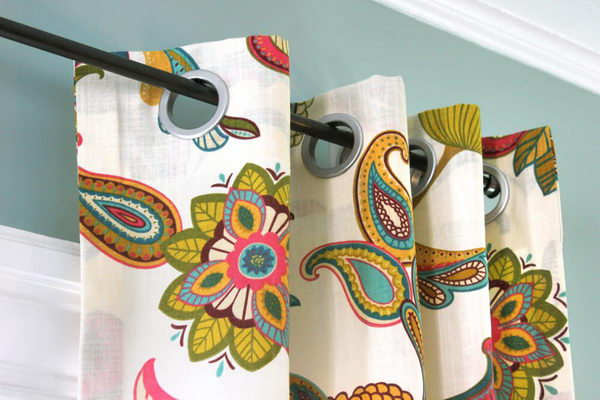 These grommet curtains may look like they belong in the shower with the simple black rod, large embedded metal holes and bright pattern. They also looks beautiful however, especially because of the folds that the curtains create as they are drawn to the side. via onlinefabricstore