Mothers are arguably the most important people in any individual's life. They are their sons and daughters' primary care and affect givers, often their bigger supporters and one of few constants in their lives.
Mothers will always be the First Lady of any man's life and likely the confidant of choice for most women.
It is thus important to show them love and affection from a young age, whether it is Mother's Day, a holiday or in small moments of everyday life. It is also important for fathers and siblings to help and encourage younger members of the family to engage in moments of affection with their mothers.
While most mothers will be more than satisfied with a few words of appreciation and recognition topped off with a kiss or hug, buying or making a present is always a sweet gesture.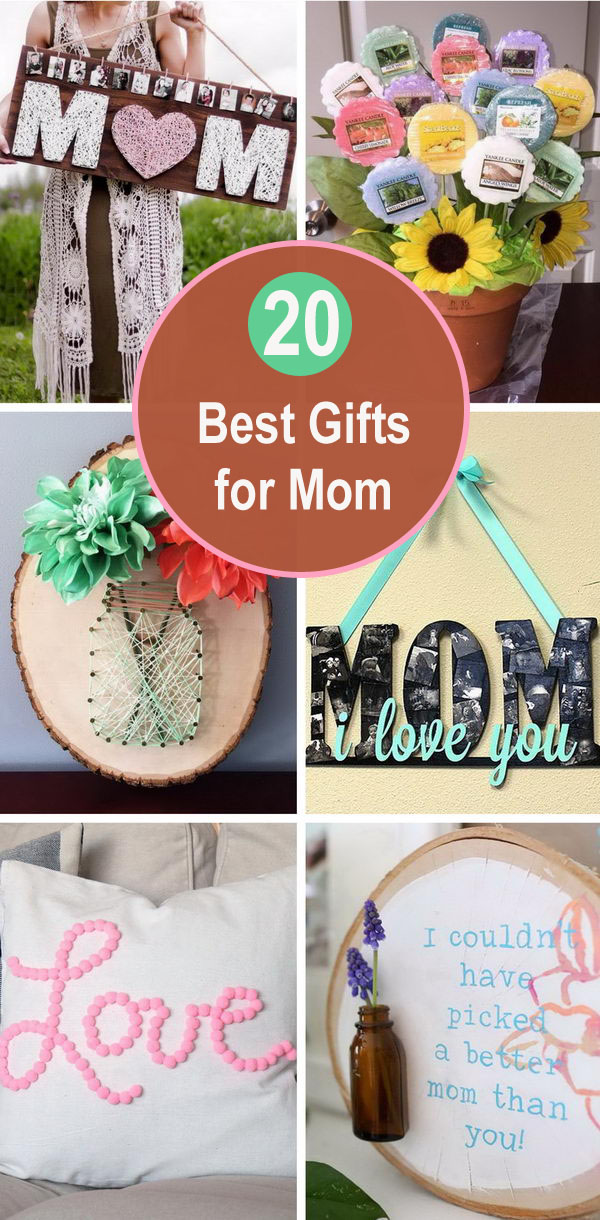 Presents show that you are willing to spend time and/or money on someone, and they help build as well preserve memories. The best news is they don't even need to be expensive or big to make a huge impact. If you need help with ideas though, this is the article for you. Check out these Best Gifts For Mom.
Sugar Cookie Garden Stone for Mother's Day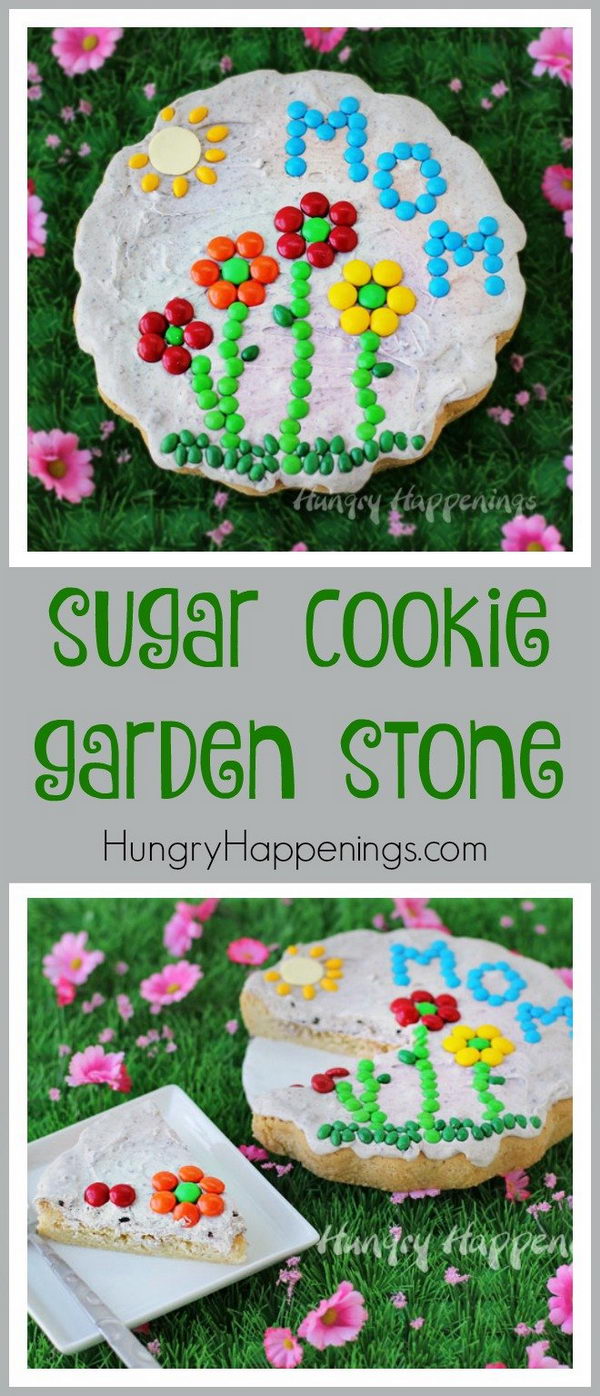 via hungryhappenings
String Art Mother's Day Gift

The large "MOM" sign is made of a board lined with small pictures at the top and a string to hang or display it. The main feature though is the big pink word, which was done with stencils and string art techniques. The outline of the letters needs to be nailed on, so a teenager or adult has to be involved in this project. via lilyardor
Easy DIY Stenciled Scarves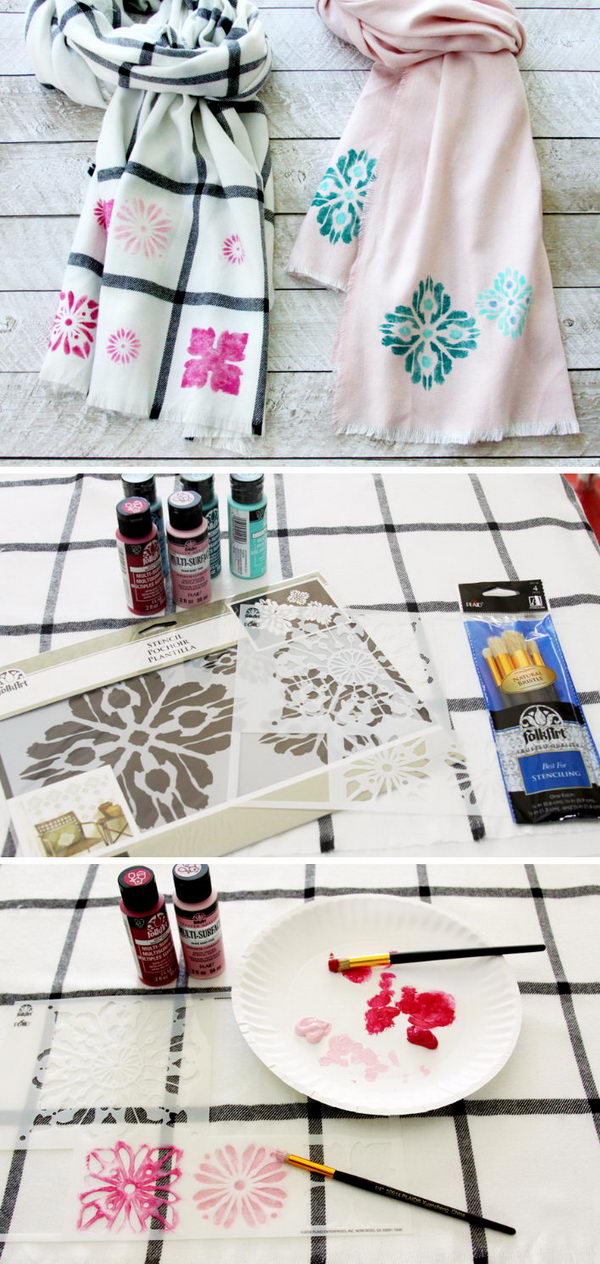 This project is simple and cost-effective to make if you want to give something useful and unique to your mom. All you need is a plain scarf, stencils and fabric paint. Our advice would be to choose a scarf, stencils and colors that your mother would like to wear anyway and make the stenciling as perfect as possible to get the best result. via flamingotoes
DIY Mason Jar String Art

Here's a project that is quite ingenious and original. This is a mason jar vase which made using an oval wood board and stringing techniques. The colorful flowers make it look somewhat realistic, especially when hung on a wall. via dearparadise
Cupcake Bouquet For Mom
A cupcake rose bouquet is a really sweet idea. You can make and decorate the frosted cupcakes yourself if you're able and allowed to, or get them premade and set them in a planter style container to present it to your mom – she will definitely appreciate the gesture either way. via seevanessacraft
DIY Painted Dipped Jars For Mom

These dip-dyed jars or vases are really cute, easy to make and versatile. They are a very useful gift because your mom could use them for a number of things, but presenting them with some flowers will win you extra points for sure. via kitchentrials
DIY Gratitude Journal For Mom

If you are looking for the Ultimate Mom Present, then you just hit the jackpot. A gratitude journal is nothing more than an adequately decorated notebook addressed to your mom, whose pages are filled out with memories, shows of affection and all of the reasons you are grateful for having her in your life. It is sure to woo any mother, so long as she is able to read your messages. via ehow
Homemade Brag Book For Mom

What is a "brag book" you may ask? Well, it is a different take on a photo album which docunents your life and allows you both to reminisce and brag about your accomplishments. It is very easy to make because all you need is cardboard, piictures and memories to fill it with. via nalleshouse
Easy Chunky Knit Blanket

Everyone enjoys a good knit blanket for those cold winter days, and moms are certainly no exception. You can buy one or learn to knit online, but the present will be extra special if you learned how to knit from your mom. via nourishandnestle
Reclaimed Wood Photo Holder

Now this is a little more of a complicated project, as it has many intricate pieces. For this one you will need a reclaimed wood board, which you will spell the word "MOM" on with 3D letters. Then you can add another 3D decoration like you see here and finally a family picture, attached using a metallic decorative pin. via craftcuts
DIY Photo Planter

Plants are much like children, as mothers get to nurture them and then watch them grow. This project marries the two, as traditional clay style planters are repainted and decorated with family pictures glued around the side so that mothers can watch their plants and children grow at once. via walgreens
DIY Mother's Day Vase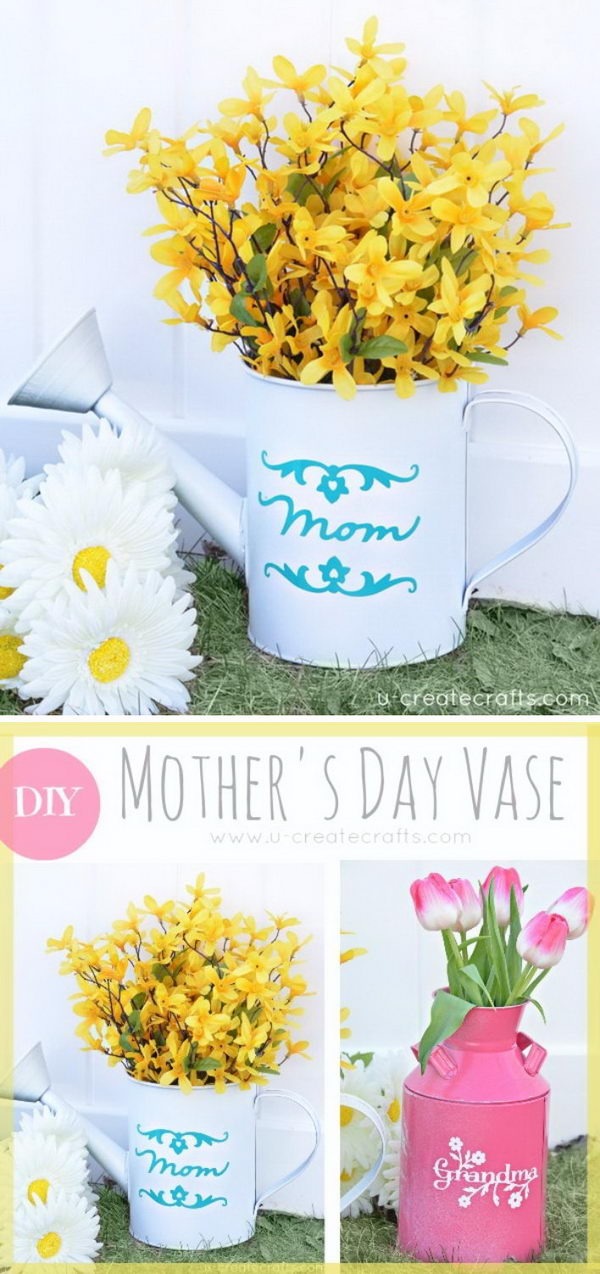 These vases are quite cute and easy to make. They are simply painted and then decorated with the word "MOM" and some doodles. Presenting the vase with some flowers will always look best, even if they are fake. via u-createcrafts
DIY Paper Hearts Bouquet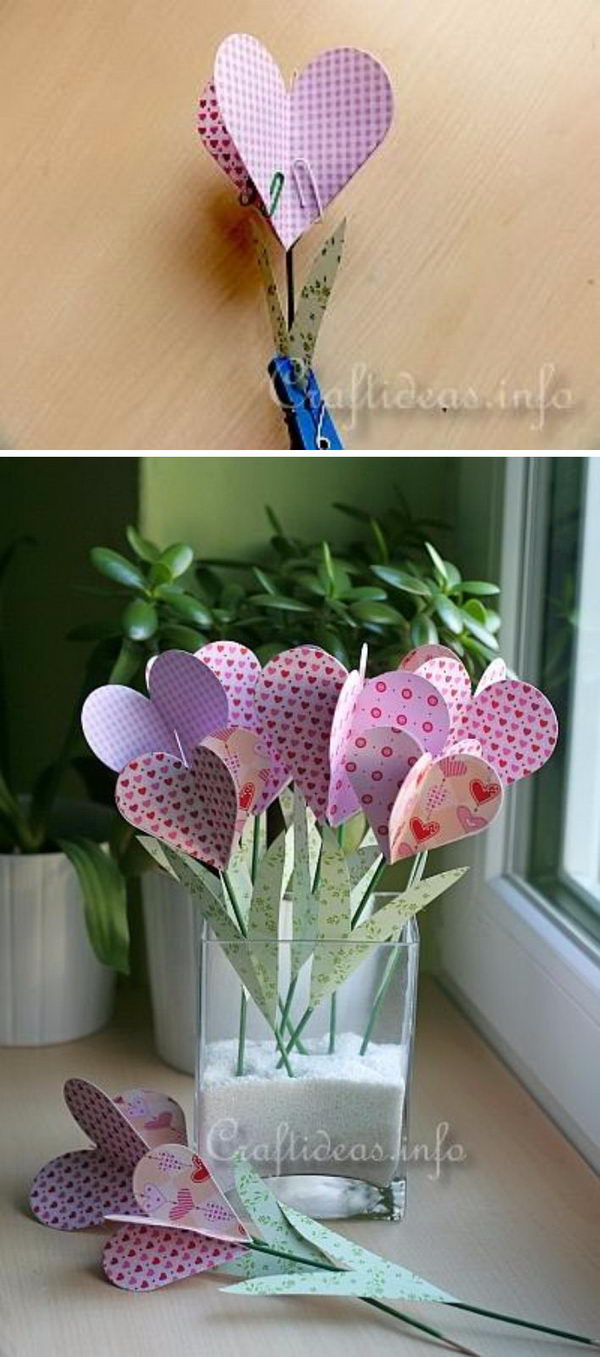 This gift is simply adorable and easy to make. All you need to do is cut hearts from scrapbooking paper or a similar material, then attach them to sticks with fake leaves and arrange everything in a vase to look like a bouquet. via craftideas
Handwritten Recipes Printed on Tea Towels For Mom

Are you a fan of your mom's cooking? Then snatch her recipe book, scan the recipes and have them printed on tea towels to create this wonderfully unique gift. via sometimes-homemade
Tea Light Candle Flower Arrangement

Candles and flowers are two of most women's favorite things. To combine both in this gift you will need to get an arrangement of true or fake flowers as well as cute, colorful and fragrant tealights. Mix the flowers and lights in a pot and your present will be ready for delivery.
Mother's Day Topiary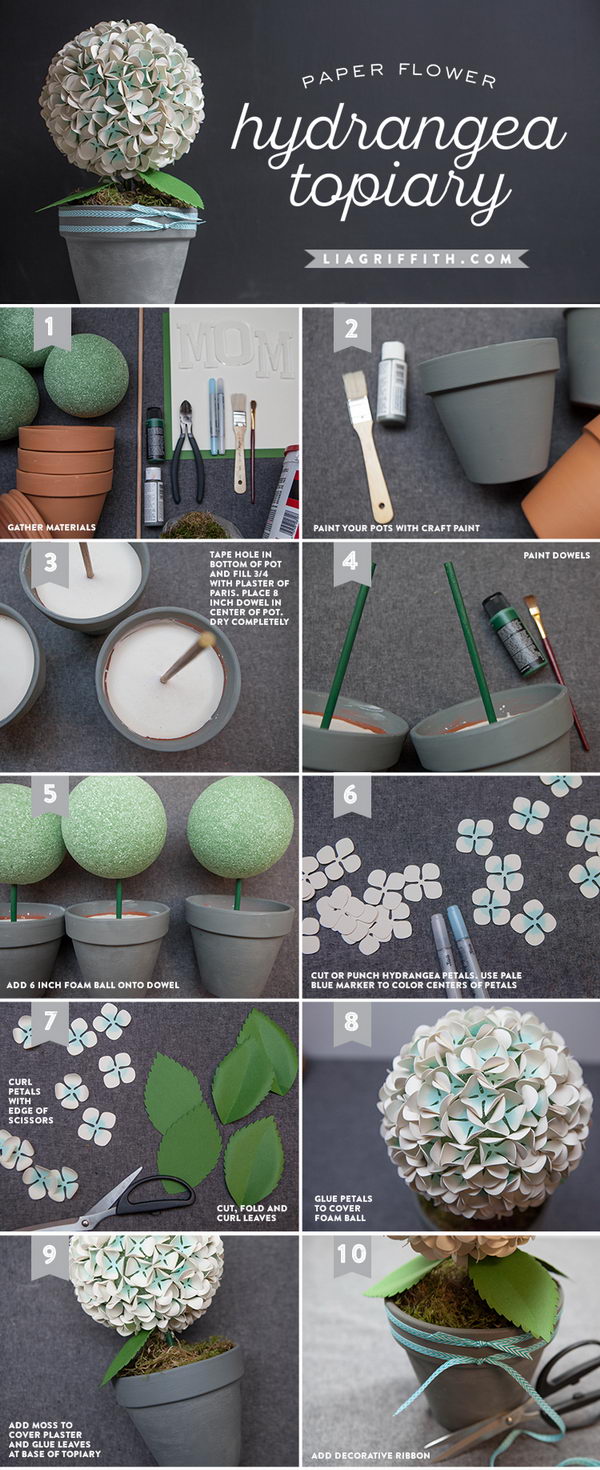 This topiary is very impressive and a little time consuming but the good news here is that the project itself is perfectly doable. Your basic parts are a clay planter, a ball and a stick. Paint the planter, then install the ball and the stick. Add paper or card leaves to the inside of the plantter, cover the ball with paper hidrangeas and then finish it all off with a ribbon at the planter's edge. via liagriffith
DIY Fresh Flower Sign

This round sign or wall decoration is genuinely easy to make. Take your round surface, then paint a design and message on it. After that, add a small bottle with fresh flowers to one side and your piece will be ready. via shrimpsaladcircus
Wire Wrapped Mother's Necklace

Making these wrapped wire and pearl pendants is actually easier than it may look, as you can use a technique similar to stringing for your basic shape. Add a chain to make it a necklace or give it to your mother as a decorative piece – she will love it either way. via saynotsweetanne
Bottle Cap Flower Magnets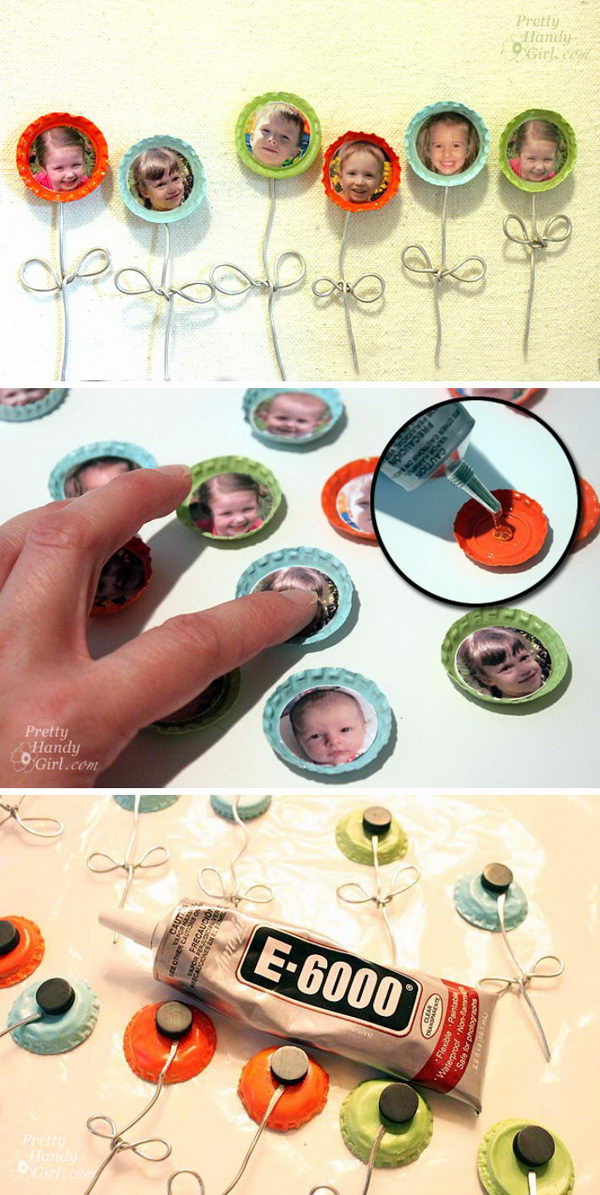 Fridge magnets may seem outdated, but no one rejects one, especially if they have a picture of their children. You will need bottle caps, photos and some twisted or shaped wire to make these, but they should turn out alright if you make them with love. via positivelysplendid
DIY Mother's Day Photo Cube

Making a photo cube is as easy as getting a cube, covering it with glue, then cutting your photos to size and adding them to each of the sides. You can also add a protective coating at the end to make it shinier and keep the pictures from peeling as easily. via allparenting
DIY Love Themed Pom Pom Pillow

Making this pillow is really easy, but it is more of personalization than creation project. All you need is a plain pillow, tons of small pompoms and hot glue. Glue the pompoms to form your desired shape or phrase and the pillow will be ready for wrapping as soon as everything's dry. via consumercrafts
DIY Handprint Wall Sign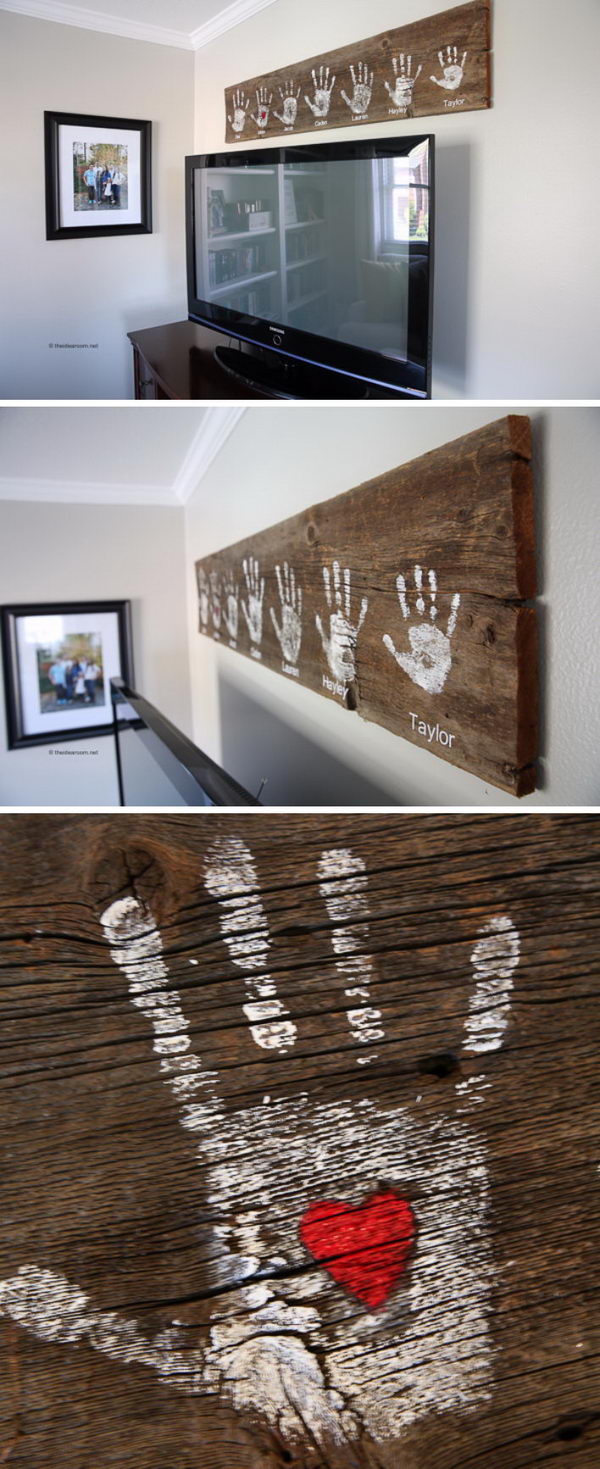 This is more of a family project than one meant specifically for mom. It is a long piece of wood which features the handprints of each child with their names written underneath. This can also work for an only child, to track their growth over time. A cute detail is that the handprints have a heart drawn in the center. via theidearoom
DIY MOM Collage Sign

This idea is very modern, as it uses fashionable 3D letters. The word "MOM" is covered in pictures, which make a bit of marble effect, while the phrase "I Love You" was painted turqooise and glued at the base. The sign has a thin strip of wood painted to match at the base and a turquoise ribbon on top for hanging. via craftcuts