Gallery walls are one of the best ways to decorate and add personality to a space, and that's why they're so popular! These combinations of photos and prints are always unique and personal, making your home overflow with your essence. Check out these super easy and fun ideas on how to decorate a gallery wall!
Geometric Layout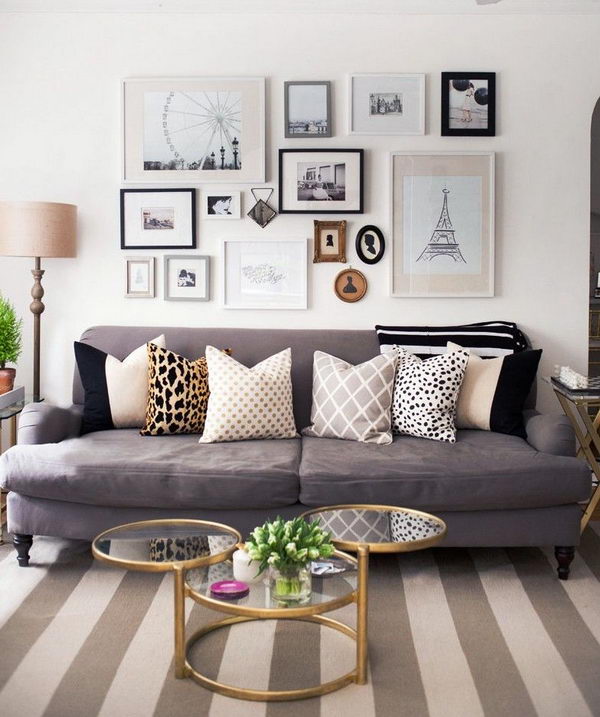 via buzzfeed
One of the first things we have to talk about is the layout. Imagine all the pieces that will compose the gallery wall together and think about the overall design. An easy ways to start a gallery wall is to plan it around a geometric shape, such as a square, oval or rectangular layout.
To make sure the composition will look good, you can make paper templates of the pieces and tape them on the wall, deciding the height and placement of each one. This way, you can arrange and rearrange the pieces before you start drilling!
Eclectic Wall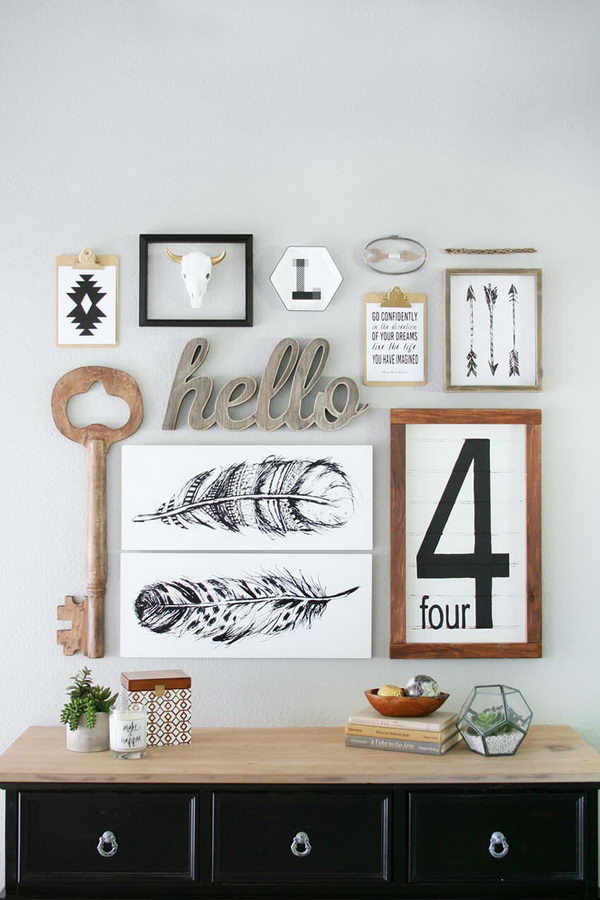 via homeyou
Another important thing to keep in mind is that gallery walls are not just for photos. You can add various other elements to complement the wall and overall design, such as:
Clocks
Mirrors
Wooden letters
Signs
Accessories
Vinyl discs
Mounted pieces, like antlers and lamps
Etc.
Mix and match different materials and elements to create a unique gallery wall that fits your family's personality!
Of course, if you have a more traditional and conservative style, adding just pictures of your family can be a beautiful choice. After all, the gallery wall is supposed to reflect your style!
Focus on a Theme or Color Palette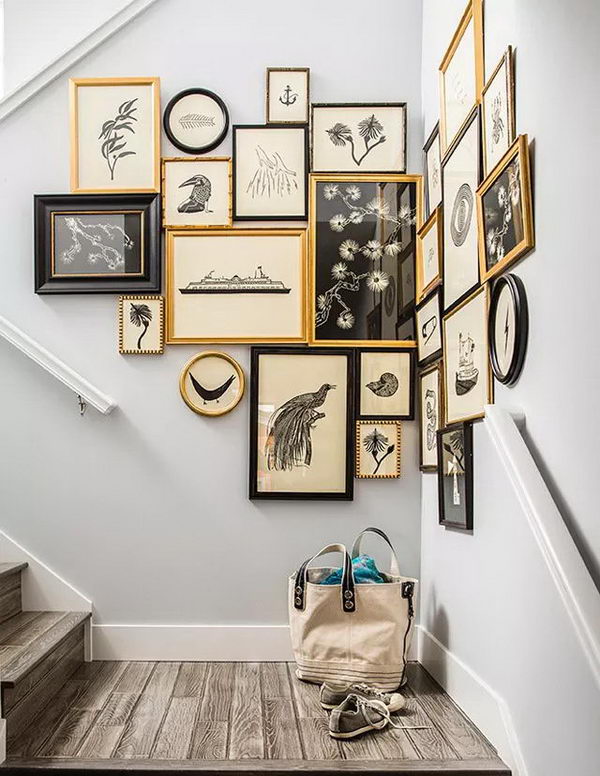 via hommeg
A great way to create a cohesive gallery wall is by following a theme or color palette. You can create a wall displaying only family pictures, art and memorabilia, or follow an entirely different theme altogether, like on the wall above.
If you want a wall with various forms of art without a proper theme, then following a color palette is the best way to ensure the pieces go together. You can either apply the color palette to the frames or to the pictures themselves. Black, white, and gold is a very popular color palette, and it works beautifully. Alternatively, using pictures that contain different hues of blue, for example, is another way of making the pieces work with each other.
Balance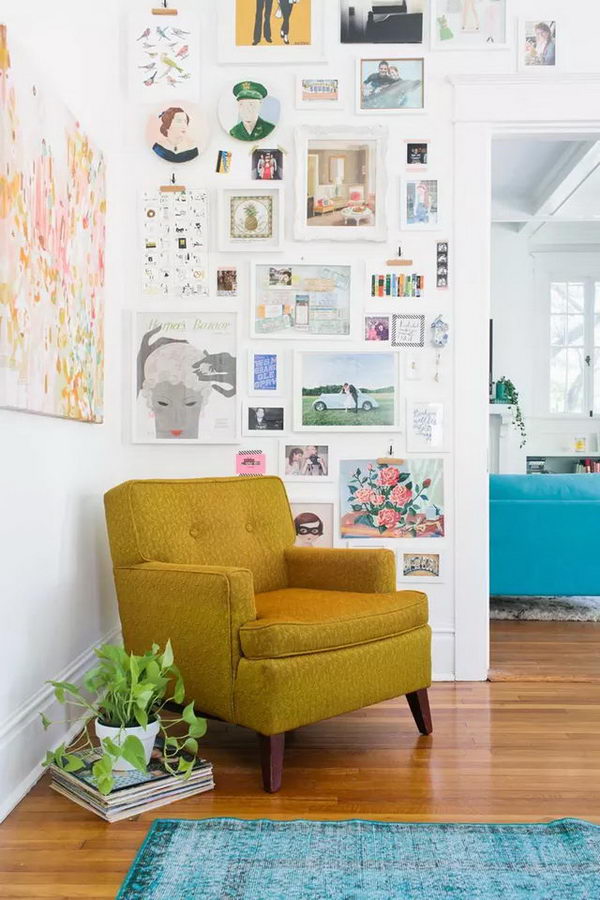 via apartmenttherapy
One of the most important things to keep in mind while planning a gallery wall is to keep it balanced. If you're going to add lots of colorful photos, drawings, and other elements, you can keep the frames simple and neutral, like on the picture above, or keep all the pieces around the same size.
If your photos or prints tend to stay on the more subtle side, then playing around with different frames and sizes is your best bet.
Unconventional Ideas
via apartmenttherapy
If you live in a rental property or if you're not comfortable with drilling that many holes on your walls, then picture ledges are your ideal gallery wall design. With all the art aligned with the shelves, you can add many different trinkets and prints and it will still look balanced and symmetrical.
This idea is also great for those who get bored easily: you can rearrange and add or take out pieces as often as you want!
Showcase Your Personality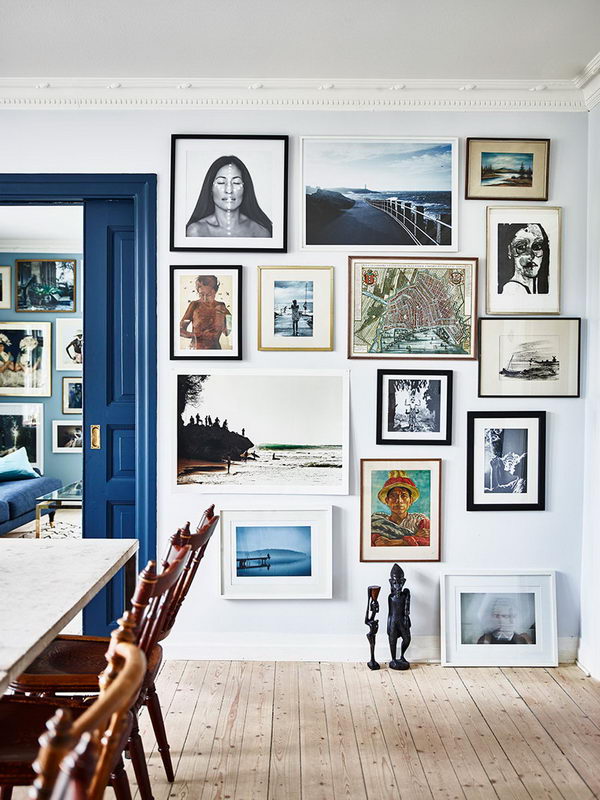 via bibbyandbrady
The trick to make a beautiful and unique gallery wall is to plan it around your personality. Don't just put photos and paintings on the wall because they're pretty, try to add pieces that speak to you! Use pieces you find beautiful even though they might look awkward, photos that make you smile, and drawings that warm your heart.
Think of your favorite things: your favorite color, your favorite place, a spontaneous photo that shows your family's personality, your dog smiling, your favorite artists, etc. Putting these pieces together will create a style that is truly unique and personal, which is perfect for you and your home.
Have Fun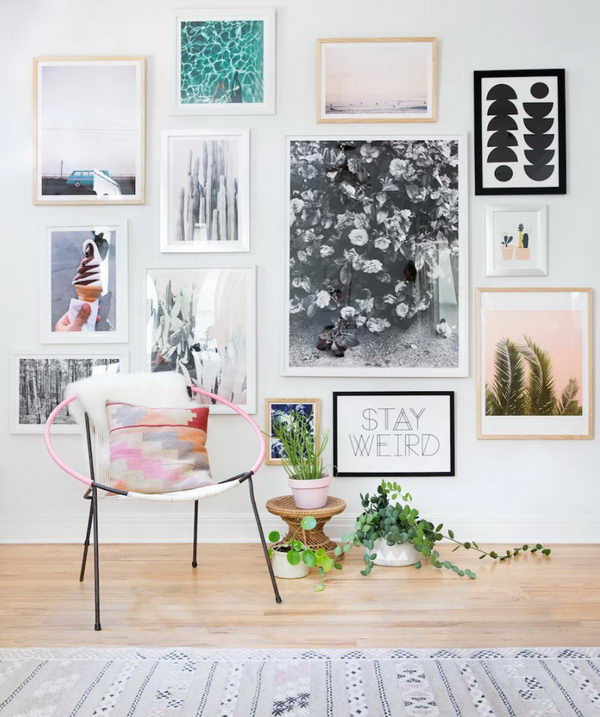 via shelterness
In the end, one of the most important things in life is to have fun, so don't worry about it too much and just play with it. If you don't have the patience to plan a symmetric layout or if you don't really care, a fun thing is to simply choose the pieces and let the resulting design be a surprise.
Found a cool frame that doesn't match anything? Well, throw it with the other ones! Came upon an awesome print that makes you laugh? Add it to the wall! Any time you find a new art piece or take a beautiful photo you can go ahead and put it up, letting the gallery be a living, organic part of your home.
Article written by Isadora Guidoni, also a writer for homeyou.com, where you can find decor and remodeling ideas, and professional contractors for any home improvement project. Check more on Facebook, Pinterest and Twitter.