Furniture can be very versatile, if you want it to be. A single piece can look extremely different depending on the environment surrounding it or the decorative elements used to enhance it.
Used or vintage furniture, in particular, often has great hidden potential only waiting to be discovered. Sometimes all it takes is a new color or different doorknobs.
No piece of furniture should ever be overlooked or underestimated, unless it is in really bad shape – and even then it can potentially be reused as reclaimed wood or something of the sort.
If you have any pieces of furniture you would like to repurpose or give a new life to, but have no idea of how to go about it, then this article is definitely what you need.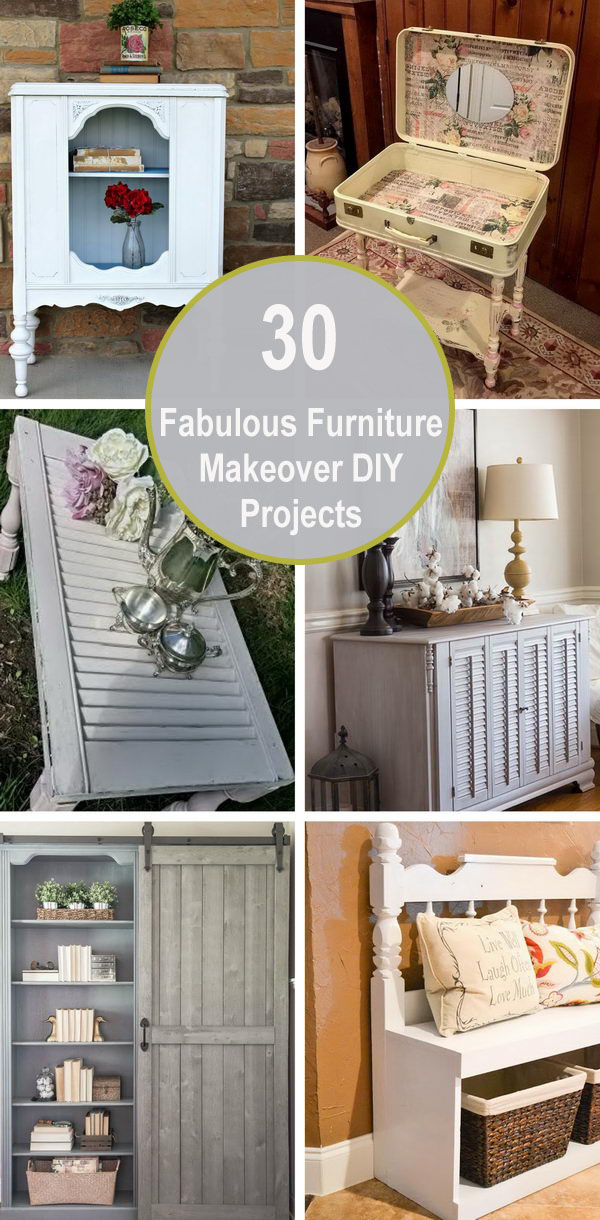 Here's our incredible collection of Fabulous Furniture Makeover DIY Projects.
DIY Industrial Desk Made from Metal File Cabinets and Butcher Block Desk Top

What an ingenious project, as common file cabinets were tuned into a sophisticated, long industrial table. The cabinets were repainted in a dark hue for this project and then arranged so that a long butcher's block could be installed as a table top. The end product has plenty of space for people to work as well as storage. via meadowlakeroad
Give the Dark Green Cabinet a Fresh Look with Paint

This is a much simpler project, only meant to update the piece in question. The old, dark green cabinet was painted white, which gave it a new, much fresher look without the need for more drastic changes. via dagmarbleasdale
Reuse an Old Door to Make Vintage Door Bench

Some people may think old doors are useless, but others know better, as you can see here. In this case, parts of the old door were repainted and reused to build this charming little bench that is embedded on the actual door. via lilluna
Transform Headboard to Bench for Outdoor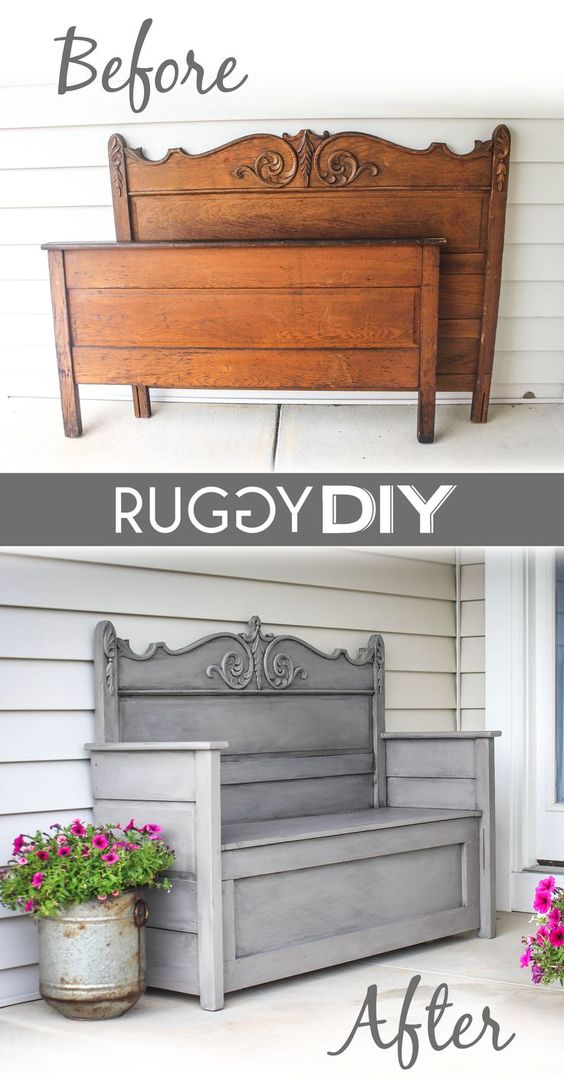 Another seriously ingenious and unexpected project, where an old – and actually quite drab – wooden headboard was upcycled into a bench for the outdoor area. The actual headboard, which is more detailed, was used as the back of the bench, while the remaining pieces of wood make the seat and sides. The whole piece was then painted in a hue that makes it resemble a stone bench. via ruggydiy
Completely Transform a Chair with Paint

This chair originally had a really old-fashioned look with its light color and floral cushions. A full paint job and new set of cushions later, this looks like a completely different chair, with its dark, luxurious hues. via 11magnolialane
DIY Craft Cabinet Makeover

The cabinet got a full makeover that goes way beyond the new color. The whole structure was changed so that the compartments held more and better storage for craft supplies. The light gray organizers provide subtle contrast against the white cabinet while keeping supplies well-stored and clean. via remodelaholic
$2 Auction Table Gets A New Look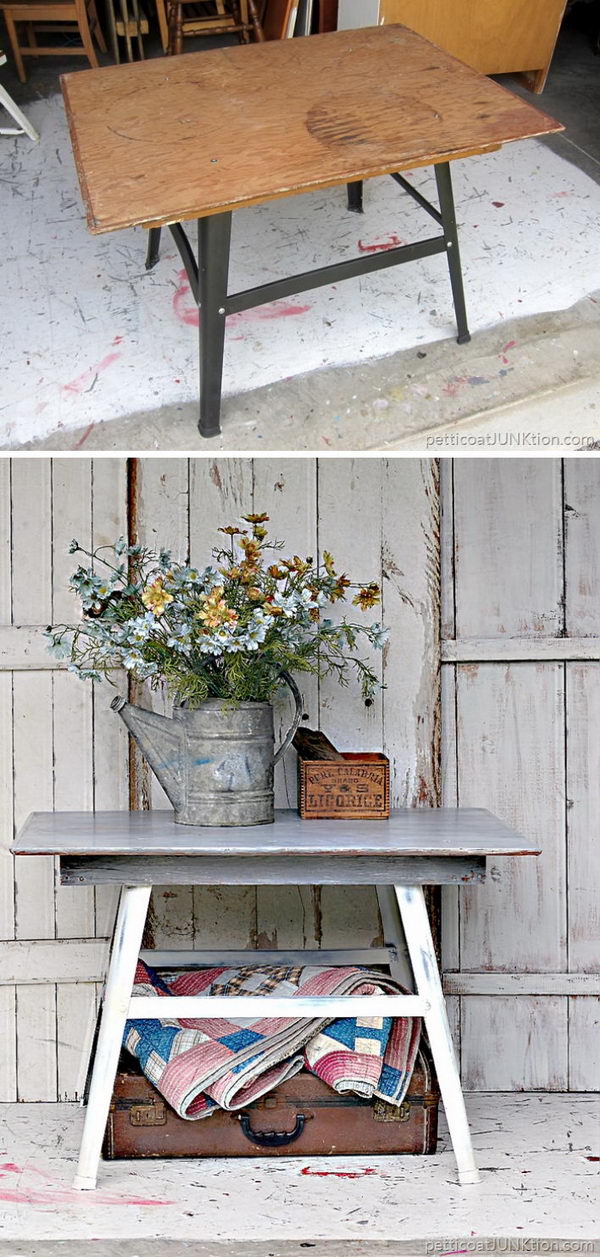 This simple, cheap table definitely got a makeover. The top was polished and painted a gray hue while the legs became white for optimal contrast and a modern look. The top is used for decoration while the underside seems to now hold a sort of storage area. via petticoatjunktion
Dresser Makeover into a Mini Mudroom

The old wooden dresser was literally turned on its side in order to become a condensed version of a mudroom. It was then painted a modern, taupe color and deep drawers were added to selected sections for storage, while an open section at the top got horizontal shelves. The remaining space serves as a rack. via sawdust2stitches
$5 Yard Sale Turned Sewing Chair with a Secret Compartment

A simple, old table chair was completely made over into a beautiful, practical sewing chair with a secret compartment under the seat. The light color and zebra print seat make this table look very feminine while the measuring tape backing adds a quirky kind of charm to the piece. via confessionsofaserialdiyer
End Tables Get a French Twist Makeover

These end tables got a makeover with a very literal French twist. The whole piece was white-washed for a subtle change of color, while the top changed the most with the addition of the "Paris" quote print and the matching color used in the compartment underneath it. via artsandclassy
TV Stand Made from an Old Dresser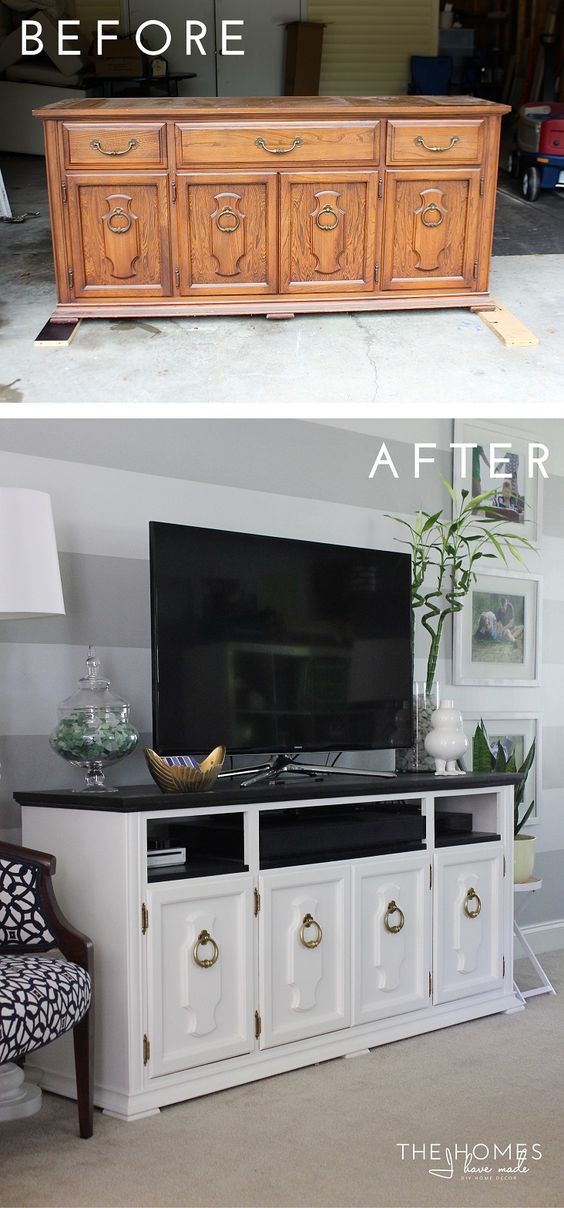 This wooden dresser was undoubtedly gorgeous, but it looked old-fashioned and heavy. Its makeover into a TV stand consisted of painting it white with a black top, taking out the upper drawers and adding a metallic color to the vintage doorknobs, which gives them an updated, fashionable look. via thehomesihavemade
DIY Bench From Recycled Headboard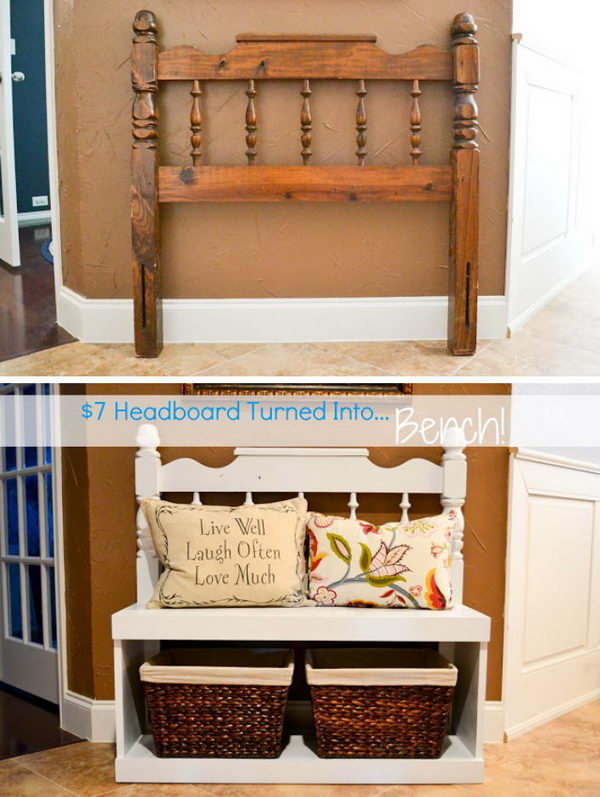 This headboard had the perfect design for the back of a bench, so it was logically recycled as one. To really finish off the project, the piece was polished and painted white, while the underside of the seat was used for storage with wicker baskets. via source
Add Height and Molding to Upgrade Boring Bookshelves

The wooden bookcase definitely went from boring to stunning after its makeover. A detailed top and bottom were added for height and decoration and additional shelves were installed for better organization. The whole piece was then polished and painted a dark slate color, which gives it that truly elegant look. via pneumaticaddict
Old Dresser Makeover with Shutters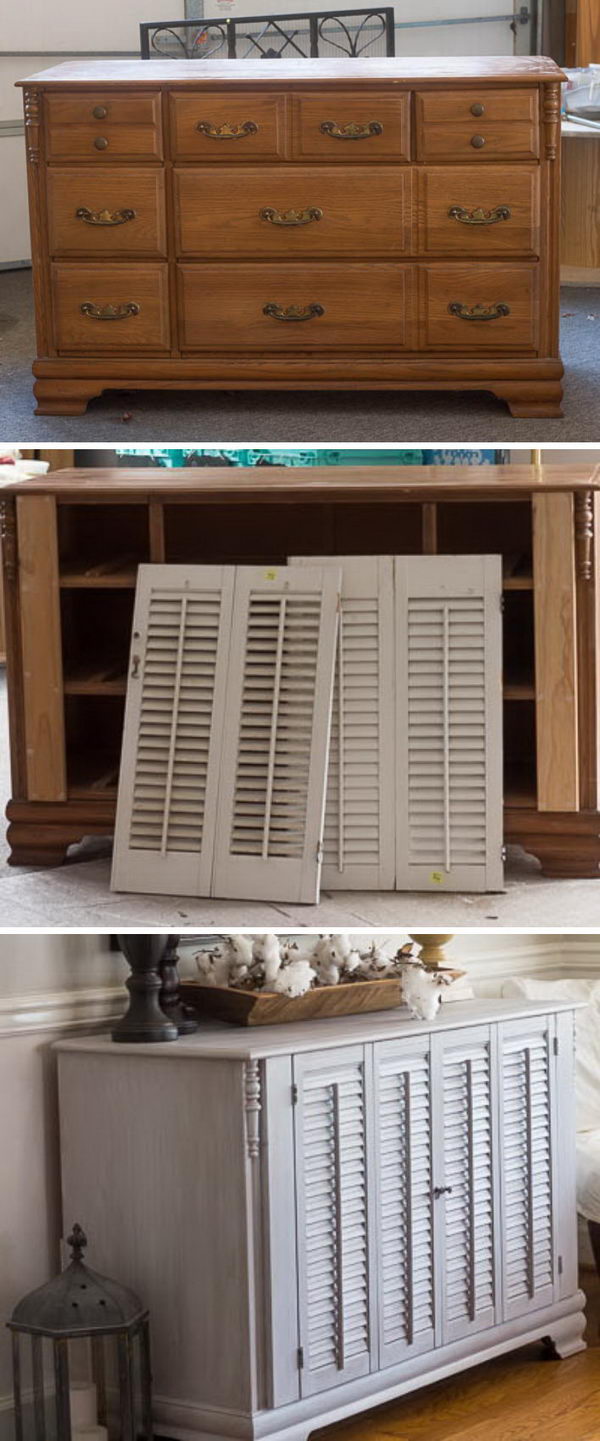 Now this is a very unexpected makeover. An old wooden dresser was completely changed by replacing the doors with shutters and then being painted white to match. A perfect piece for a fresh, summertime decoration. via savvyapron
DIY Farmhouse Display Cabinet from an Old Dresser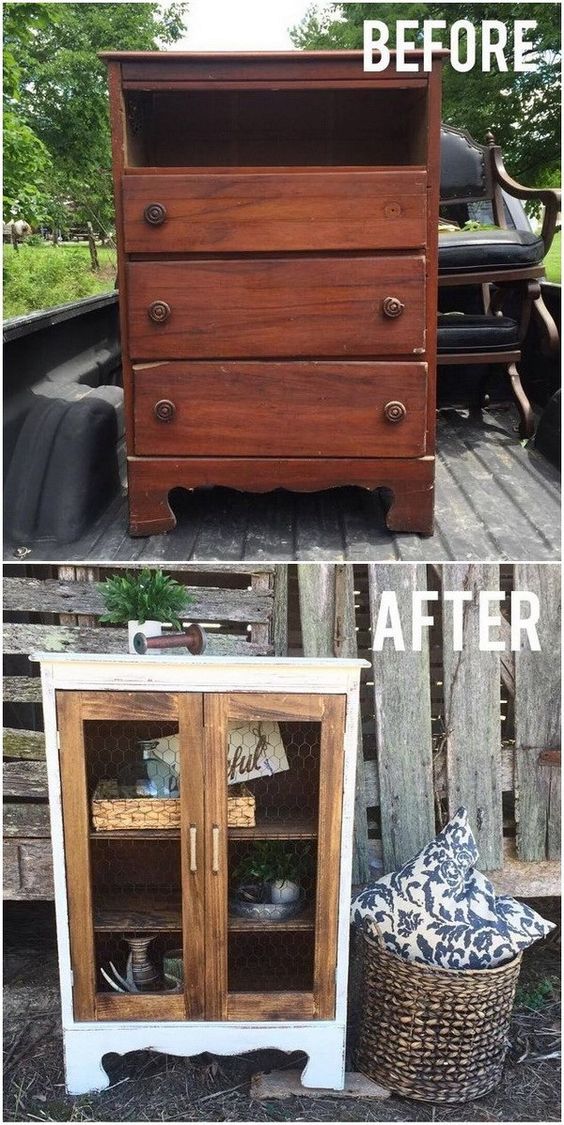 There are so many ways to upcycle an old dresser, and this is yet another one. Here, the drawers were taken out and replaced with distressed-looking display doors. The transformation was completed as the main cabinet was painted a cream color to match the farmhouse style. via hometalk
Paint Dresser Makeover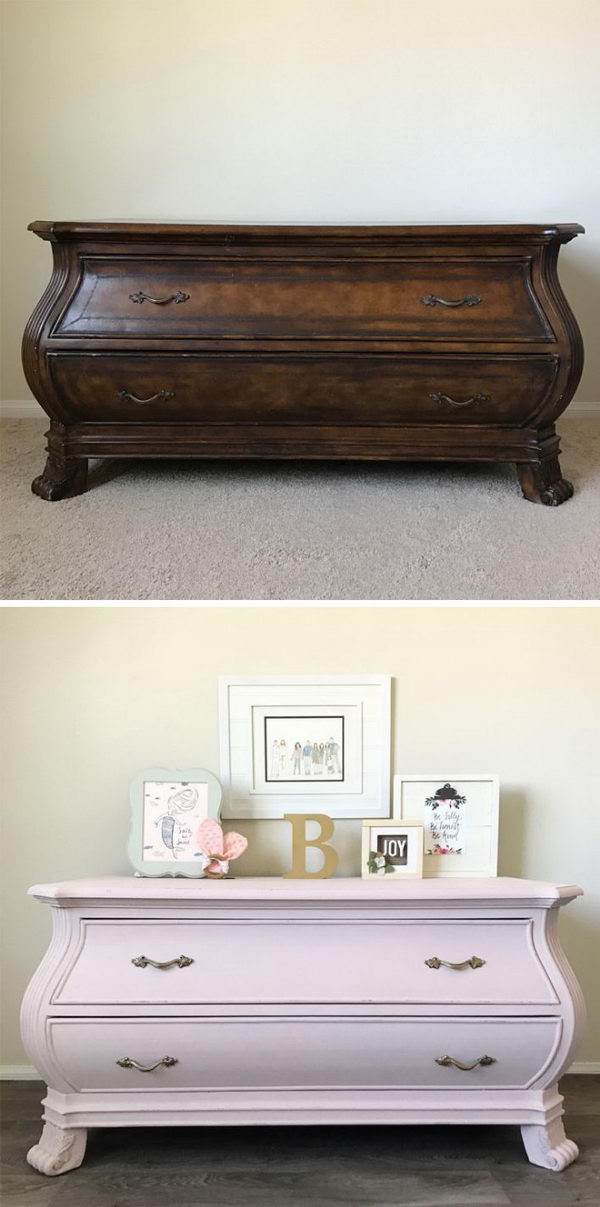 This dresser had a beautiful aesthetic, but its original color made it look heavy and old-fashioned. By painting it white the owners made the piece look modern and stylish. via allthingsthrifty
DIY Vintage Suitcase Vanity
Turning these old suitcases into a vanity is a great, very original idea. The suitcase itself was repainted and lined, then propped open to serve as the top. A small mirror was installed in the place of the top pocket and matching legs were added for height and support, as well as a shelf at the bottom that could be used for storage. via karenraelevine
Repurpose Dresser Drawers into a Veggie Garden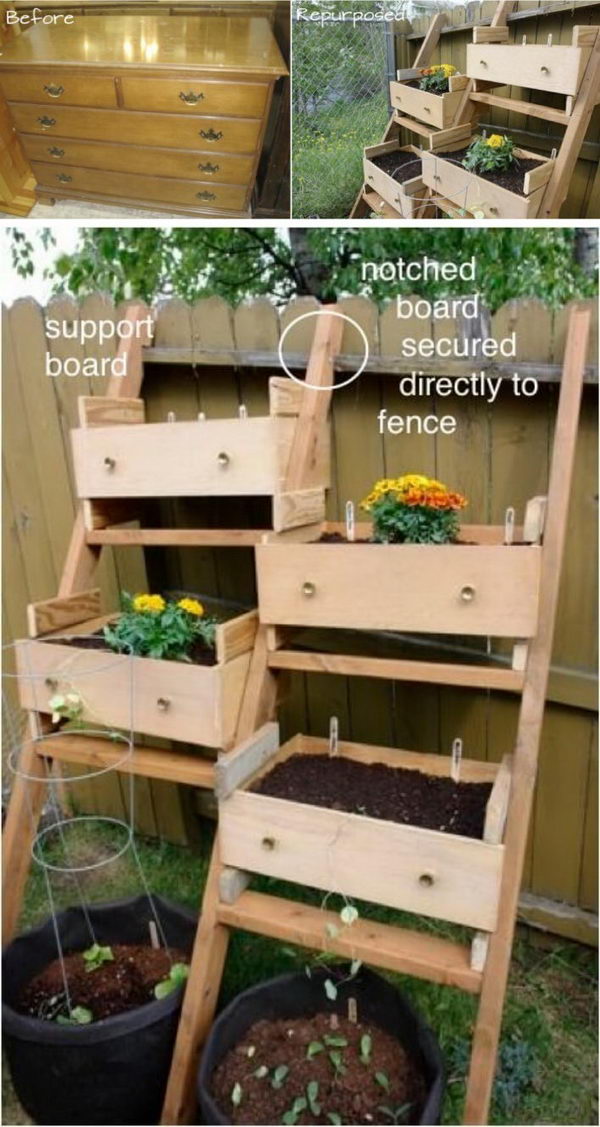 The drawers were taken out of the dresser in this project. Here, they were repainted in a lighter color and reused as planters in an outdoor veggie garden. via homejelly
Storage Bench Made from a Dresser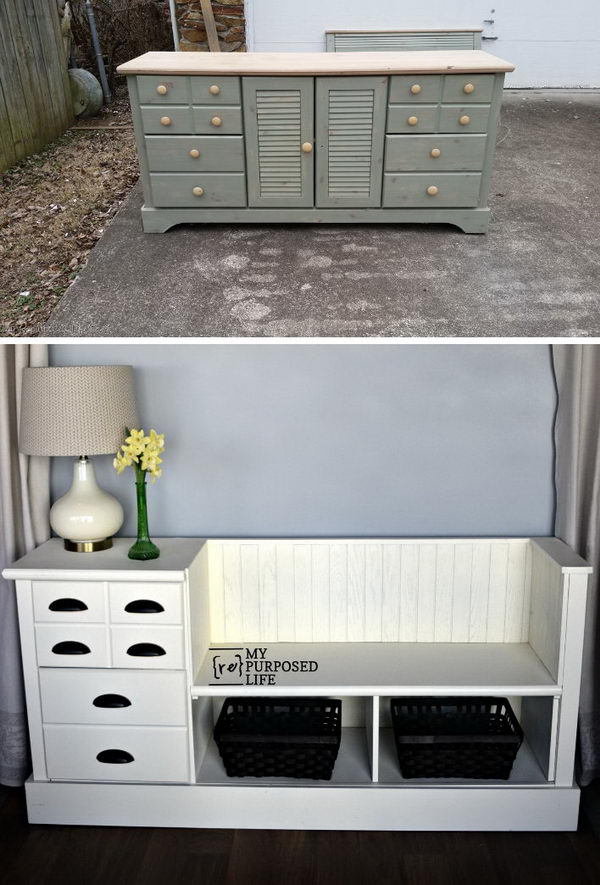 This dresser went through a complete transformation. The left side was kept intact for the most part, while the other two thirds were carved at the top to create a bench. Two open cabinets were created under the bench. The whole piece was finished off with a new color. via myrepurposedlife
DIY Faux Multi-Drawer Cabinet Using Peel and Stick Flooring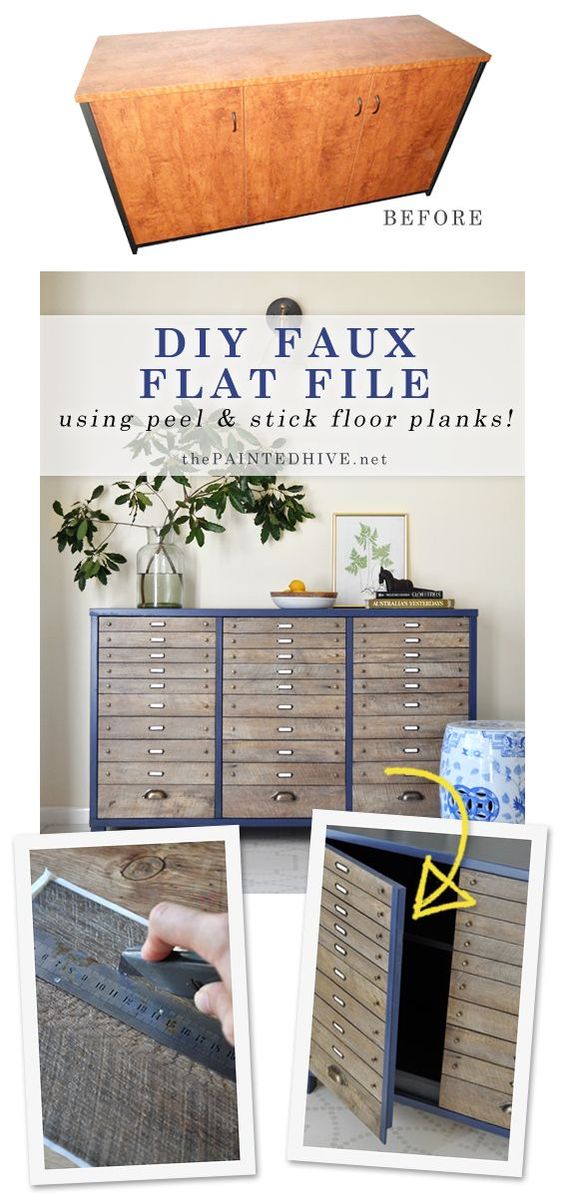 What a clever project. The dresser wasn't actually changed but rather repainted and covered using peel and stick flooring to create the illusion of drawers on the cabinet doors. via thepaintedhive
Transform a Cabinet into a Decorative Piece of Furniture by Adding Legs
The traditional display wall cabinet actually went through a very simple transformation. Matching short legs were added so that it could be placed on the ground and serve as a decorative rather than purely functional piece of furniture. via inmyownstyle
Dated File Cabinet Gets an Industrial Makeover

This file cabinet was in fairly good shape but had a somewhat dated look to it. The piece was updated with a change of color, new drawer pulls and the number detail on the bottom corner of the actual drawers. via simplybeautifulbyangela
Beautiful China Cabinet Made from an Old Bookcase

Get the Tutorial via craftynest
Transform an Antique Dresser into a Bathroom Vanity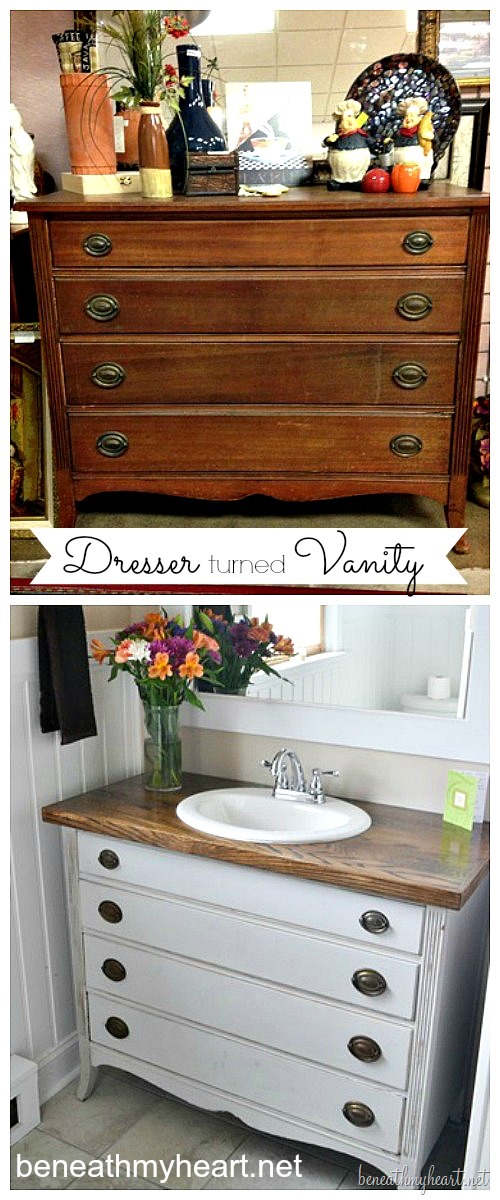 This project was once again a great idea, as an old dresser was turned into a modern bathroom vanity. A sink was installed at the top and metal drawer pulls replaced the old ones. A new, bathroom appropriate color scheme finished the makeover. via beneathmyheart
Dresser Makeover with Up-cycled Grey Painted Outer Frame

A dresser got a full makeover as the original drawers were replaced with textured wooden ones and the outer frame was painted a slightly lighter gray color, giving it a lighter, updated look. via naptimedecorator
DIY Bookcase Makeover With a Sliding Door

Get the Tutorial via worthingcourtblog
Antique Repurposed Radio Cabinet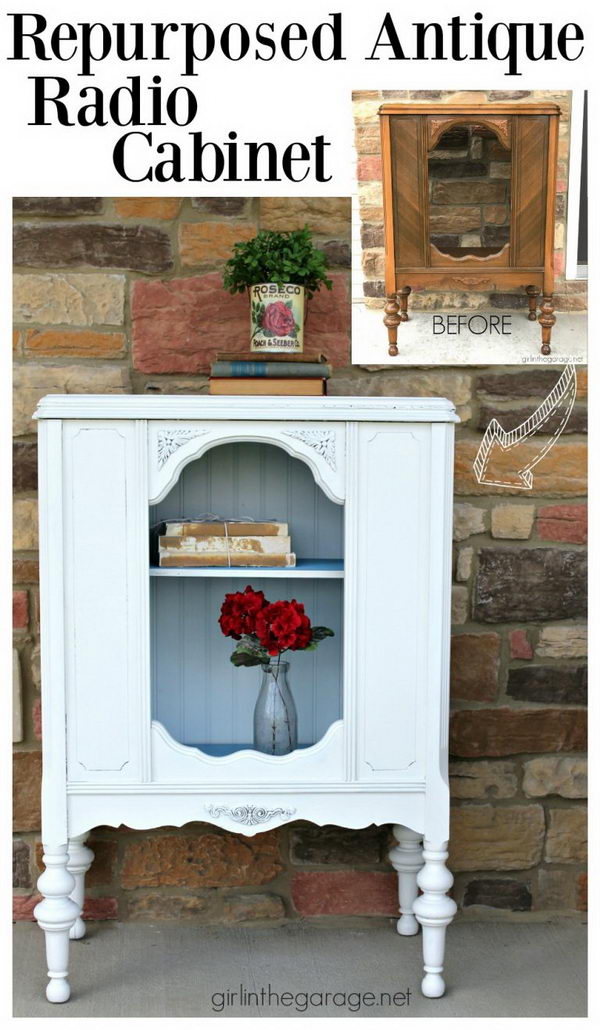 This antique radio cabinet was a beautifully decorative piece to begin with, but the detailed, vintage look was enhanced by the polished, lighter color that was applied to it. via girlinthegarage
DIY Bathroom Vanity Makeover from a $40 Thrift Store Hutch

A truly thrifty project, this makeover is something to marvel at. The whole piece was polished and painted white to go from dresser to bathroom vanity. A detached sink was added at the top, but the doorknobs and drawer pulls were wisely left intact to keep the vintage charm in the new vanity. via lezoemusings
French Blue Dresser Makeover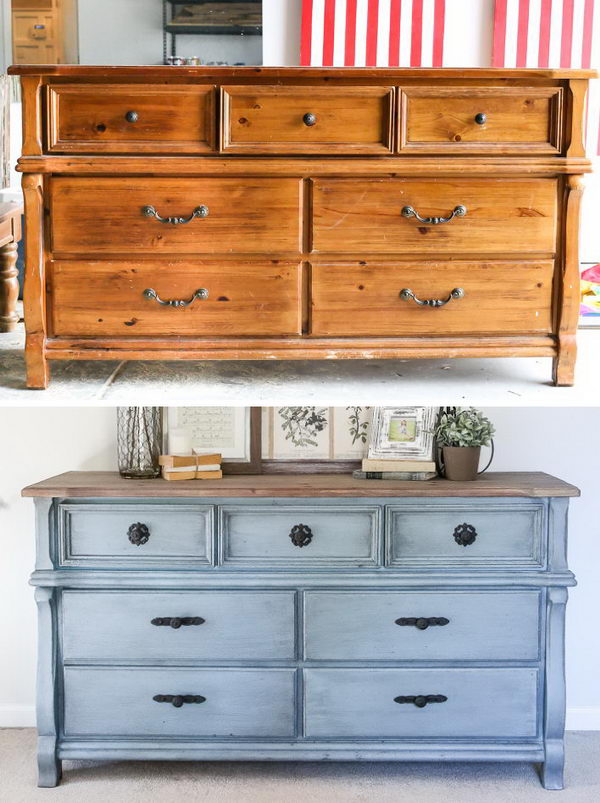 This dresser got a seemingly simple makeover, but it was quite impactful. The main piece was polished and painted powder blue, while the doorknobs and pulls were replaced to match. via blesserhouse
Bathroom Vanity Makeover From a DIY X-brace Console Table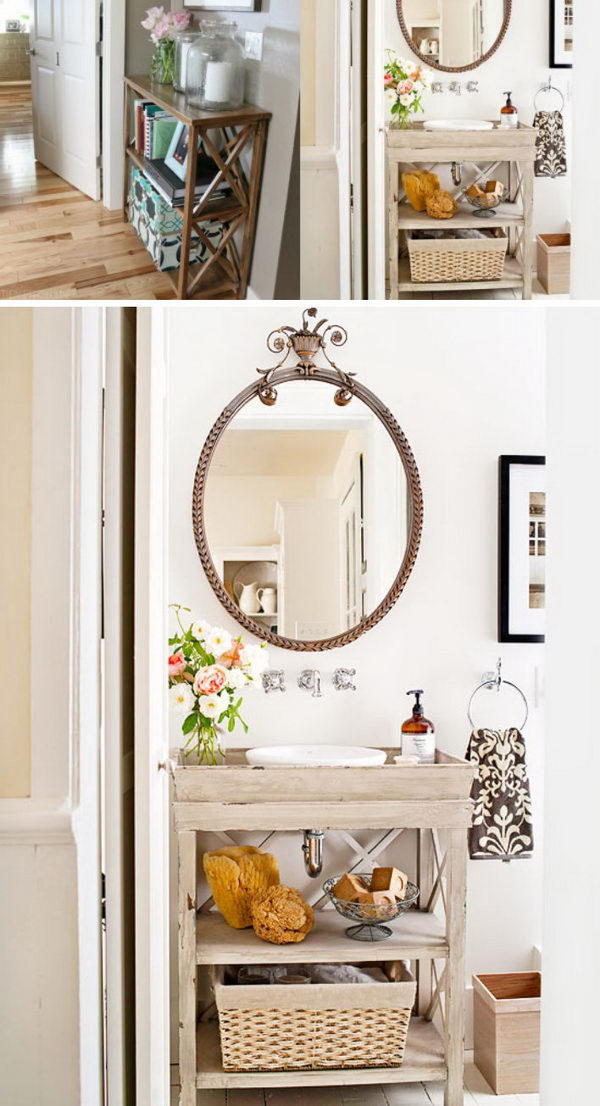 The console table made a beautifully delicate bathroom vanity once repainted and installed under a vintage-style oval mirror. All the toiletries were placed on the top while the lower shelves were used both for decoration and extra storage. via theinspiredroom
DIY Rustic Table Made from Old Window Shutters

It is a clever project where a set of old shutters were turned into a rustic table top. The shutters themselves serve as the top here, and some lightly detail legs were added to them for support in order to complete the table. via hometalk
Farmhouse Cabinet Made from an Old Drawer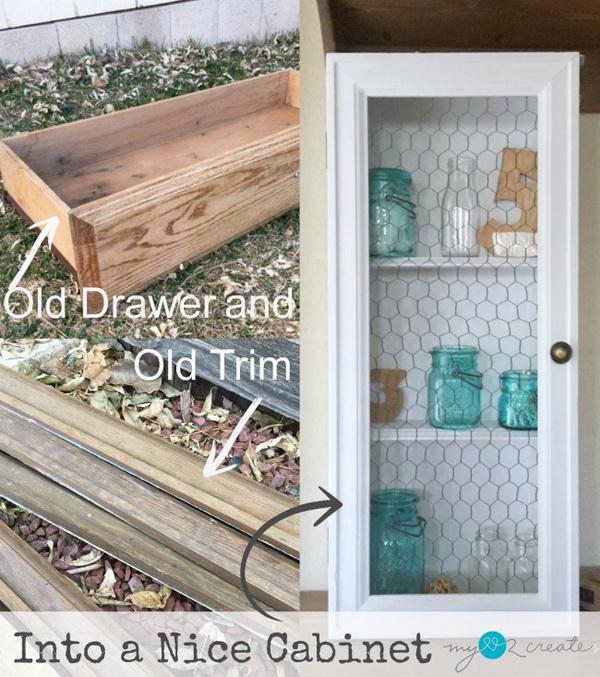 Get the Tutorial via myrepurposedlife
Recycle Old Ikea Furniture into Custom Shabby-Chic Pieces

The console table lost its polished, modern look in favor of a trendy, shabby chic aesthetic provided by the distressed wood used on the drawers and legs, which adds a lot of character to the otherwise boring piece. via bohobunnie
Thrift Store China Cabinet Makeover

Get the Tutorial via confessionsofaserialdiyer
Ikea Billy Bookcase Turned Rolling Craft Cart

Get the Tutorial via livingrichonless
Old Dresser Turned Into Double Vanity

Get the Tutorial via shadesofblueinteriors