Farmhouse decor isn't just one style. It can be cozy and rustic, elegant and tasteful or ooze shabby-chic panache. Farmhouse styling can also have a distinctly Tuscan, French or American character and can even blend well with a modern industrial theme.
The kitchen is the heart of any home. It's the place where we not only cook but also talk, eat and hang out with friends and family. It's the hub around which the family revolves.
DIY farmhouse accessories are a great way to add cozy warmth to your kitchen and home. Many projects are very easy, while others require a bit of woodworking skills or simple tools. You're sure to make your kitchen an inviting and attractive haven with just a few of these down-home projects.
DIY Custom Plate Rack (For $40!)

If you have large plates and platters that just don't fit well in your cupboards or have some lovely pieces you'd like to display, this rack is for you. This simple plate rack is the perfect way to put your favorite plates on display, as well as providing a safe and accessible method for storing them. via 11magnolialane
Magazine Basket for Cupcake Pans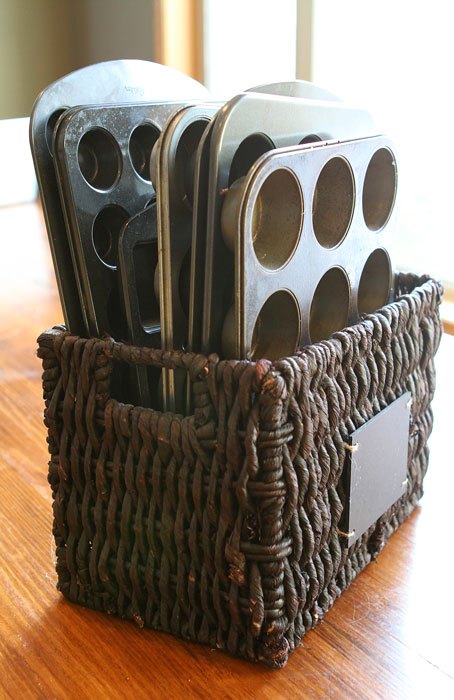 An easy and attractive way to store your muffin pans is to group them in a smart and stylish magazine basket. Instead of being an unsightly mess in your cupboard, you now have an appealing, eye-catching focal point for your bake center. via iambaker
Blanket Rack to Farmhouse Vegetable Stand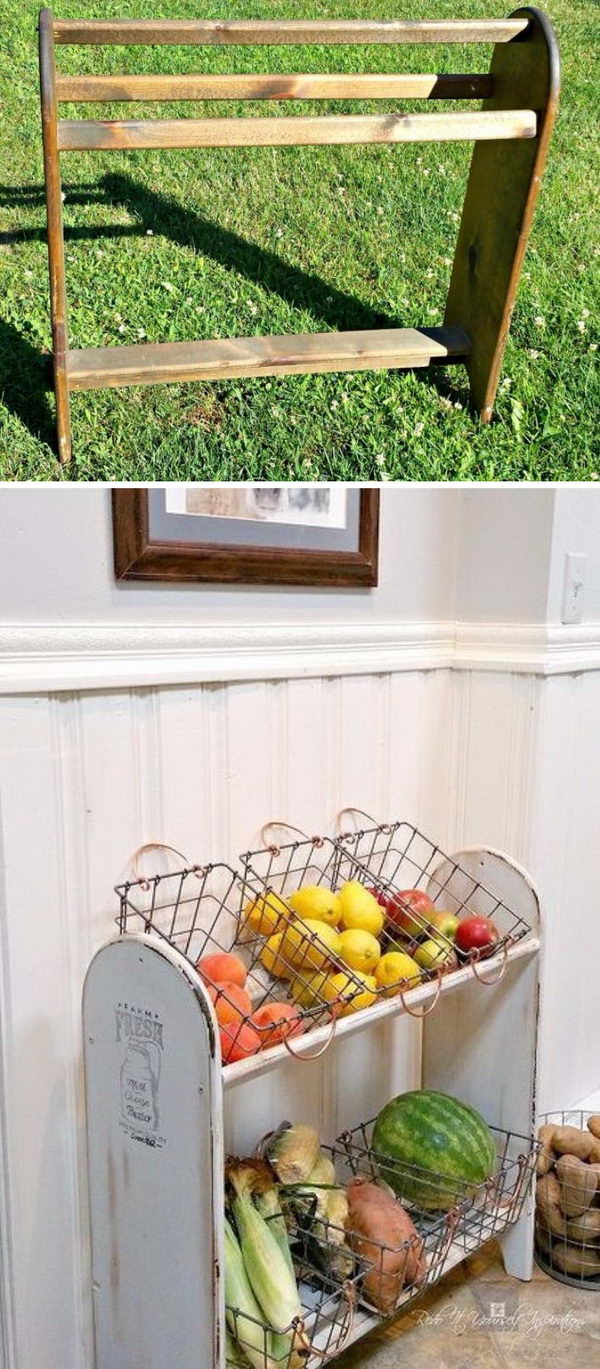 Often available at flea markets and thrift stores, a blanket rack is a perfect base for a DIY kitchen vegetable stand. Paint or stain to blend with your farmhouse-decorating theme and add wire baskets or wooden crates to hold your fruits and vegetables. via hometalk
Thrift Store Farmhouse Swag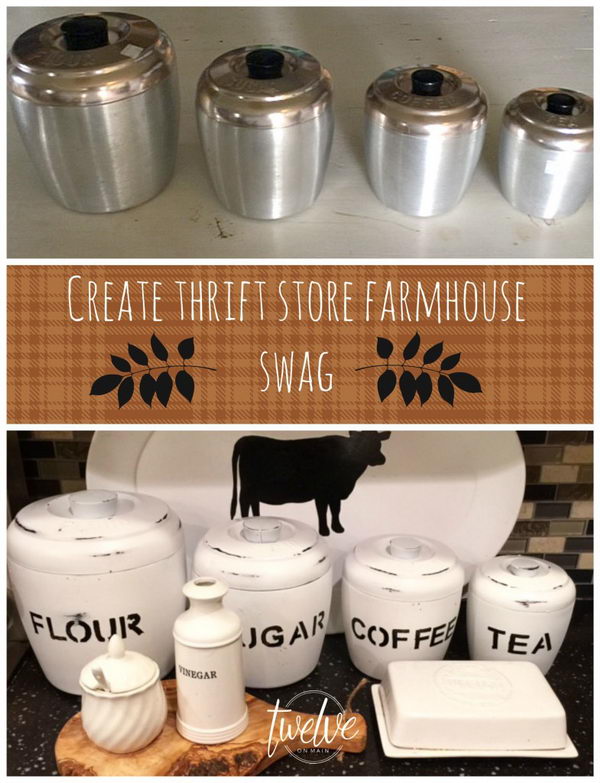 It's amazing what a little spray paint and some serious thrift store shopping can do. Often, a coat of crisp white paint and a couple of stencils is all you need to create a custom set of canisters that's perfect for your farmhouse style kitchen. Add salt and pepper shakers, a sugar bowl and creamer to complete the ensemble. via twelveonmain
Double Bin Trash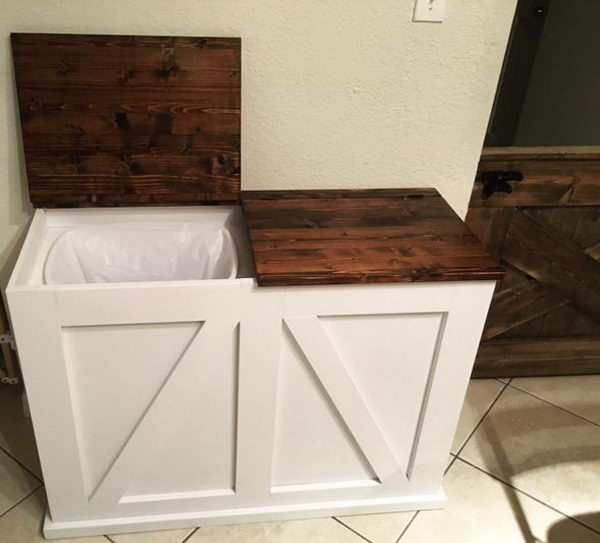 Using stock lumber, plywood and a coat of paint, you can create this custom double bin trash. Build it to fit your available space and size to keep your kitchen clean and organized. via ana-white
DIY Bucket of Flowers Centerpiece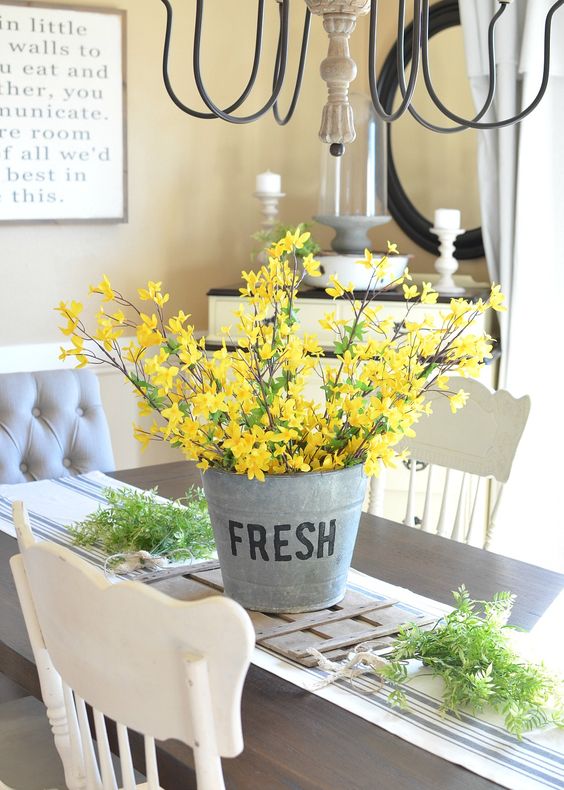 If you don't have an old galvanized bucket in your garage, you may need to hit the flea markets or garage sales, as the older and time-worn it is, the better it looks! After cleaning, simply stencil on your lettering with acrylic craft paint for a perfect, springtime floral centerpiece to grace your country kitchen. via littlevintagenest
Metal and Wire Wall Rack
A metal rack is perfect for storing produce or other kitchen supplies. Create a stenciled market sign to hang above the rack for farmhouse fun, and you're adding valuable storage space and decorating charm. via instagram
3-tier Galvanized Tray for Coffee Service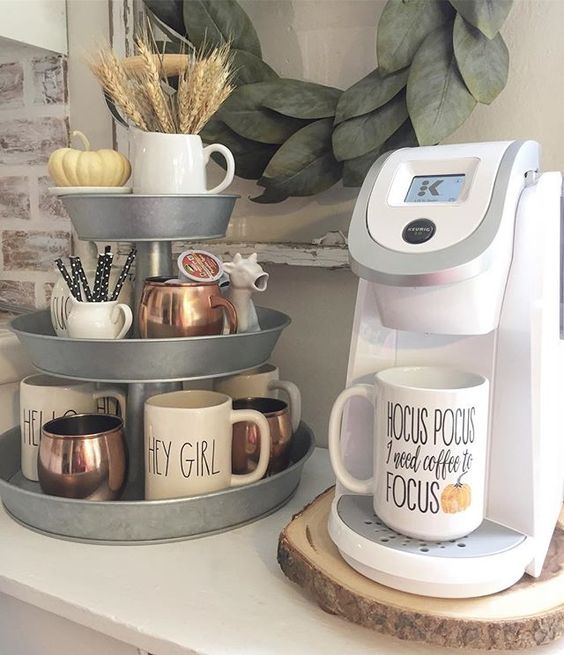 A tiered galvanized tray keeps all your coffee fixings organized and ready to use. It's also perfect for kitchens with limited counter space and adds a bit of farmhouse flair to your kitchen. via instagram
Kitchen Basket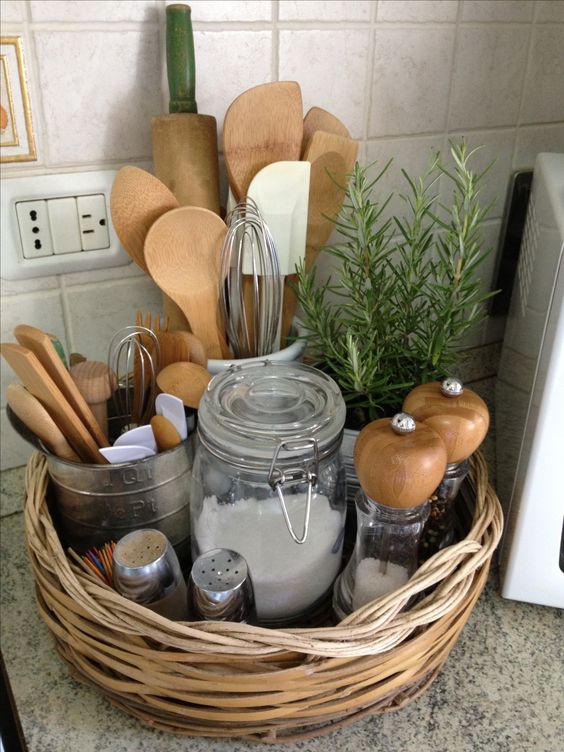 Corral necessary kitchen utensils and supplies with fun and functional baskets. Arranging your utensils and other daily-used spices and supplies keep your kitchen neat, and it adds country charm to your counter. via pinterest
Pretty Kitchen Cup Hooks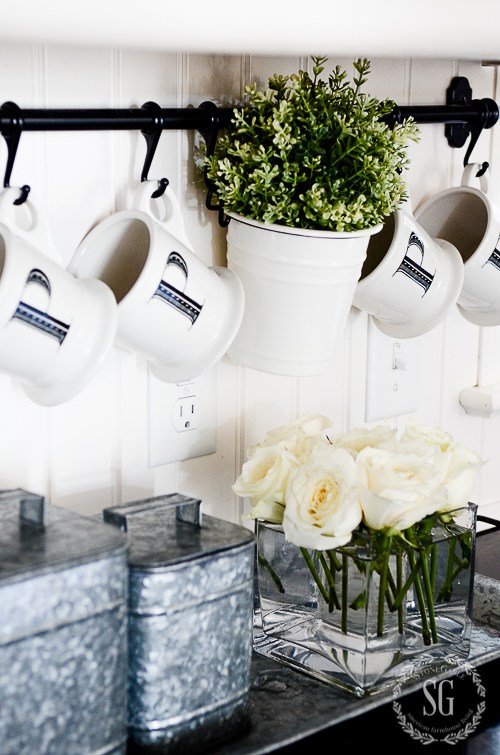 Show off your favorite coffee mugs and save valuable storage space with a decorative hook system. These holders can be used for measuring spoons and cups near your bake center or utensils adjacent to your stove. They are available with additional storage bins for small items or a pot of flowers or herbs. via stonegableblog
Chicken Wire Farmhouse Paper Towel Holder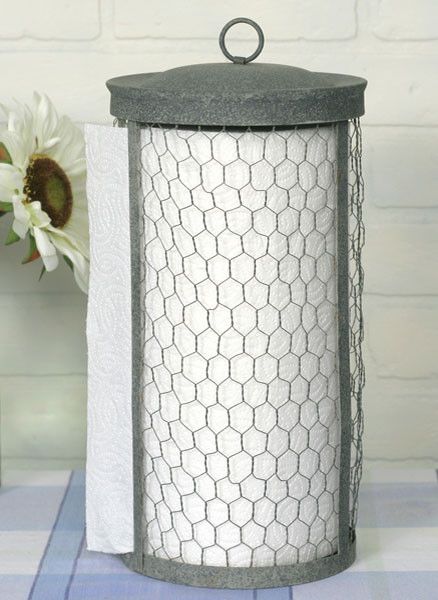 This chicken wire paper towel holder is so farmhouse fun that you may hear chickens clucking in the background. It's a whimsical and practical way to keep your paper towels ready for that next kitchen cleanup. via decoandbloom
Inexpensive Enamel Jugs From Ikea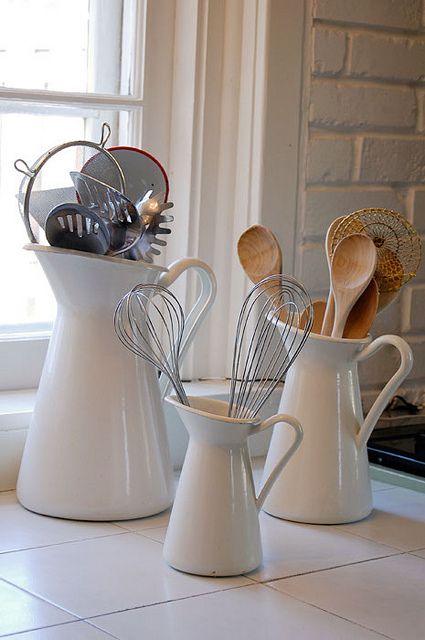 Use enamel jugs to hold your bulky kitchen utensils. A few jugs can hold an entire drawer full of spatulas, spoons and whisks, freeing up that drawer to hold other, less often need items. via theartofdoingstuff
DIY Rustic Wood Tray

This rustic tray is perfect for anyone who wants to try their hand at DIY decorating. Using stock lumber and your favorite paint, build a custom wooden tray to add organization and style to your kitchen. via lizmarieblog
DIY Stackable Fruit Crates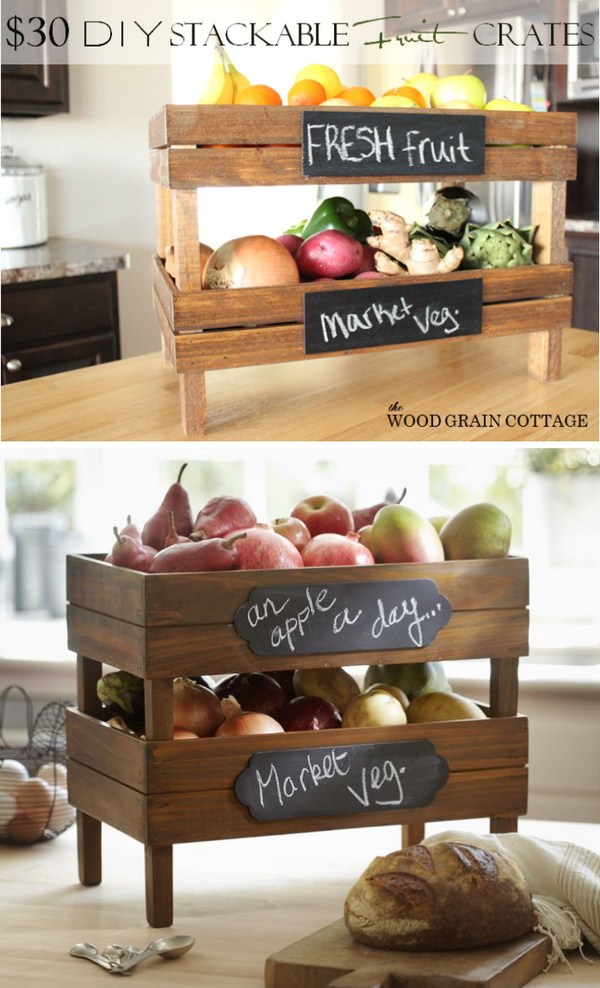 These charming, stackable fruit crates are perfect for produce, and they can be painted or stained to match your decor. Since they're DIY, you can make them the perfect size and shape for your space. via thewoodgraincottage
DIY Kitchen Containers With Labels

Whether you buy canisters at a thrift shop, garage sale or store, add your own DIY labels using your inkjet printer and decal label paper. You can personalize labels with old-time fonts, designs and lettering that just oozes farmhouse charm. via theperfectwife
DIY Farmhouse Tiered Tray

Get the tutorial via atthepicketfence
DIY Farmhouse Kitchen Canister from Mason Jars

Get the tutorial via housefulofhandmade
DIY Farmhouse Plate Rack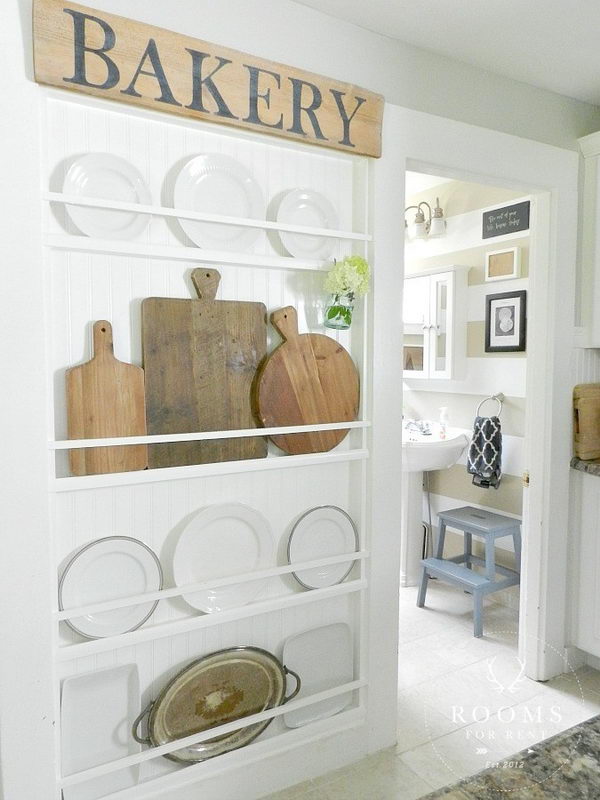 This plate rack can be sized to whatever dimensions you need. It's perfect for storing seldom-used platters, displaying decorative plates or a collection of vintage breadboards. Using the same color palette as your walls or molding, you achieve a custom look that accents your decorating theme. via roomsforrentblog
Wall Mounted Nesting Herb Crates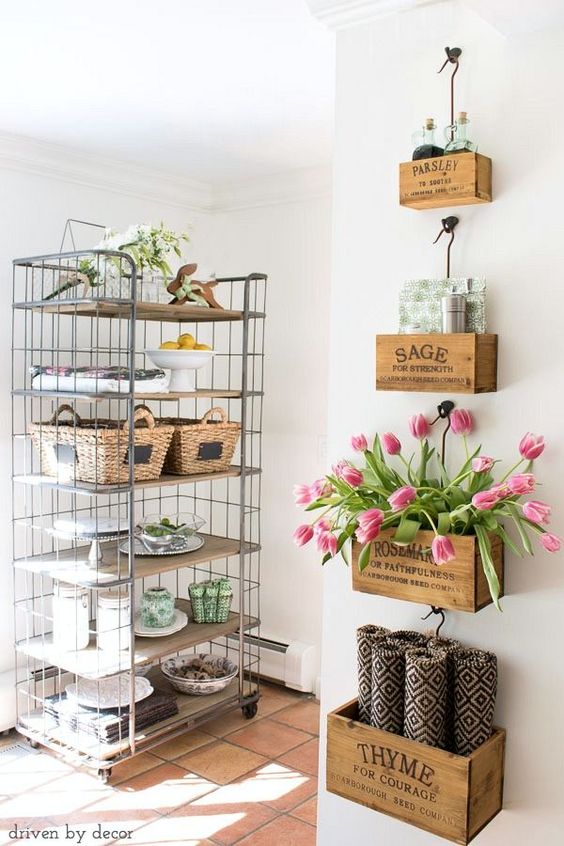 These vintage herb crates are perfect for holding daily kitchen necessities from salt and pepper shakers to utensils, napkins and even a small floral arrangement with classic country charm. via drivenbydecor
DIY Dollar Store Farmhouse Storage Drawers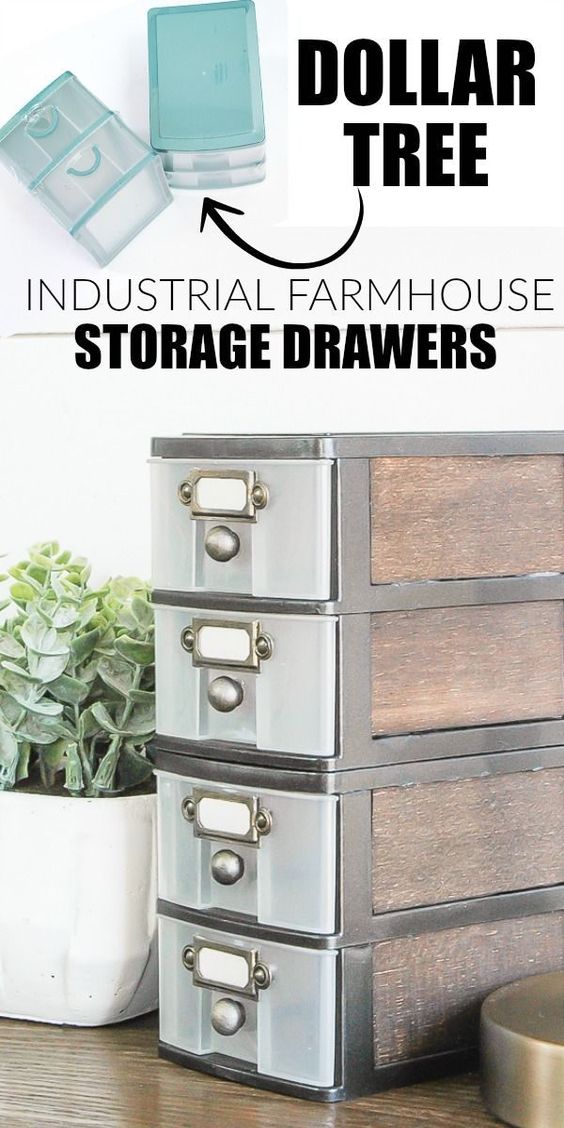 Using spray paint, balsa wood, metal fasteners and vintage-looking metal labels, you can convert dollar store plastic drawers into a stylish, farmhouse industrial storage chest. Perfect for holding all those small kitchen necessities, these drawers are available in lots of sizes. via littlehouseoffour
Black Metal Shelf With Hooks for Mugs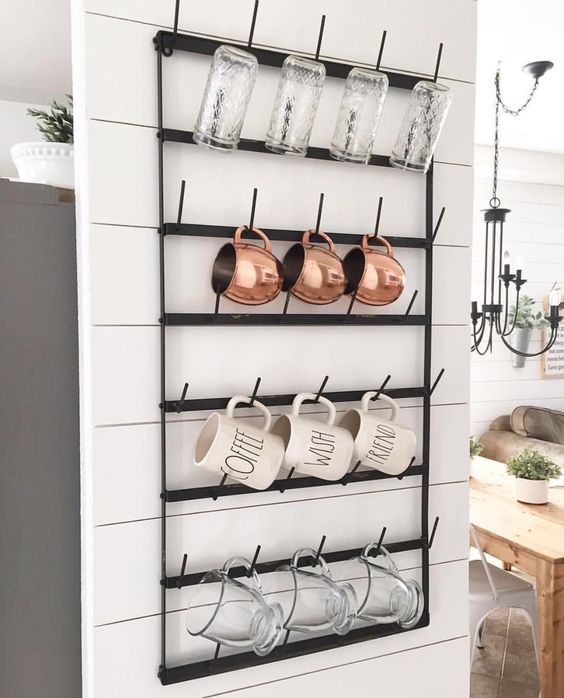 Decorate your drink center with a black metal hook shelf to hold all your coffee mugs. If you're short on space, this opens up a lot of cabinet storage, and it instantly adds a rustic vibe with the black wrought iron look. via instagram
DIY Spice Cabinet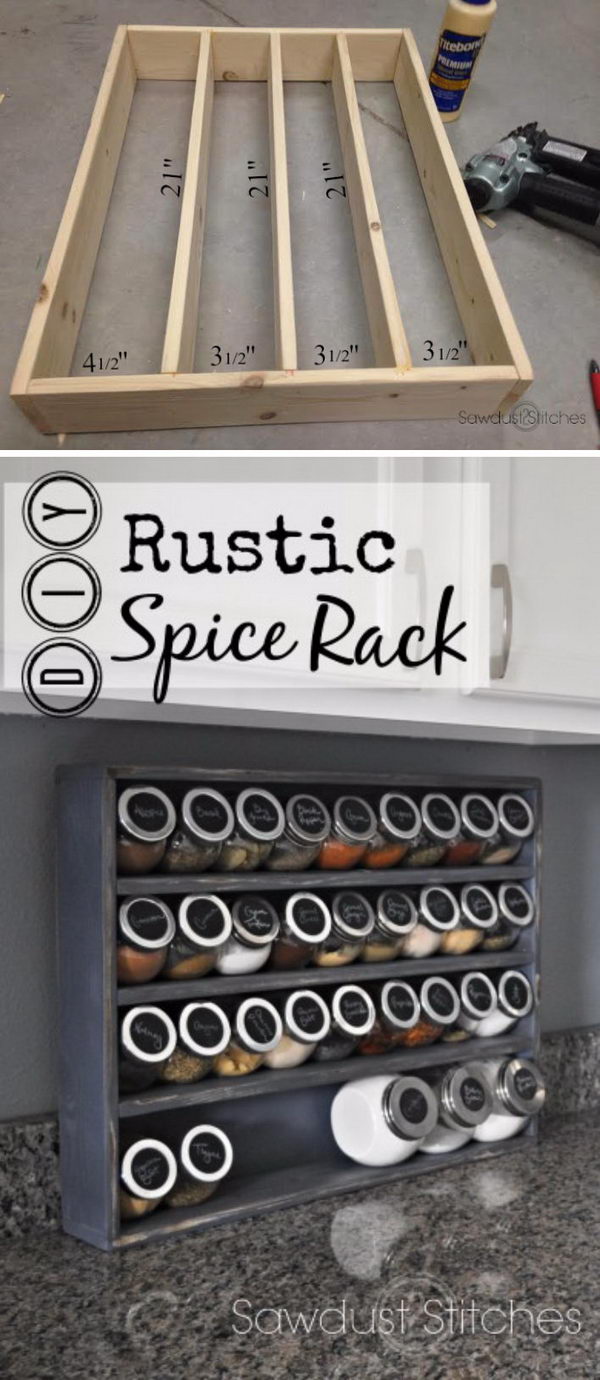 This charming DIY spice cabinet can be mounted on a wall, or it can stand on your counter. Using 1″x4″ pine and a piece of paneling, this project can be painted or stained to blend with your farmhouse color scheme and organizes all those spices that are hiding in your cupboard. via sawdust2stitches
Farmhouse Kitchen Organizer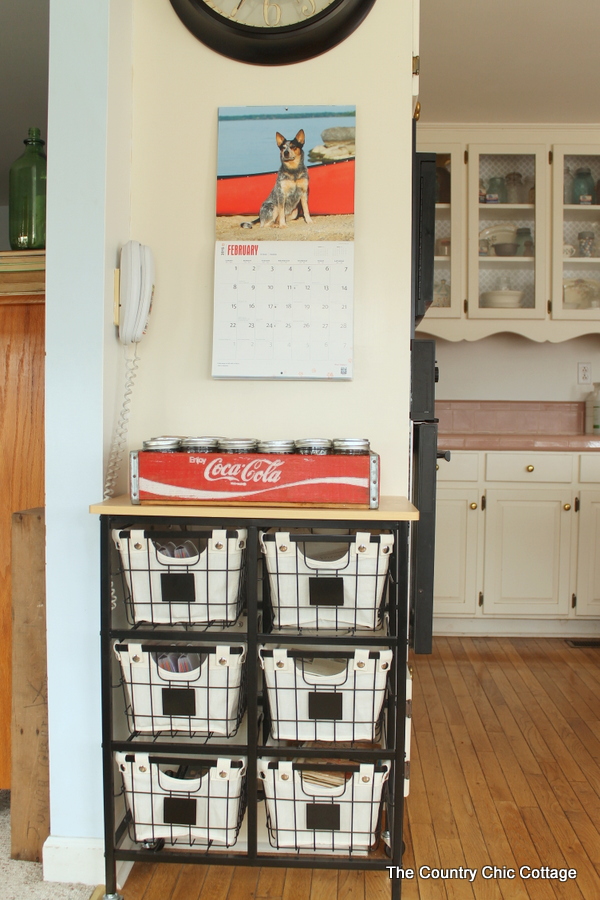 A cart is perfect to organize bulky kitchen items or store your favorite cookbooks, and this wire and wood version is perfect to enhance your farmhouse decór with style. via thecountrychiccottage
DIY Wood Crate Produce Stand

Get the tutorial via Kendall-Jackson
DIY Countertop Charging Station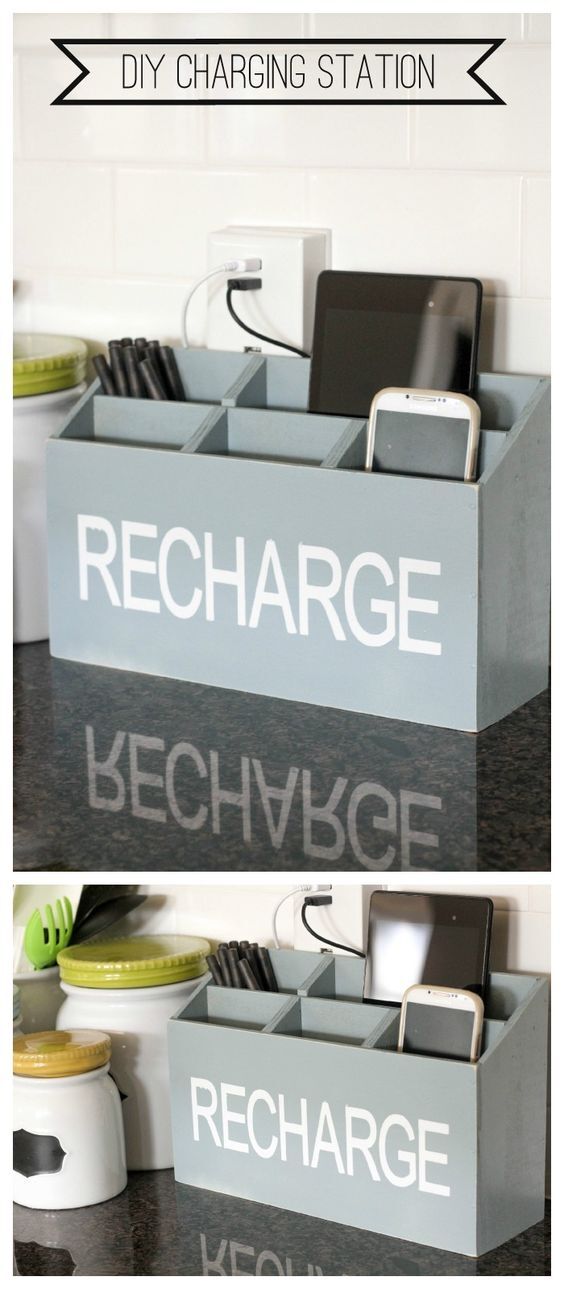 What a pretty and inexpensive way to diclutter your kitchen countertop. Get the tutorial via lilluna
DIY Wire Storage Board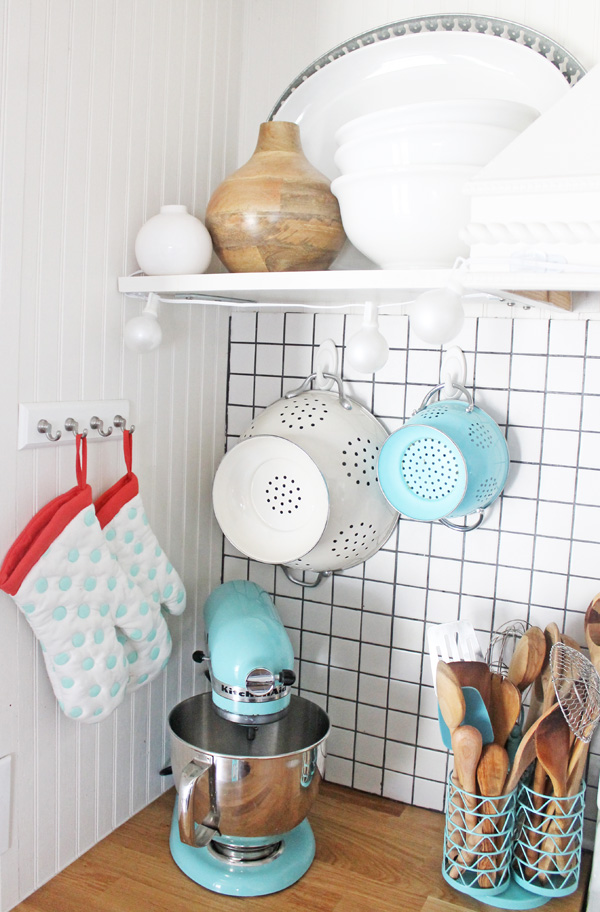 What a pretty and inexpensive way to diclutter your kitchen countertop. Get the tutorial via theshabbycreekcottage
Vintage Milk Bottle Carrier Holding Kitchen Utensil
via chateau-chic
Hanging Wire Basket for Storing The Cutting Boards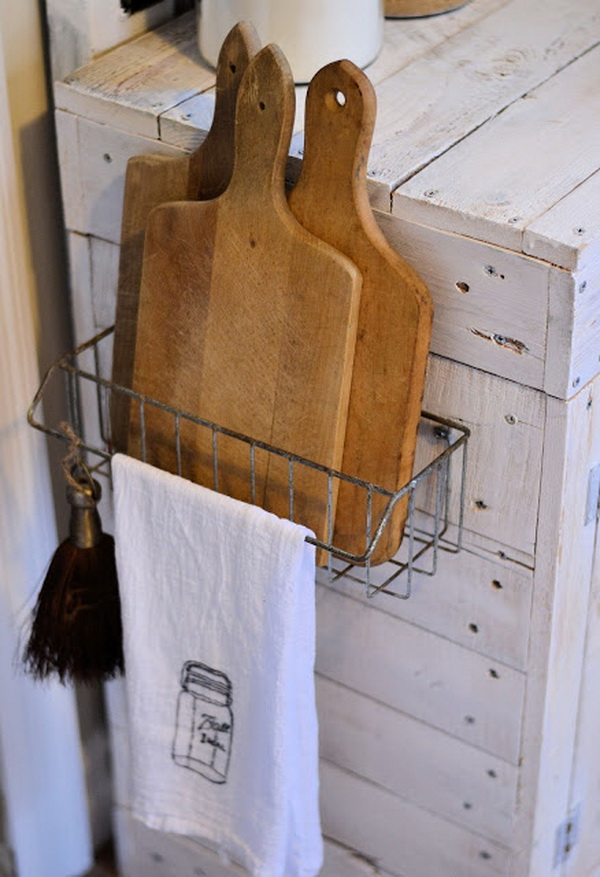 Get the tutorial via vintagemellie