The backsplash is a very important element of kitchen decoration. While it often stands towards the background – as you can easily tell from the name itself – the backsplash sets the theme for the room and helps bring all the elements together.
With this in mind – and seeing as you might find yourself staring at it quite often while making or having a meal – you need to make sure your backsplash reflects your taste and what you'd like the overall look of your kitchen to be.
Having said that, you do not need to spend a lot of money to make sure you have the perfect backsplash. It is true that you want the materials to be hygienic, long-lasting and easy to clean, but that does not mean you have to pay a premium for every aspect.
If you're remodeling your kitchen or just changing the backsplash and need some affordable and original ideas, you have certainly come to the right article. Here are some frugal and creative kitchen backsplash DIY projects.
Rustic Peel And Stick Backsplash

via amber-oliver
DIY Mason Jar Mosaic Backsplash Made From Broken Mason Jar Pieces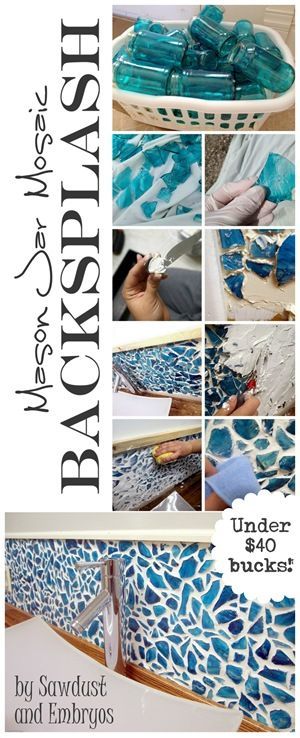 You can always make beautiful projects using stained glass, and decorating the kitchen backsplash is no exception to this rule. This particular project is really inexpensive because the glass pieces are taken from broken mason jars, though you can't really tell that at all from the finished project. via realitydaydream
DIY Fish Scale Tiles

This fish scale tile backsplash is very impressive-looking, yet also incredibly easy and affordable to make. The tiles are in fact molded clay, but they create the perfect illusion once cooked and painted the right hue. via karapaslaydesigns
Moroccan Fish Scales In Light Blues Against White Kithchen Bachsplash

This is another great fish scale project. The beautiful Moroccan fish scales in various hues of light blue go beautifully with the white and pastel theme of the kitchen. via mercurymosaics
Old CDs for Mosaic Kitchen Backsplash

CDs are obviously getting out of fashion due to the popularity of streaming services, so you should definitely reuse them if they don't hold any sentimental value to you. One good way to do that is breaking them and using the shards to build a truly special backsplash. The broken CDs give a scale effect to the background, as well as some metallic, holographic light reflections which look truly gorgeous. via instructables
Paint and Stencil Backsplash Tile

This is how you make old tile look truly brand new. These simple while tiles were nice but boring, so they needed a new look. Adding a stenciled design in tones of blue and green updated this backsplash in a very special, Mediterranean-inspired way. This project is also inexpensive enough that you could easily replicate it in your bathroom. via diynetwork
DIY Pressed Tin Kitchen Backsplash

This kitchen was definitely in need of a new backsplash, and so it got one. This project is once again based on an illusion, seeing as the "pressed tin" is in fact made from painted PVC panels. The end result, however, is really lovely. via blesserhouse
DIY Stenciled Backsplash With Some Motivational Quotes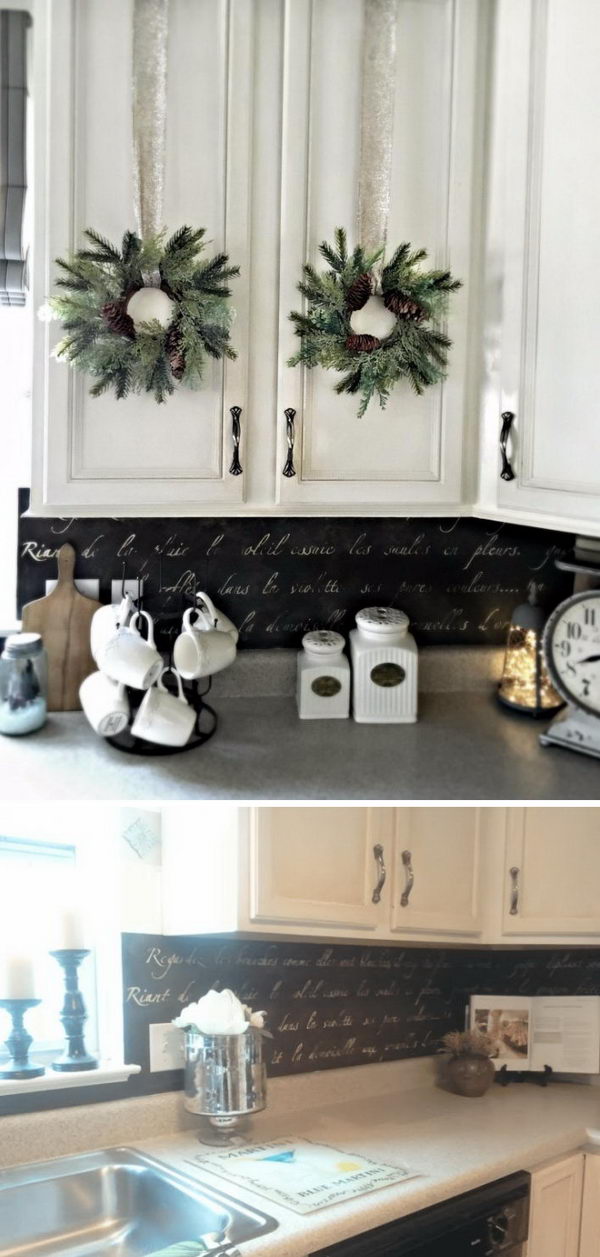 Inspirational quotes are somewhat of a decorative trend nowadays, and this backsplash certainly takes advantage of that. The quotes themselves were stenciled in white over a black background to create a backsplash that emulates a blackboard. via snazzylittlethings
DIY Glass Mosaic Tile Backsplash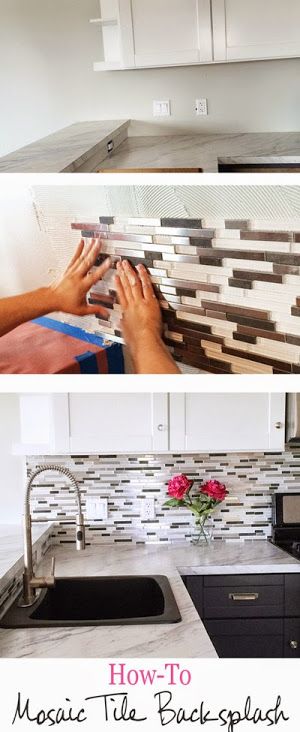 This graphic DIY backsplash proves that you can easily make professional-looking things all by yourself. The mixture of tones really adds character and texture to the backsplash area and makes it look quite striking. via ana-white
DIY Beadboard Kitchen Backsplash

A delicate kitchen needs an equally beautiful and delicate backsplash. This beadboard one is just what this particular kitchen needed. The project itself may take some work but it is fairly easy and inexpensive to complete. The finished backsplash adds some soft texture and really complements the surrounding decoration. via ellaclaireinspired
DIY Brick Veneer Backsplash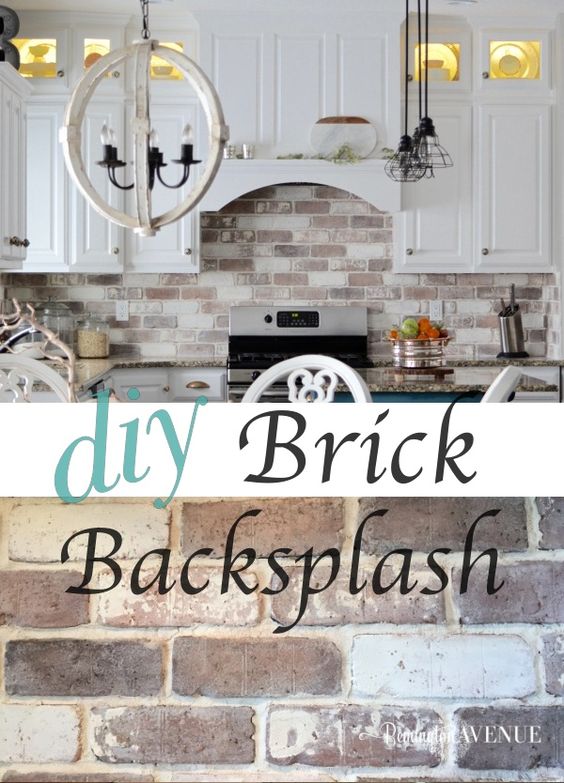 Brick backsplashes are perfect for rustic kitchens like this one. However, they are not always easy or inexpensive to install. A veneer is a great option because it achieves the same effect at a lower price while also being easier to install. via remingtonavenue
DIY Mosaic Tile Kitchen Backsplash
Tile is always the number one choice for kitchen backsplashes and it is not as hard to install as some may think. This neutral backsplash has some subtle color variation, which adds texture and makes it stand out while not being overpowering. via alchemy-home
Beautiful Stainless Steel Mosaic Tile Kitchen Backsplash

This stainless-steel backsplash is definitely bold and unexpected. The steel is quite metallic and reflective, while the actual tile shape is somewhat unusual. Aside from its striking, futuristic look, stainless steel is also very hygienic, durable and easy to clean, making this a great choice. via modishandmain
Laminate Flooring As Kitchen Backsplash

Here is yet another great rustic kitchen backsplash born out of brilliant improvisation. Using the laminate flooring makes this backsplash easy and affordable to build. The finished result is quite uniform, but the woodgrain texture adds some interest to it. via bowerpowerblog
Shiplap Styled Pallet Wood Kitchen Backslash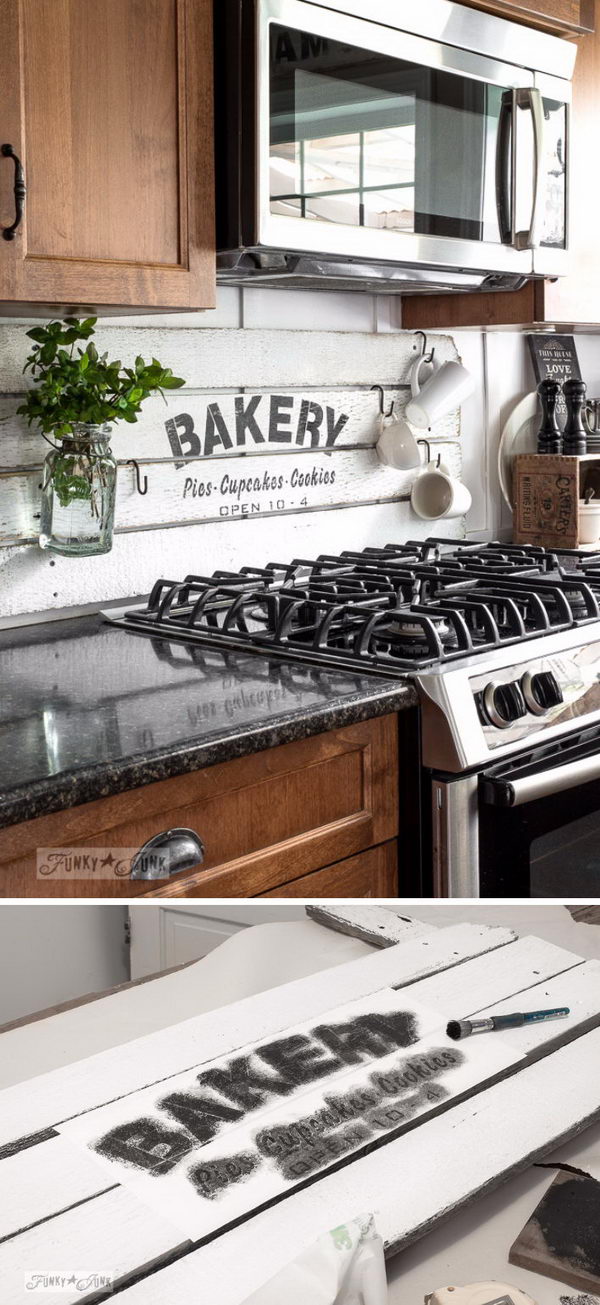 This backsplash follows in the same rustic style of the previous one, but with an obvious twist. The main backsplash is made from light and smooth pallet wood that is affordable, readily-available and easy to install. A fun sign-like detail was added to the lower part of the backsplash, giving it some extra character. via funkyjunkinteriors
Stylish Tin Tile Backsplash

The detailed metallic backsplash is absolutely gorgeous, and the good news is that you can make your own easily and frugally. The tin tiles are really impactful and not very difficult to install, so you can save both time and money while getting a backsplash that demands attention. via diynetwork
DIY Mosaic Tile Backsplash From Recycled Skateboard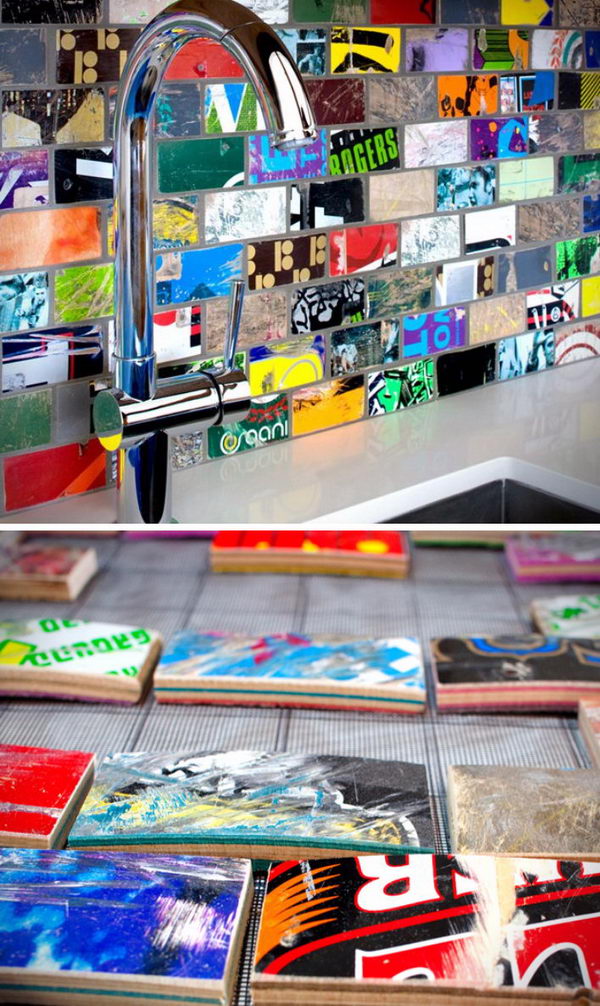 This project is for those who are very thrifty and have a strong love of colors. Recycling old skateboards is a great way to create a very unique, colorful backsplash while saving money and eliminating some clutter from your house. via hiconsumption
DIY Barn Wood Backsplash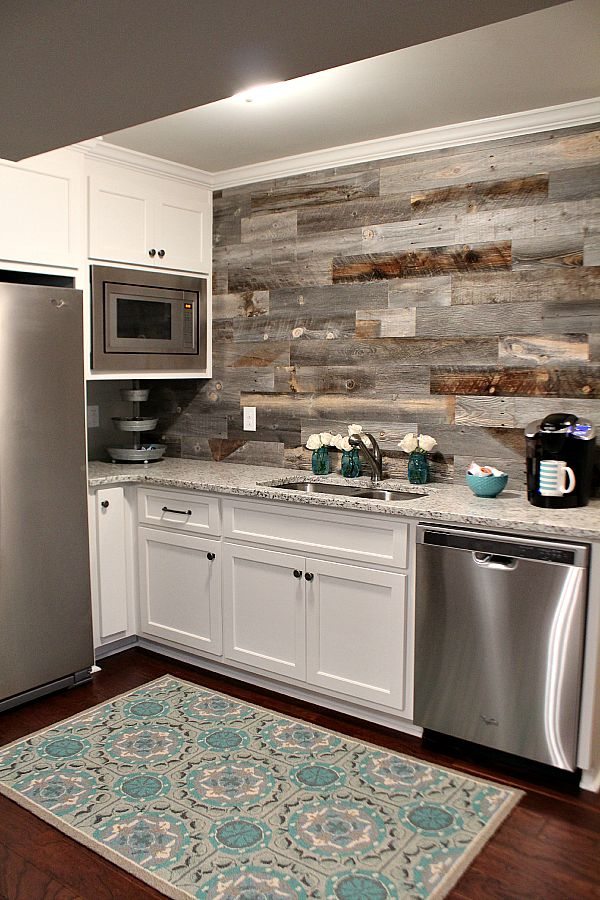 Barn wood is a perfect choice for almost every rustic-style decoration project that comes to your mind. The material is quite affordable, as you may even have some waiting to be repurposed, and it has undeniable character. Boards of different colors were used to make this backsplash, adding dimension and character to the finished product. via refreshrestyle
Gorgeous Damask Antique Mirror Backsplash

This is yet another fabulous example of a striking, light-reflective kitchen backsplash. An antiqúe mirror was used here, and then adorned with a damask print that gives it an elegant, vintage look. via huntandhost
DIY Removable Backsplash Using Easy-To-Cut Wood Tiles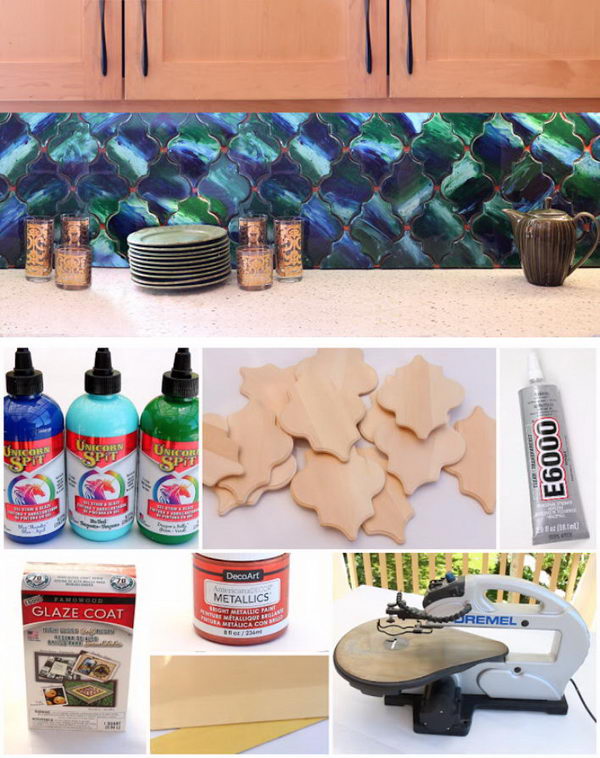 The marbled-looking dark wood backsplash adds a lot of character and contrast against the otherwise light-hued kitchen. The tiles were cut from wood and painted in different hues of blue and red and then installed in a way that makes the backsplash easy to remove and remodel. via markmontano
Mosaic Tile Paint Backsplash

You might be surprised, but the colorful and graphic look of this backsplash was in fact achieved using a clever painting technique instead of real tiles. The edges aren't meant to be perfect, and it obviously lacks the dimension of real tiles, but the illusion is still quite well-achieved and the colors really add life to the white background. via mobilehomeliving
DIY Penny Backsplash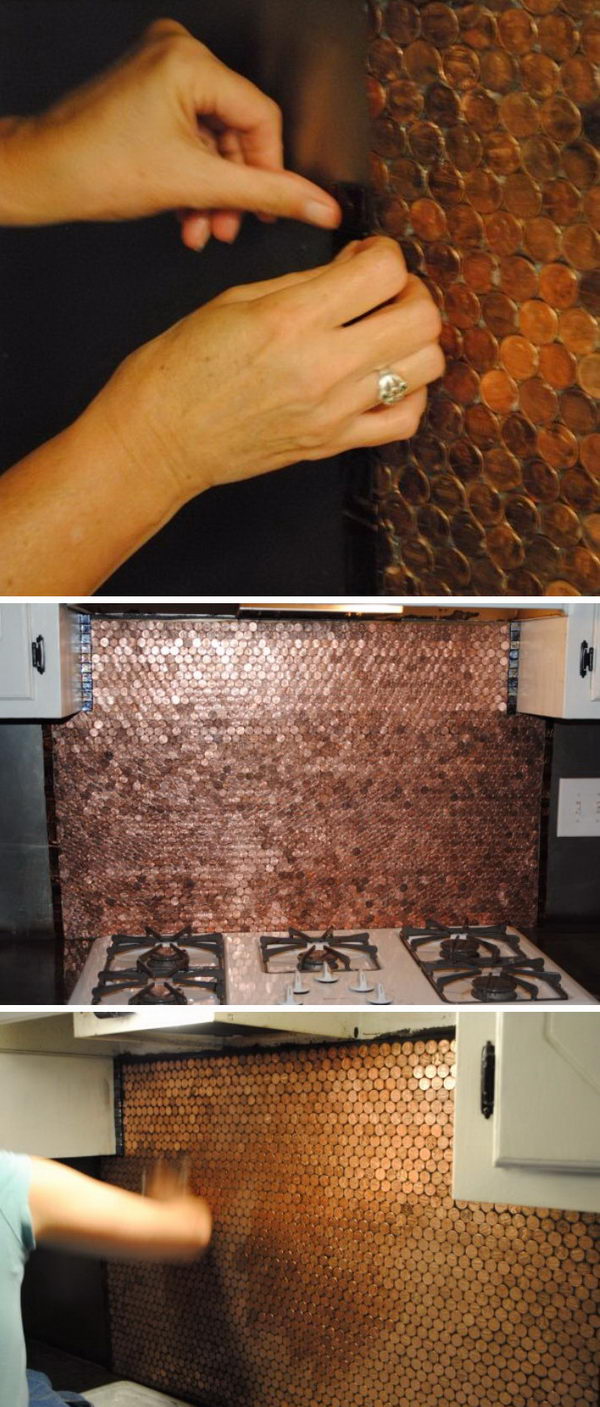 This shiny copper backsplash is certainly full of sparkle and texture. The copper pennies give the project a very unique look, but installing them takes a great degree of patience and skill. via littlethings
DIY Unique Backsplash From Reclaimed Porch Boards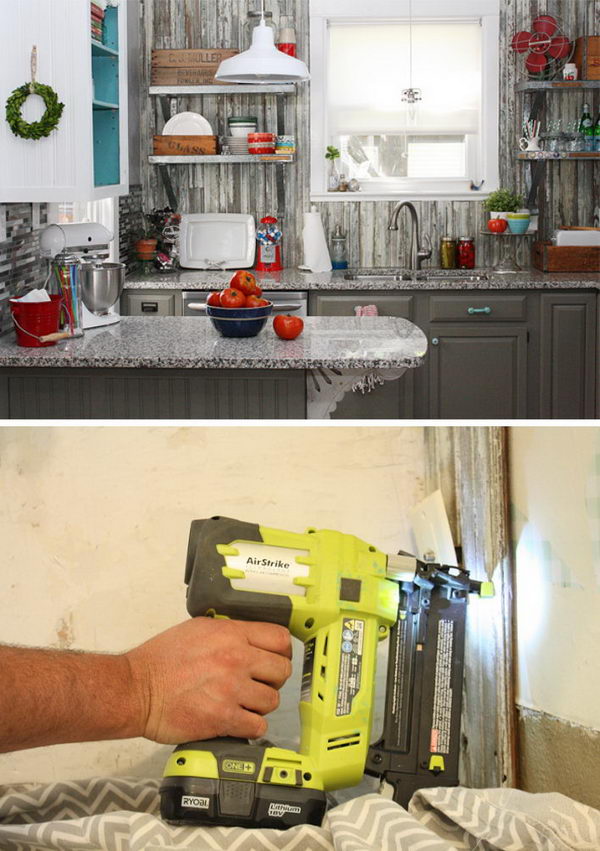 Reclaimed materials are always the best for frugal, shabby chic projects. This backsplash made from porch boards hás a really unique, rustic look that complements the kitchen nicely. via robbrestyle
Painted Kitchen Backsplash

This is yet another project where a paint overlay was used to give new life to a backsplash. Here masking tape was used to create a triangle pattern that was painted in subtle gray tones to beauty the backsplash. via onekingslane
DIY Faux Painted Brick Backsplash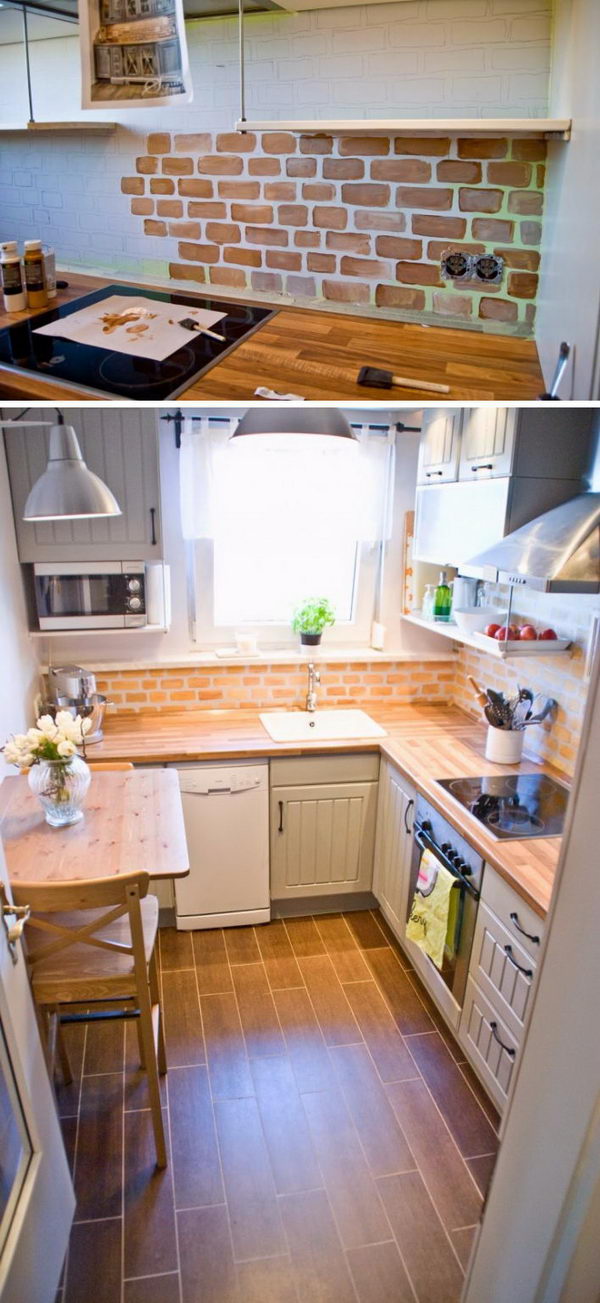 This is yet another instance in which a brick wall was created with paint instead of real bricks to save money. This one was really well done, as the bricks look very dimensional and realistic, as they should. via remodelaholic
Rustic Look Fence Board Backsplash

This rustic backsplash is once again quite easy to create and install. The dark, textured fence-boards are cut to size and then installed parallel to one another in order to create the elegant and modern panels of the backsplash. via martysmusings
DIY Beautiful Backsplash Using Doodads, Beads And Bottle Caps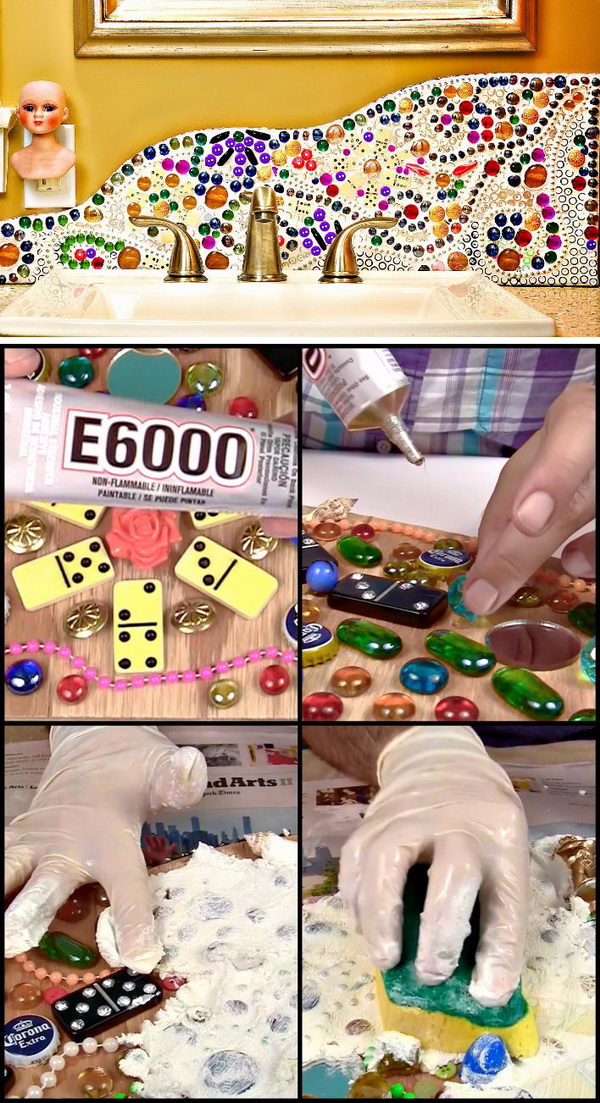 The backsplash is a crafty dream. It was crafted with all kinds of materials, from beads to bottlecaps, which were painstakingly glued over the light, wavy-edged surface. The finished result is a beautiful, colorful and dimensional kitchen backsplash. via markmontano
Penny Tile Backsplash

via younghouselove